Located on the Turkish-Syrian border, Hatay province's Samandağ coast has become one of the most popular places of diving tourism in recent years with its similarity to the Red Sea in terms of its bottom structure, legends along with underwater formations and life.
Just next to the Samandağ coast is Mount Kel, known as the mount that "gathers thunderstorms" in mythology, mentioned as Mount Zaphon in Hebrew scriptures. The mountain, named as Jebel Aqra in Arabic, stands out with its 12-kilometer base length.
Mahmut İğde, a diving instructor who is studying for his master's degree at İskenderun University's Faculty of Marine Sciences, has been following the life of sea creatures in the Mediterranean for 15 years. İğde told Anadolu Agency (AA) that the Samandağ coast in Hatay is the 10th longest coastline in the world with a length of 14.4 kilometers.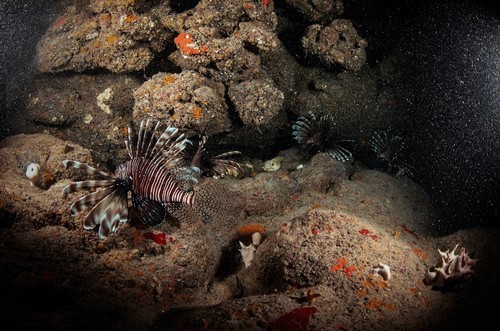 İğde stressed that sea turtles spawning here makes this coast important, adding, "Mount Kel just near the coast with a 12-kilometer base length is one of the most important diving spots in Turkey with its deep waters, underwater formations and population of marine creatures."
Indicating that Mount Kel's being on the longest fault line in the world (the North African fault line) provides richness in terms of bottom structure and underwater formations, İğde said, "There are about 130 caves, chimneys and caverns of various sizes under the water. The region's being close to the Suez Canal and the first stop of Lessepsian fish coming from the Red Sea to the Mediterranean makes it the Red Sea of Turkey."
İğde underlined that 73 species of Indo-Pacific and 22 species of Atlantic Lessepsian fishes coming from the Red Sea to the Mediterranean have been recorded, continuing, "Lionfish, catfish, long-spined sea urchin, cardinal fish, bubble fish and gold-band goatfish that we frequently encounter during dives in the region are only a few of them."
For İğde, it is possible to talk about the positive or negative effects of Lessepsian fish – that is, migratory species – in economic and ecological terms.
"We can say that more sea creatures will enter in the near future, creating a sort of small Red Sea for divers. We believe that Hatay, which is the pearl of the Eastern Mediterranean with its populations of enriched species and cave formations, will become a popular place for diving tourism," he said.
Batoidea field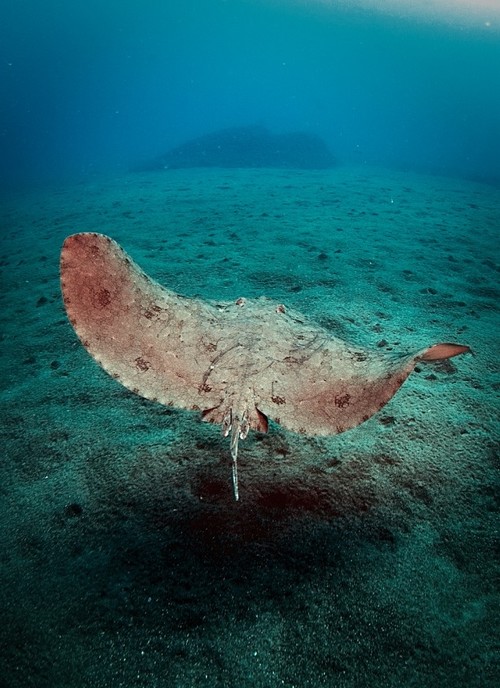 İğde stated that the area where batoideas are widely seen is called "Batoidea Field." It is located in the Samandağ Çevlik Akçay region.
"The structure of the sand and the temperature of the water in this period attract batoideas to the region. Since we see 50-60 batoideas in the same place during the dive, we named this the Batoidea Field," he said.
Underlining that this is not the only place in Turkey where batoideas are seen, İğde noted that there is yet another field of this species in Çeşme district of İzmir province.
"We think that they come to Çeşme due to the structure of the sand. We know that batoideas mate here, particularly in October and November. In the period from October to December, they gather in large flocks and mate in areas close to shores. The sand structure and water temperature in this region provide suitable conditions for breeding. Their pregnancy lasts between 14-18 months and at the end of this period, a small number (between four and eight) of their babies, growing in size varying between 15 and 30 centimeters, are born in summer. There are about seven types of batoideas that are frequently encountered in this region."
Pointing out that winter diving is possible in Samandağ, İğde stated that batoideas generally mate in shallow waters of 15 meter deep.
"This area is on the coast. Since it is usually under the influence of warm southwest wind in the summer, we do not dive here, but with the east wind in winter, the view is incredibly beautiful and we can see 20-30 meters below. When it is the mating season of batoideas, it can be an amazing diving spot especially in winter."
İğde expressed that it is hard to dive at other Turkish coasts in winter, emphasizing, "Storms and cold water in the winter time can prevent diving. The current water temperature of around 24-25 degrees Celsius, perfect views and hot weather attract divers to this region in winter. We are lucky about that. While it is not possible to dive in other spots in Turkey in winter, we can very easily dive here."
Year-round diving center
Underscoring that the diving season in Samandağ never ends, İğde said, "It is a diving center that is open for 12 months. Winter conditions are not seen in Hatay as the water is 18 degrees on the coldest days. Sometimes it falls to 17 degrees, but there are no winter conditions at temperatures not less than 18 degrees. So, we continue to dive throughout winter. We are waiting for all the divers here. We can do really nice dives in winter."