Amid increasing demand for Bitcoin due the skyrocketing prices in the last months, the global energy consumption used in the production process of the virtual currency known as "mining" surpasses the individual consumption of 159 individual countries.
Research by the U.K.-based energy tariff comparison service PowerCompare.uk states that as of Nov. 20, Bitcoin's current estimated annual electricity consumption has reached 29.05 terawatt hours (TWh), equal to 0.13 percent of the world's energy consumption.
Although this number may seem small, it is larger than the electricity consumption of Nigeria—Africa's most populous country of 190 million, the largest economy in the continent and 20th largest in the world.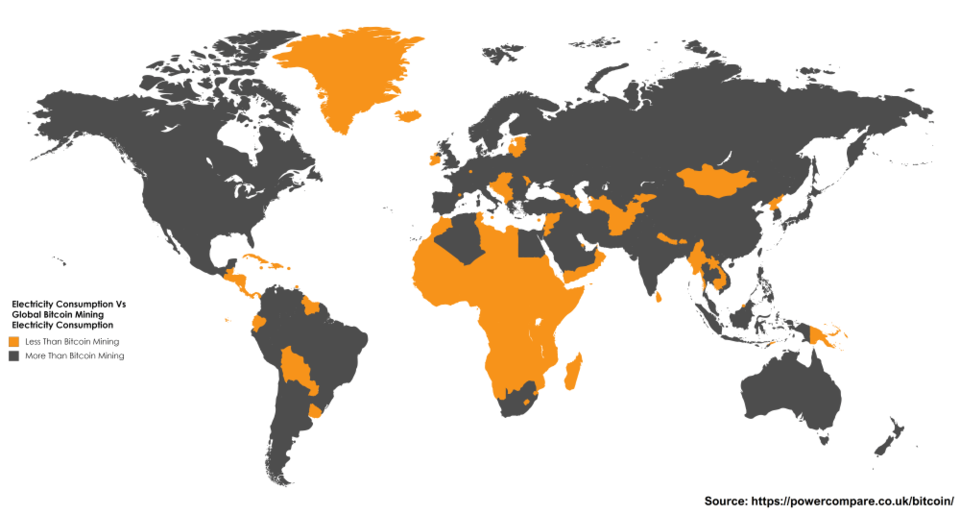 The study puts the price tag of total annual cost of mining at $1.5 billion. However, this number is based on a global average. When the U.S. average retail price is considered, this number could easily reach $3 billion, whereas with average prices in the U.K. it could easily hit nearly $4 billion.
The estimated annual global mining revenues currently stand at $7.2 billion, the study says, noting that Bitcoin's price increased more than 40 percent over the last month, greater than the increase in electricity prices.
The study states that in October alone, Bitcoin mining-related electricity consumption is estimated to have increased by 29.98 percent, and if it keeps increasing at this rate, Bitcoin mining will consume all the world's electricity by Feb. 2020.




An article by Business Insider on the report states that some 80 percent of Bitcoin mining is being carried out in China—a country heavily dependent on fossil fuels, extensively coal, for electricity consumption.
The Bitcoin mining process involves powerful computers solving cryptographic problems. However, due to the limited nature of the system, as the scope of the currency expands, more complex computation will be needed to procure Bitcoin, requiring more powerful computers consuming more time, thus increasing power consumption.
This dilemma has raised environmental concerns over Bitcoins, in addition to those stemming from their legal status.