During Ramadan, all segments of society, including the rich and the poor, come together at the same dinner table for iftar (fast-breaking meal) and sahur (pre-dawn meal). Local flavors, especially dishes authentic to the southeastern Anatolian region, enrich these Ramadan tables throughout this holy month. As modern life surrounds us, young people are losing their interest in local recipes; however, elderly, talented chefs continue to prepare these exclusive dishes for iftar. Here are some delicious recipes that can give special flavor to your dinner tables:
Büryan kebab
Known as "a flavor that gets you out of bed," it is cooked in a special pit for hours and served before the sun rises. Büryan kebab is one of the irreplaceable dishes of iftar tables in the southeastern provinces of Turkey. Büryan kebab, in which lamb meat is hung in a 3-meter-deep and 1-meter-wide pit to be cooked, is prepared exclusively for Ramadan. Büryan kebab has caused disputes between locals in the Turkish cities of Siirt, Bitlis and Kastamonu, as these cities each claim that the kebab belongs to their culture. Although no resolution has been attained for this matter, büryan kebab continues to be highly popular among the locals of Siirt especially. Speaking to an Anadolu Agency (AA) reporter, Murat Kayaalp, a büryan kebab chef, said cooking this kebab is a very demanding job because there is a high demand for this local dish during iftar, and because they prepare the lamb meat in the morning and serve the kebab in the evening. Lamb meat is hung from hooks above copper boilers filled with water. Later on, the boilers are covered with mud and ash to prevent any air from getting in. After three hours, the meat is taken from the pit and served to customers. "As we use the meat from lambs that are fed in their natural environment, büryan kebab is a very delicious dish. Those who want to break their fast with this special kebab cooked exclusively for Ramadan order it the day before," Kayaalp said. He added that tourists visiting Siirt also show great interest in büryan kebab, and said they send the kebab to their customers in Ankara and Istanbul in packages. "After we cook the büryan kebeb, we freeze it for two hours and send the packages via plane or bus to our customers," Kayaalp said. Umut İlhan, who came to Siirt from Yalova, told an AA reporter that he prefers breaking his fast with büryan kebab and advised everyone to taste it if they have the chance.
Stuffed lamb ribs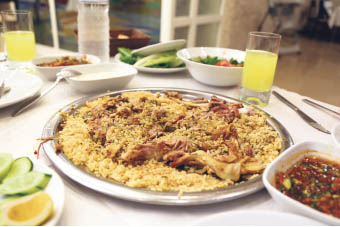 In Diyarbakır, the queen of iftar tables is undoubtedly stuffed lamb ribs. They are prepared by filling lamb ribs with boiled rice, parsley, black pepper, red pepper, various other spices and tomato paste. After filling the ribs, the meat is sewed and cooked for four hours in an oven. Apart from the famous stuffed lamb ribs, Diyarbakır's iftar tables are also enriched by such dishes as: meftune, kenger, hıllorik, mehir, güveç, rice with almonds, babaganuş, stuffed meatballs, ekşili sıkma, çiğ köfte, stuffed peppers, eggplant with sumac and kadayıf, which is a dessert.
Oruk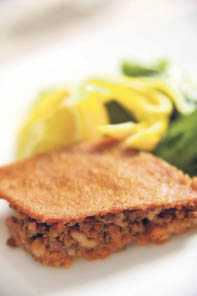 Örok, which is prepared by frying stuffed meatballs, is one of the most consumed dishes in the province of Mardin. Moreover, local dishes such as sembusek, which is prepared with flour, green pepper, egg and yeast, kibbe mumbar, which is prepared with tripe from a lamb or goat, tail fat, mint, rice and various spices, and zingilli çektik, a dessert, can always find their places on iftar tables. Mardin-based restaurant manager Sevim Çekin said the local cuisine of Mardin is very rich, as the region is inhabited by people with various languages, religions and cultures. However, she said that young women do not want to learn how to cook these local – but time-consuming – dishes. "There are more than 80 different dishes authentic to this region. Thanks to elderly, talented chefs, everybody is able to taste these unique flavors," she said.
Licorice sherbet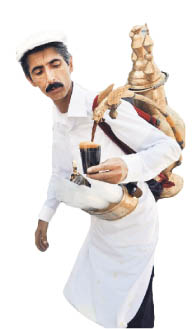 As the temperature is approximately 40 degrees Celsius in the summer, locals in southeastern Anatolia are fond of cold drinks. Licorice sherbet, which is sold on street stands, is one of the most preferred cold drinks of the region. Licorice sherbet is prepared using licorice, which grows in watery, wet areas, and undergoes a series of processes to make it into a sweet and delicious summer treat.