The experience of living as an expat changes people in many different ways and those who fully immerse themselves in the culture can potentially become a whole new person. Each day, expats gain insight into a country's traditions, ceremonies, daily life, routines and social norms. Believe it or not, adapting yourself to the culinary culture of a foreign country can be a nightmare at times, and it is one of the biggest problems for foreigners. Expats in Turkey, however, are very lucky to have access to a rich variety of Turkish foods with unique tastes from every region of Turkey. Besides just enjoying the food Turkey has to offer, a handful of expats have taken a step further and dedicated themselves to Turkish cuisine while sharing their skills as well as recipes with fellow expats in their own cooking classes. Here is a list of places where you can find expat chefs as well as visiting foreign chefs:
Cooking Alaturka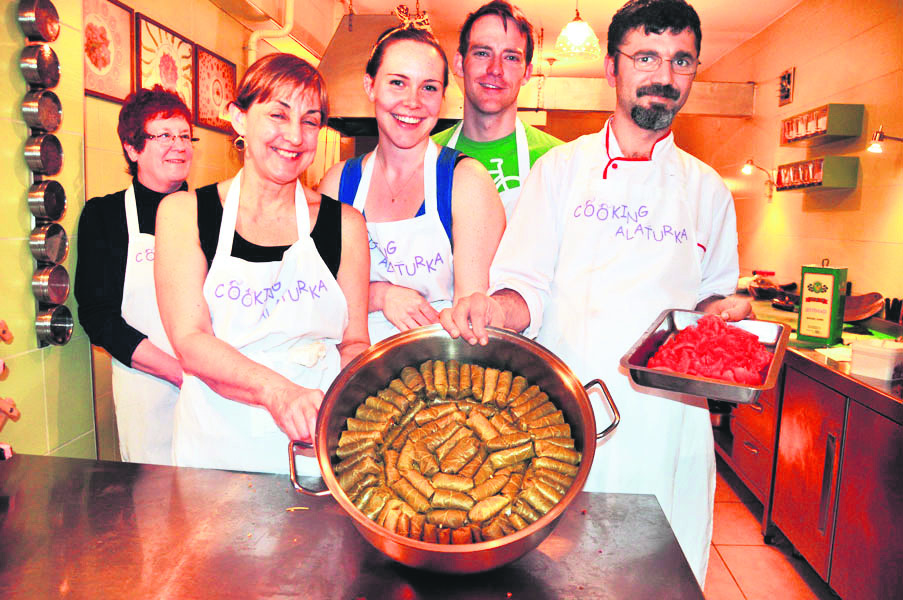 Eveline Zoutendijk, a Cordon Bleu-trained Dutch chef, runs "Cooking Alaturka," one of Istanbul's earliest cooking schools. Having settled in Istanbul in 2001, Zoutendijk took over a small hotel in the Sultanahmet district, where the courses are held. She later relocated to a better facility in the same area and combined her cooking school with a small restaurant. "Cooking Alaturka" does not promise to turn its trainees into professional chefs, but serves to give amateur chefs knowledge of the basic ingredients of Turkish cuisine, teaching students how to prepare and combine them in different ways in a fun and relaxed setting.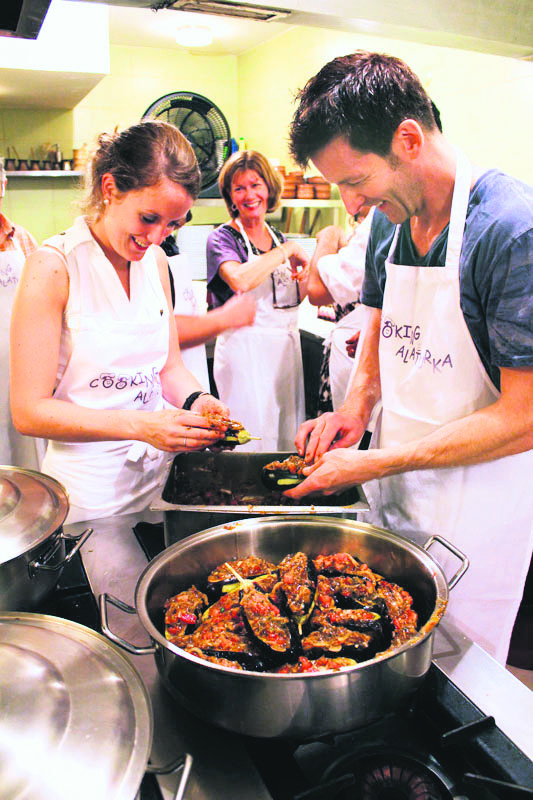 After learning how to make a five-course Turkish dinner, participants sit down together to taste the food they have cooked. Zoutendijk teaches her trainees the best of Turkish culinary tastes from "imam bayıldı" (braised eggplant) to meat-stuffed grape leaves and Anatolian bulgur pilav. "Cooking Alaturka" offers cooking courses twice daily, Monday through Saturday. All classes are conducted in English. Private classes can be taught in Dutch, French or Turkish, if requested.
Turkish Flavors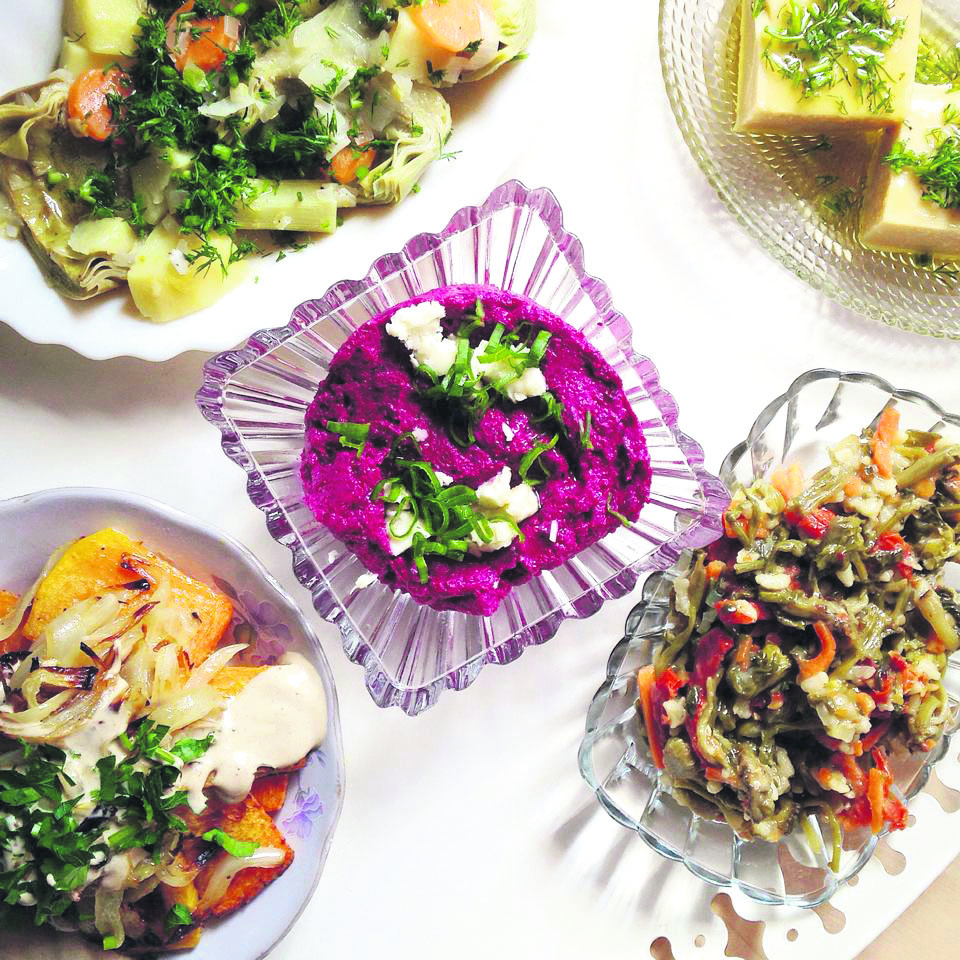 As a culinary and travel specialist, Istanbul native Selin Rozane runs "Turkish Flavors," which offers hands-on cooking courses for expats and tourists visiting Turkey. As expats learn to cook a minimum of five different Turkish dishes, Rozane shares interesting information about the history of Turkish cuisine. The cooking courses take place at Rozane's home in Feneryolu, a neighborhood in the Kadıköy district on the Asian side of Istanbul. A pleasant lunch composed of recipes from Istanbul cuisine is prepared during the class. "Turkish Flavors" also organizes "Taste Istanbul's Food" tours for better insight into local culinary delights. Her Istanbul food walks start at the Spice Bazaar. Then, the group takes a ferry from the famous Eminönü district to Kadıköy where tours are held of the historic Kadıköy market which offers an array of local products. They also visit various restaurants in Kadıköy during this delicious gourmet walking tour. Chef Rozane is a member of the Slow Food Initiative, Friends of the Kitchen and the International Culinary Tourism Association.
Cooking classes in Alaçatı


After running her popular cooking classes in Istanbul, Russian-native Olga Irez now continues her Turkish cuisine classes at Babushka Alaçatı, a beautiful family restaurant in İzmir's popular resort town of Alaçatı.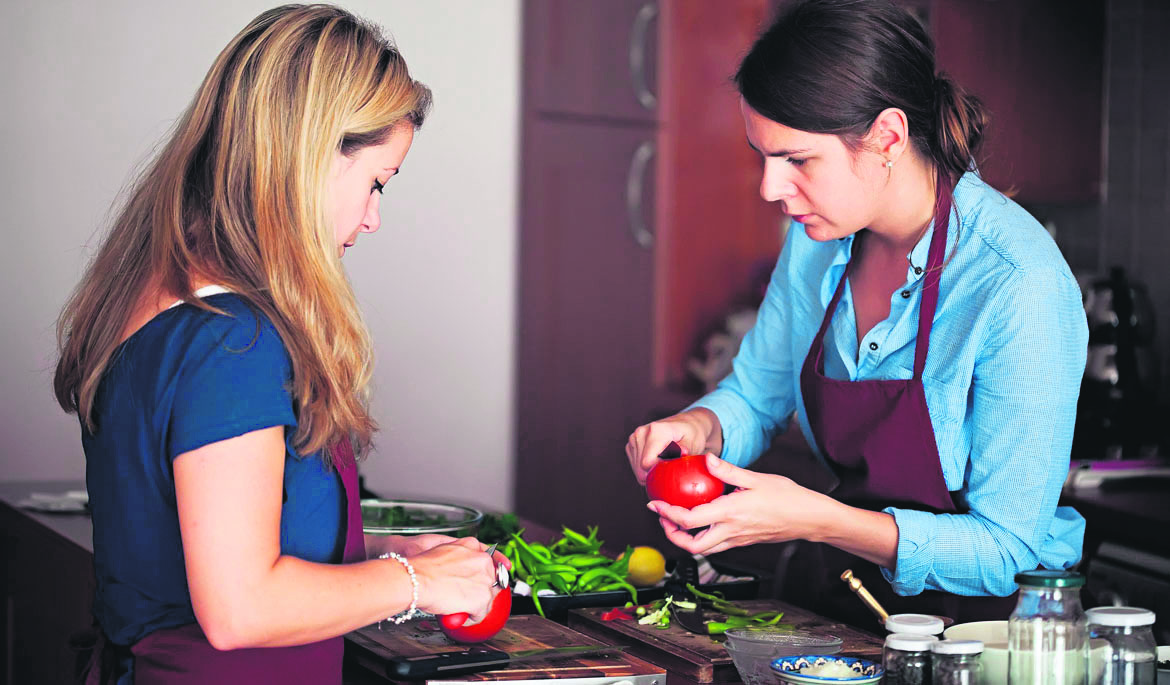 Irez, a very passionate chef, gives a detailed introduction to each of the main recipes of Turkish cuisine she features. The courses continue with a few appetizers, one main course and a dessert. Trainees get to know more about seasonal products while learning the secrets of cooking and picking up new techniques. The cooking classes at Babushka Alaçatı do not require special skills, as Irez welcomes all foodies who have an enthusiasm for cooking. Upon leaving her career in the consultancy sector and moving to Istanbul, Irez first established "Delicious Istanbul Food Tours" and cooking classes to share her passion for the foods and markets of the city she fell in love with. She also ran an Istanbul-based breakfast club to promote the traditional the Turkish breakfast among expats in Istanbul and tourists who came in her kitchen. The classes are available for two to eight participants.
Aside from the cooking courses listed above, the Culinary Arts Academy of Istanbul (MSA) in Maslak, a private culinary school accredited by the U.K.-based agency City and Guilds, is an alternative choice for the serious chef. The academy offers professional pastry and bakery kitchens, activity kitchens for culinary enthusiasts as well as a thematic museum on food and beverage history. The academy offers a two-month diploma program in eastern Mediterranean and Turkish cuisine. Trainees learn the vast food culture of Anatolian and Mediterranean countries. Aside from courses on Turkish cuisine, the academy has a number of other courses from the New Year's Cupcake Workshop to artisan coffee, which are continuing at full speed this month. The Istanbul Culinary Institute at Kadir Has University is also an option, where you can find courses for both professionals and amateurs.