There are still a lot of things we do not know about coffee. I ran into a great opportunity while I was thinking about this subject. I heard that Giacomo Celi from Caffe Nero, who is an expert in every phase of coffee from bean to cup was coming to Istanbul. Later, checking up on this coffee brand, I found that it was opened in 1997 in London, that they opened their first foreign branch in Turkey after the U.K., and that its name means "black coffee." Following this, I went to meet Celi, who came together with coffee addicts in The Warm Story of Coffee event organized by Caffe Nero. From coffee beans to the roasting process, coffee cupping and the perfect espresso, he shared the unknown story of coffee with us. In this joyous event, Celi also gave place to topics such as the journey of coffee from past to present, the differences between coffee beans and tips on preparing a delicious cup.
Coffee beans were discovered in Ethiopia, according to the story by a shepherd named Kaldi. Later, fermenting the beans he brought home with water, his wife made a drink. This is the story of the very first coffee. However, the actual discovery of coffee came with Sufi priests noticing this drink kept them awake. They always drank coffee during their long nights of praying. Then coffee traveled to Yemen and was used in monasteries. From then on, people have cultivated coffee in Yemen. We have also learned that the mocha I enjoy drinking so much, takes its name from the Moka Port in Yemen. Speaking of which, coffee reached the Ottomans with Sultan Selim I's conquest of Moka. Rumor has it that Selim was a coffee addict himself. He had a special coffee expert in the palace, and he drank up to six or seven cups of coffee daily. After coffeehouses started to spread around Istanbul, their number was in the hundreds in a short while, so that the 50 percent of the 80,000 sacks of coffee produced in Yemen at that time was consumed in Istanbul. Rather than being just a place to drink coffee and have a chat, coffeehouses were the places where ideas were generally argued in Ottoman times. Together with neighborhood coffeehouses, there used to be four different types of coffeehouse that were visited by soldiers, firemen, professional merchants and artists. The Dutch, who visited Istanbul and took coffee beans to Europe with them on their return, spread coffee culture throughout Europe. Different from Istanbul, however, in Europe these places were only visited by the elite rather than the common people since there were not many coffeehouses around. Loving the work environment of Caffe Nero, I also have other favorite cafes in a couple of different points of the city. One of them is Grigio, which recently opened in Karaköy. It means "gray" in Italian. Managed by Sercan Keserkaya and Zafer Köseoğlu, the place offers services in a European atmosphere with tables reaching to the street. The cafe is very cute. Their service personnel are very warm and humorous. The place has three floors and the upper floors are more like an old-fashioned living room with retro tables and carved sofas. There is a DJ performance on weekends. The coffee is of very high quality. The colorful coffee cups are very cute. Pay particular attention to the pink filter coffee jug. Besides its many different types of coffee, Grigio is also famous for its breakfast. Their jams are homemade and their hot, spicy tomato dip includes lots of nuts. In addition, Grigio's tartinis are very popular. The ones with tuna and avocados are especially super. But if you want to eat something else, you could try the pink beet risotto as well. Visit Grigio, one of the newest and the most trending venues of Karaköy, the first chance you get.
If you are in Beyoğlu rather than Karaköy then my recommendation is the Federal Coffee Company, which opens up to the Galata Tower square.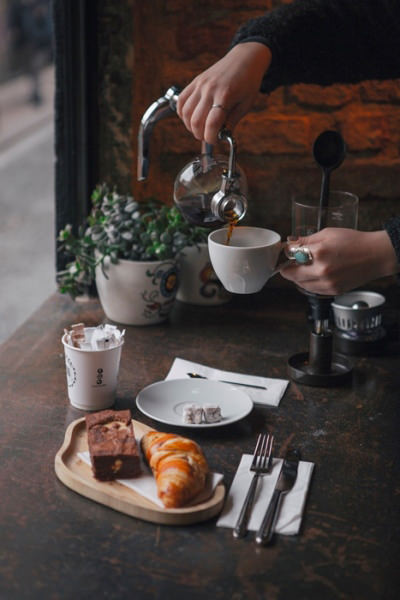 It's from Sami Çeviköz, the leading name of the coffee industry, who has been known for his expertise in coffee for over 20 years and his international achievements with the world champion baristas he has trained, and his partner Levent Koçarslan. I love their logo. The modern fireplace and accessories are interesting. Applying an Australian qualified roasting methods, the brand preserves the natural taste and aroma of the beans. Handmade syrups prepared with raw almonds, Mexican pepper, bitter chocolate, jalapeno and spices are used for preparing unique coffees. Produced from Federal's special blend, the cold brew coffee cocktail collection takes center stage. Check it out the first chance you get.
If you happen to pass from Galata to İstiklal Avenue, my coffee shop recommendation in this area would be the nostalgic cafe at the entrance of Ravouna Hotel.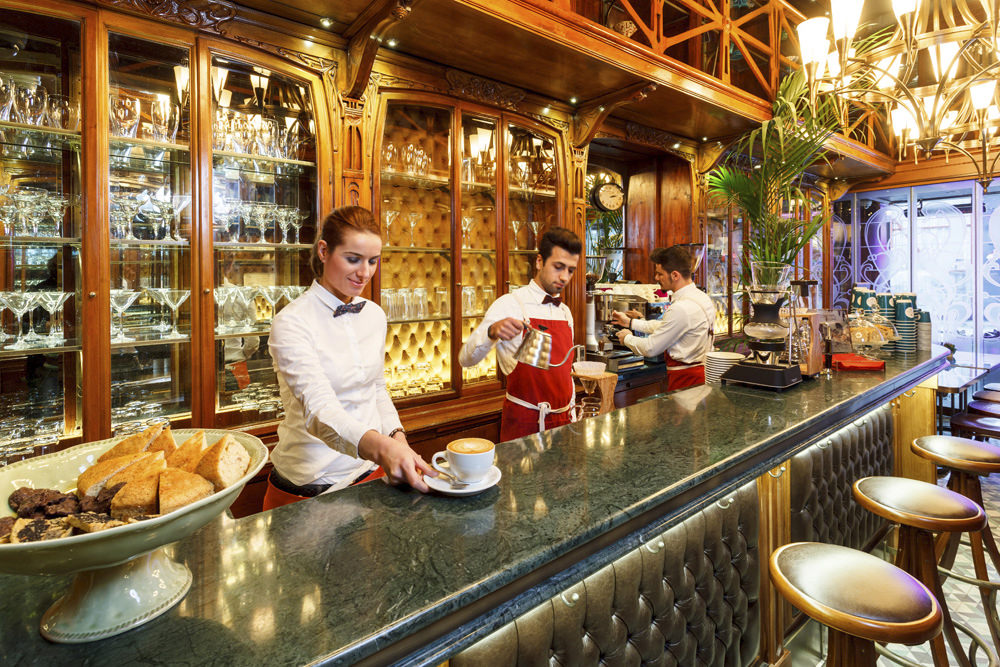 The Brazilian coffees are particularly great. However, what makes the place special is its historic decoration. Dating back to 1906, this cafe will take you to the past. Recently I stopped by the coffee and chocolate tasting workshop of Talha Bas, the barista at Ravouna. The coffee is freshly ground in a giant coffee machine at the cafe. Go upstairs to the second floor and definitely see this machine. Near the Dutch Embassy on the İstiklal Avenue, stop by the first chance you get. If leave Beyoğlu and Galata and go down to the seaside, my favorite coffee shop is the Private Reason in Bebek. With its wooden decoration, this cute place makes one feel the warmth and sincerity of European cafes. I suggest you pay attention to the patterns on the coffee containers, which are all different from each other. You can order your coffee with many different brewing methods. The servings are very chic. I mostly visit Private Reason for their Sunday breakfasts. The toast is great. My recommendation is the gourmet toast. In addition to the best coffee in the city, I can say that the best toast in the city is here as well. The service team is very cool. The owner, Vardar Topçu, is an owner who works with love. You can have events at Private Reason such as baby showers and birthdays, because whenever I go there I see one, and it goes quite pleasantly. Since the weather is warming, the terrace is ideal for long coffee delights. I wish you all joyful moments with your cup of coffee in advance.
Top 3 Venues of the Week
- Hudson / Arnavutköy
- 5 / Nişantaşı
- Beer Hall / Akaretler
Top 3 Hotels of the Week
- Sumahan / Çengelköy
- House Hotel / Karaköy
- Sacred House / Kapadokya
Top 3 People to Follow This Week
- Günseli Kato / Artist
- Meriç Benlioğlu / Actress
- Derya Karakış / Stylist