Before you head off and visit the plethora of museums, galleries and shops around Istanbul, make sure you fill yourself at one of these breakfast spots. Turkish people take breakfast seriously, so whether you are looking for a quick bite or something a little more substantial, Istanbul offers a wide range of alternatives.
Secret Garden
Everybody needs some silence and relaxation to purify themselves from the city's never-ending traffic congestion, fast-paced life and all the other things that make you age faster than you should. Secret Garden in Istanbul's Yeniköy neighborhood is where you can escape from the busy city life while still enjoying a weekend breakfast with your family. Void of buildings and offering a simplistic forest view with small houses scattered about will make you feel welcomed there. The breakfast menu is rich and we assure you that an exclusive cheese plate with special variations of eski kaşar (aged kashar cheese) will be served, accompanied with fresh olives and jams. Secret Garden also has a playground for children. Keep in mind Secret Garden when you are searching for a peaceful breakfast place and somewhere you can breathe fresh air.
Limonlu Bahçe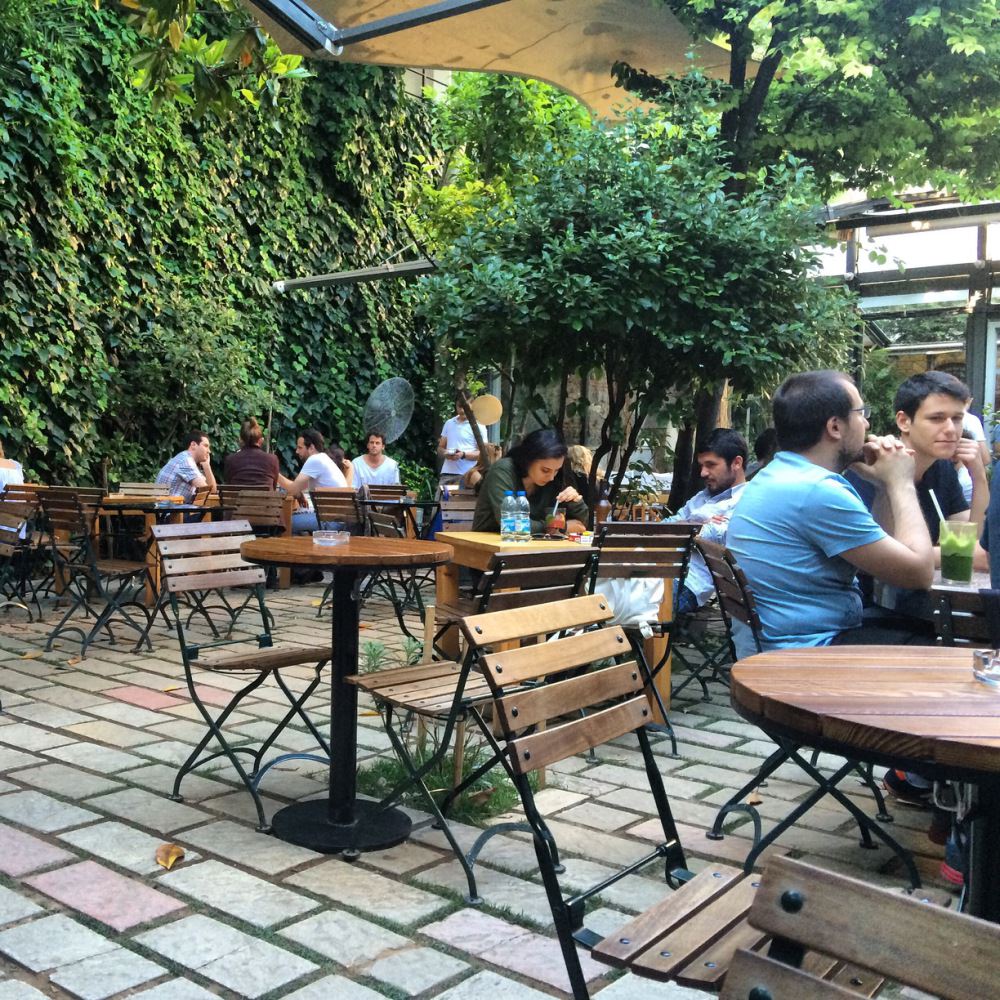 A secret sanctuary in the heart of Taksim? Yes, I am talking about Limonlu Bahçe, or Lemonade Garden in Turkish, located on the bottom floor of an old building right down the street from Galatasaray High School. When you enter the building, a long narrow staircase will lead to a garden restaurant surrounded by trees and small kittens. Even tiny turtles may come up to your feet. We advise you to get your place early, especially on the weekend, otherwise, the restaurant cafe fill up in a hurry. The service can be delayed during busy hours but the breakfast menu is quite good, albeit not as rich as the first two places we mentioned. We strongly recommend that you try their refreshing drinks, such as their apple lemonade. Limonlu Bahçe is a popular place for expats and regularly hosts groups of foreigners.
Cookpoint Ortaköy
Do you fancy an "extra-large" breakfast? When having weekend breakfast with a big friend of groups, finding a decent place with a rich menu is always a headache. The trendy Ortaköy neighborhood, obviously one of Istanbul's hot spots for the weekend comes to mind with its vibrant ambiance, dotted with numerous cafes, restaurants and buffets serving Kumpir – a loaded baked potato stuffed with as many toppings as you can imagine, from pickles to Russian salad. Located far from the neighborhood's Bosporus-facing square, Cookpoint Ortaköy still makes our list with its warm, welcoming environment and quality service. An array of cheeses accompanied by salami, sahanda yumurta (fried eggs) and a platter rich with variety offer you everything you could desire for breakfast like bal kaymak (honey and cream), flavored roasted pepper and home-made fig jam are just the start. Toasted bread is served in small embellished flowerpots. Pancakes and blueberry pudding come when you are just about full up. Try the homemade lemonade with fresh mint after breakfast. Cookpoint Ortaköy has a small outdoor section and the interior part stands out thanks to its classy decoration.