This Sunday is Mother's Day. The most special day of the year for those wonderful, precious creatures who gave us life. We have to make this special day memorable for the women in our lives, right? If you still have not made a plan, I have a few suggestions for you.
The centrally located Vogue Restaurant offers a beautiful view of the Bosporus, and is the perfect place to spend the day. This restaurant is a longstanding, recently renovated Istanbul classic with impeccable service, especially on Mother's Day. Various fresh breads ranging from French baguette to Turkish açma (a soft bagel) and homemade jams, they also offer mezzes and other selections, each more delicious than the other, featured in the salad section of their open buffet. Beverages including fresh fruit juices and homemade lemonade are the perfect companion for their delicious humus, quiche and omelet selections. Vogue's peerless sushi and sashimi menu adds even more enjoyment to your Sunday brunch. The Rib Steak and Sea Bass are other main course options. Vogue Restaurant also features a delicious dessert menu with various milk shakes and frozen drinks for the kids, as well as creative cocktails and champagne services for adults. This Mother's Day, bring your mother to this hidden gem, where she will also find fresh orchids on the tables and live music including a life saxophonist. Under the management of Deniz Zengin, Vogue Restaurant is chic and spacious, boasting a panoramic view of the Bosporus. For those who prefer dinner rather than brunch, Vogue offers great menu options, and a live DJ who creates the perfect ambiance for your special evening. In short, I would say that Vogue Restaurant, located on the Akaretler ramp in Beşiktaş, should be among your top choices.
My next suggestion is Lacivert Restaurant, located on the Anatolian side at the foot of the second Bosporus bridge.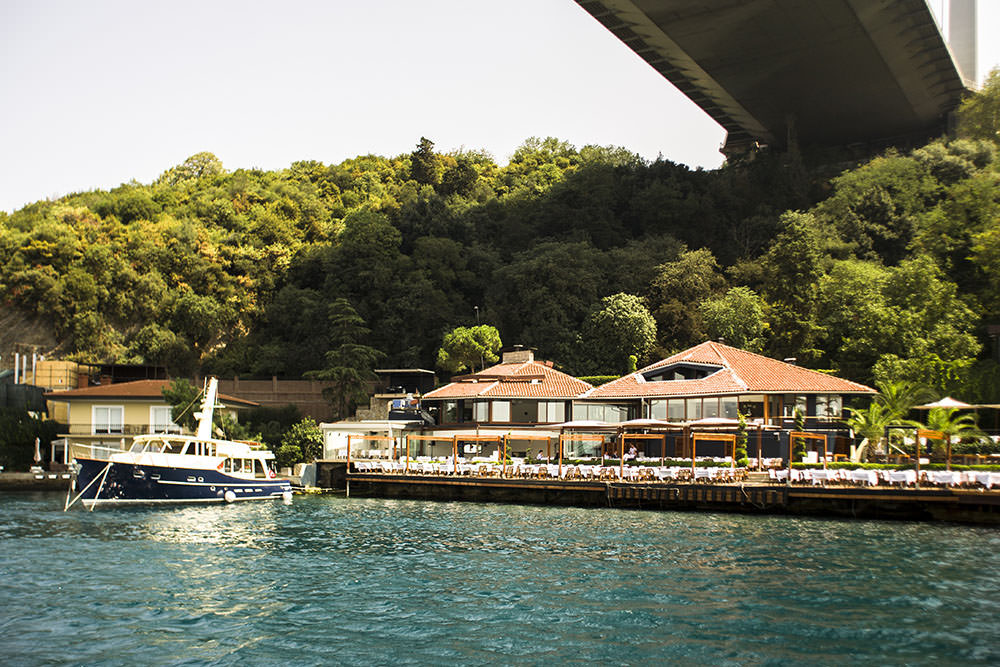 Lacivert, which means "dark blue," always impresses me with its seafront location, and harbor which is frequented by boats from the Bosporus. Lacivert is a villa-turned-restaurant, transformed into an elegant place full of surprises. Featured in old Turkish movies, this restaurant has an open buffet breakfast menu and different concepts which include island flavors, traditional tastes, local delicacies, street classics, palace-inspired flavors and village-style breakfasts. Furthermore, honey from all across Turkey lures guests to the restaurant. They also offer cheeses from Konya, Mengen, Van and Erzurum, offering your mother a wide range of options that take her on a tasty tour of Anatolia. The best part of this is that a special boat runs from Rumelihisar on the European side straight to Lacivert. The short ride to the restaurant is free of charge and can take you to the restaurant in ten minutes. The place where blue and white colors dominate is pretty chic. The restaurant is decorated in blue and white colors, and is a chic place that I highly recommend.
Another great restaurant to visit for Mother's Day is Tom's Kitchen in the Zorlu Shopping Mall right in the heart of Istanbul.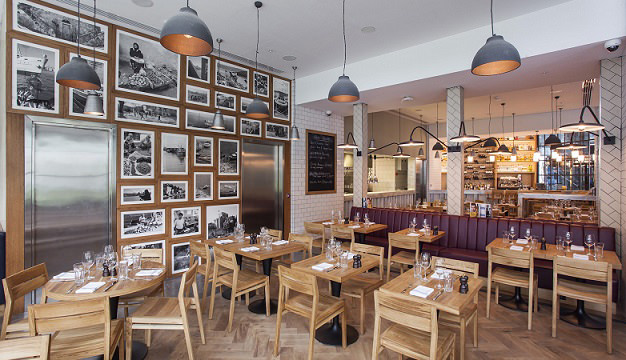 If you're a procrastinator and have not yet bought your mother a gift, you can stop by a store before the meal and get to Tom's Kitchen quickly, which is a modern and nice choice, especially for younger mothers or mothers-to-be. Tom's Kitchen's updated brunch menu is perfect for Mother's Day. The menu, prepared entirely with fresh flavors, offers a wide selection from Turkish to British classic breakfast flavors. Menemen with British winds and served with yogurt and sumac, a local cheese platter, eggs benedict and brioche French toast. Guests who want to have an enjoyable afternoon on Mother's Day may choose the "Afternoon Tea Time" menu at Tom's Kitchen. There are desserts, each different from the other, like the Chelsea bun, chocolate eclairs, carrot cinnamon muffins, scones with cream and jam and pistachio bread on the menu that brings traditional British tea time to life at Tom's Kitchen. The menu, offering nine different teas, is also served with prosecco for people who want it. Enjoy it.
The last place I will suggest is Mezzaluna. The Italian restaurant was founded in 1984 in New York by a businessman from Milan, Aldo Bozzi, and a famous architect from Florence, Roberto Magris, and reminds me of the Italian family meal traditions we have seen in the movies. Mezzaluna has warm and sincere service that your mother will love, and draws the attention of crowds with its surprise desserts prepared just for Mother's Day. Their raspberry tea bread, the Torta al te Lamponi, is served with raspberry sauce, and the cinnamon apple tart, Torta di Mele, is served with British sauce. Also, the almond chocolate cake - made without flour an
d referred to as the Torta al Ciocccolato - are among the best desserts that combine fresh fruits and chocolates to create decadent desserts. Another new sweet treat on the menu is the wheat tart called, Pastiera Napoletana, which is prepared with bull milk ricotta cheese and orange. Likewise, their pizzas and homemade pastas will absolutely take you to Italy. Go there with a big crowd with bask in their decorations and colors which are all inspired by Tuscany. Mezzaluna will become your second home, like Italian families who gather around meal tables and enjoy loud conversations with lots of laughter and jokes.
Top 3 Venues of the Week
- Klein / Harbiye
- Sunset / Ulus
- Hudson / Arnavutköy
Top 3 Hotels of the Week
- Armaggan / Ortaköy
- Museum / Cappadocia
- Nişanyan / Şirince
Top 3 People to Follow This Week
- Başak Men / Lawyer
- Eray Kılıç / Blogger
- Semi Lichy / Chef