Fresh fruits, spices and flower essences still have a big place in Turkish cuisine with Persian, Levant and Central Asian influences. Traditional syrups and sherbet, a name derived from the Arabic word "sharba," which means "drink," these ingredients are indispensable. A very popular beverage during the Ottoman Empire, sherbet's popularity was largely attributable to the very limited or forbidden consumption of alcohol. Although sherbet recipes vary, the basic ingredients include a mix of flower extracts, fruits or herbs with sugar and water. Flavors that are commonly found in sherbet include rose, hibiscus, lemon, pomegranate, peach, cardamom, tamarind and mint.
Sherbet and fruit compotes regularly accompanied Ottoman meals, especially during the fast-breaking meal, "iftar," during Ramadan. On hot summer days, sherbets were served to guests as refreshments and consumed by lactating women to boost their milk production. These drinks were also served daily, especially with coffee, and consumed for their known healing effects against certain diseases. Today, sherbet is mostly served in crystal bowls for ceremonial occasions across Turkey.
Favorite types of sherbet
Tamarind sherbet:
A tangy and sweet sherbet better served with crushed ice, Tamarind sherbet is produced from the edible fruit of the tamarind tree, native to India. For a very long time, this sherbet remained a traditional beverage at the Ottoman Imperial Palace. Aside from its specific flavor, Tamarind sherbet is appetizing and good for stomach problems as well as mouth and throat infections. It also lowers body temperature and is an antidote to heart attacks and strokes.
Cornelian cherry sherbet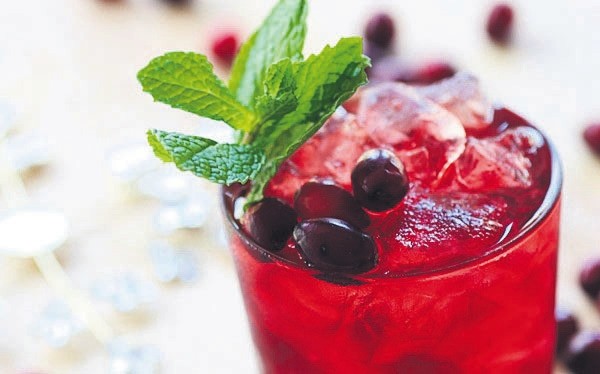 Very rich in Vitamin A and C as well as calcium, phosphor, iron and magnesium, the sherbet made with cornelian cherries has a beautiful fragrance along with its bright red color. This sherbet is one of the healthiest and most common ones as mothers still prepare home-made cornelian cherry ("kızılcık" in Turkish) sherbets for their children in the summer. With its antioxidants, the sherbet is recommended for strengthening the immune system and is helpful for recovering from cold and flu viruses. It also eases digestion.
Rose sherbet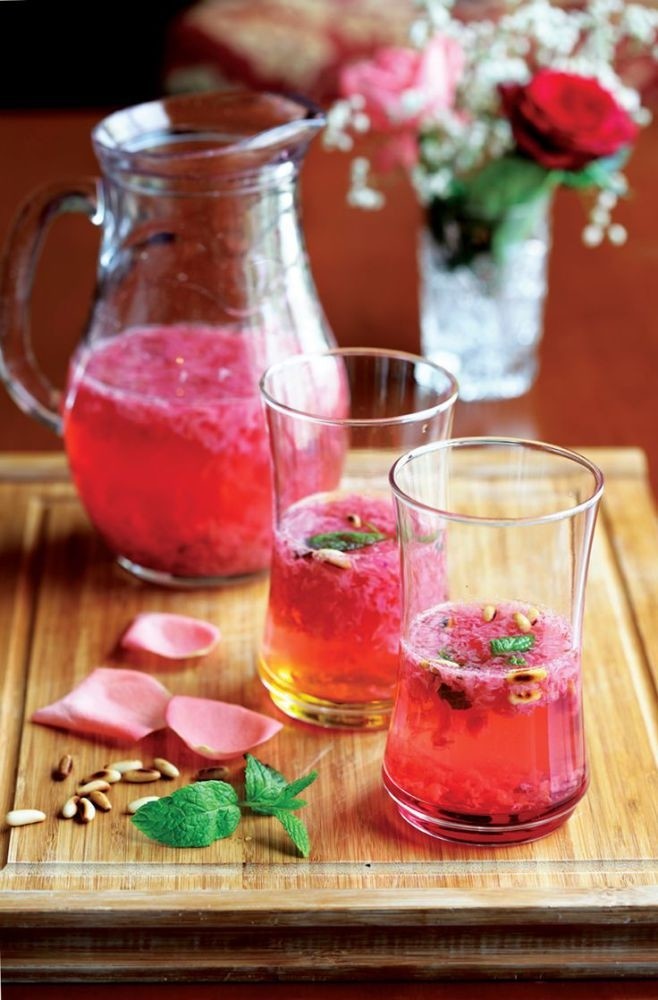 Coming with its own set of traditions, rose sherbet is included in wedding ceremonies in eastern Turkey, where the bride is asked to drink rose sherbet from a copper pitcher to indicate that she accepts her groom's proposal. Although this tradition is not seen as frequently as in the past, this tradition is also seen in India and Afghanistan. To make the best rose sherbet, roses brought from the Turkish province of Isparta are ideal.
Licorice sherbet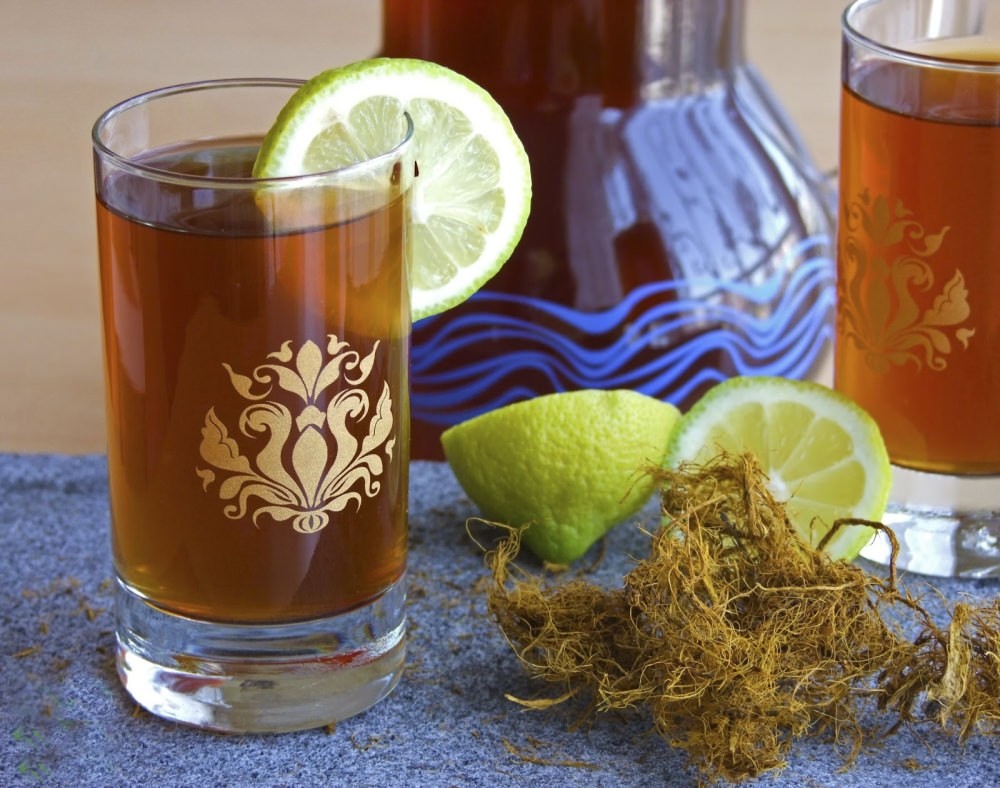 Many are familiar with licorice as a flavor in food and beverages. This plant is used to sooth ailments in the digestive system, including ulcers, heartburn, and chronic gastritis. In Turkey, licorice root is grown near wetland areas like rivers. The sherbet is good for quenching thirst and helps detoxify the kidneys, too.
Sekanjabin sherbet:
Usually served in summer and seasoned with mint, Sekanjabin is an old drink native to Iran and is made of honey, water and white vinegar. Dating back to 16th-century Persian culture, this sweet and sour sherbet is known for its healing powers and is a good source of vitamins. It is recommended to consume a cup of Sekanjabin, which is told to be the Arabic version of oxymel (medicinal drink) after dinner for better digestion. Sekanjabin is associated with Mawlavi culture in certain contexts, which likely accounts for its inclusion in Turkish culture.
Cherry sherbet


Like cornelian cherry sherbet, cherry sherbet, or cherry syrup, is another favorite homemade beverage among Turkish people. Aside from its good taste, cherry syrup is good for children with a low immune system.
Where to find sherbet in Istanbul
Facing the historic Haghia Sophia in Sultanahmet, "Şerbethane" or "Sherbet House" is located inside an Islamic social complex designed in the 17th century. Named after the Ottoman Sultan, Ahmet I, the social complex features thousands of traditional blue tiles. Şerbethane is run as both a cafe and restaurant. Here tourists can taste tamarind, rose and a special "sultan" sherbet next to a good meal.
Located in the district of Kadıköy on the Asian side, Çiya Sofrası, a famous tradesmen restaurant, stands out with its Ottoman cuisine menu and serves about 50 different kinds of sherbet, including strawberry, basil, grape and mulberry.
With three branches in Istanbul's Eminönü, Beyoğlu and Kadıköy districts, Ali Muhiddin Hacı Bekir has made a name not only for its Turkish delight and candies but also its tamarind sherbet.