For people traveling for culinary pursuits, Turkish cuisine is indeed a very curious one. For some culinary experts, Turkish food is among the top cuisines in the world, along with French and Chinese. The ongoing EXPO Antalya is a good chance to experience the different tastes unique to each region in Turkey. Lying near Expo Lake, the restaurant street has seven distinct Turkish houses, each of which represents one region of the country with construction techniques and rich local decorations reflecting the area's character. All of the houses are run restaurants serving up delicious dishes.
Mediterranean flavors bringing the best of Turkey's Mediterranean region to the expo, there is Antalya House, inspired by the Alp Pasha Mansion in the city's historic center. As is widely known, the Aegean and Mediterranean regions' food is largely vegetable olive oil-based dishes. Antalya House's signature dishes are "Burdur Şiş" (grilled lamb on skewers) and "tahinli piyaz" (haricot bean salad with tahini). For dessert, "tahinli kabak" (baked pumpkin in syrup and Tahini) stands out among the other choices. A stone house on the restaurant street has an atmosphere that helps visitors feel as if they are on a vacation in Bodrum, a holiday spot in the Aegean city of Muğla.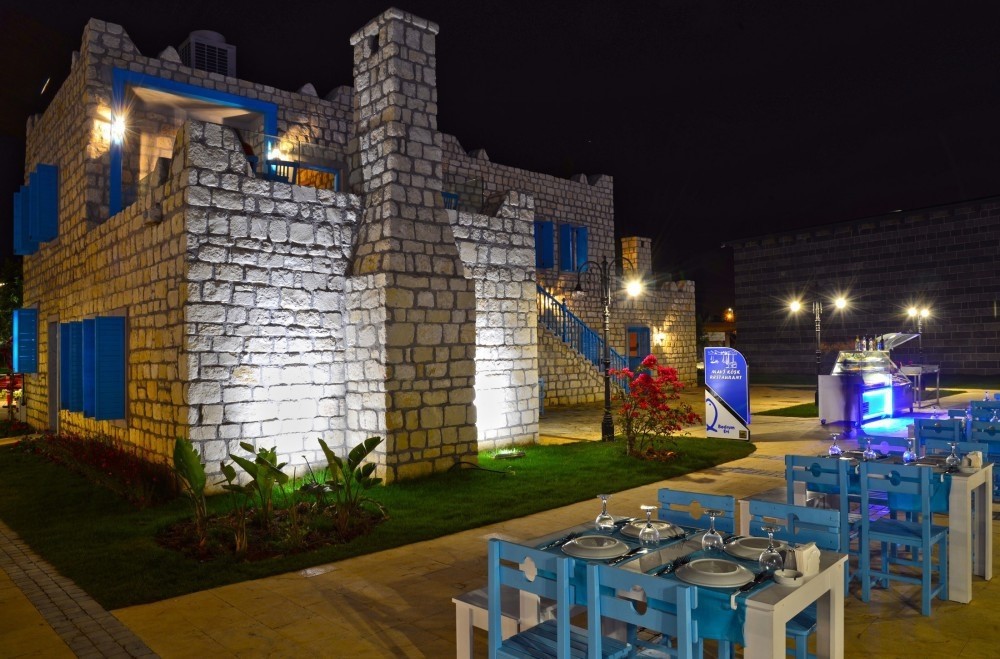 Bodrum House
Also at Bodrum House, guests can taste olive oil-based dishes along with a rich fish menu. Before heading to Turkey's eastern parts, another restaurant -"Istanbul House" - is dedicated to the Marmara region and the building resembles the historic Ethem Pertev Mansion on the Bosporus.
Eastern flavors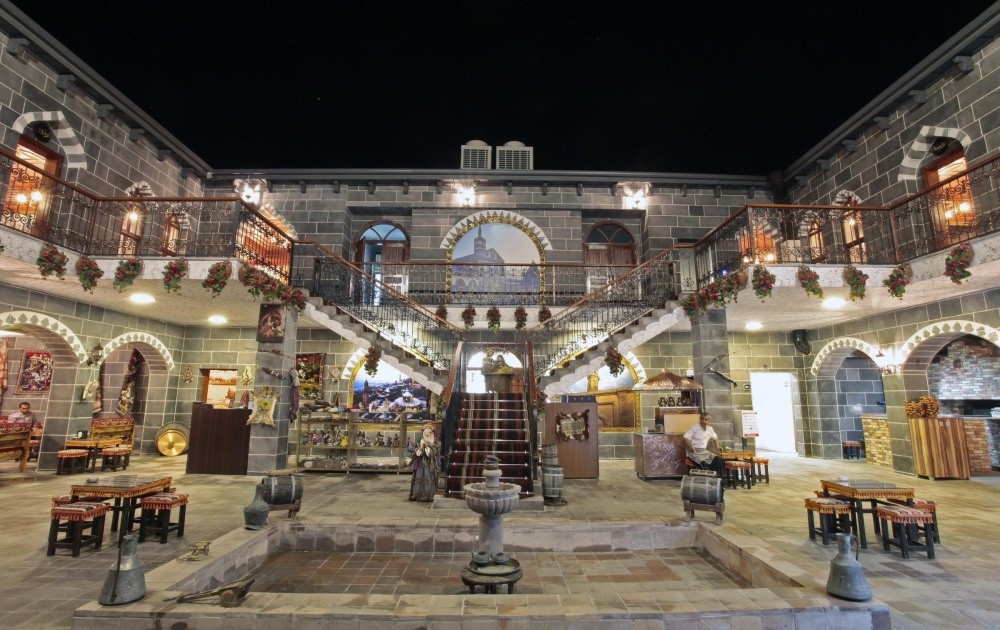 Diyarbakır House
Turkey's eastern and southeastern regions, including cities like Gaziantep, Kilis and Şanlıurfa, are known for their spicy and versatile foods. A wide variety of food hailing from Turkey's southeastern region is available at Diyarbakır House, which is designed in line with late famous poet Cahit Sıtkı Tarancı's home. "Kuzu tandır" (Tandoori lamb), "kaburga dolması" (stuffed lamb ribs) and "kavurma" (roasted meat) are just some of the dishes native to the region. To taste Turkey's Eastern Anatolian food, there is Erzurum House, with representations of Erzurum's authentic architectural buildings. Here the city's famous "cağ kebab" (horizontally stacked marinated rotating lamb kebab) is served.
Central Anatolian cuisine
Konya House brings Central Anatolian food to guests and the menu has dishes mostly from Konya, also described as the land of Rumi. From traditional "pide" and gumbo soup to "fırın kebabı" (baked kebab), the menu is sure to satisfy guests' taste buds.
Black Sea food
When anchovies are mentioned, the first place that comes to mind in Turkey is the Black Sea region which is located in northern Turkey. This area is also known for its "kara lahana" (collard greens) dishes, black tea and hazelnut farming. At EXPO Antalya, a version of Memiş Agha Mansion in Trabzon was constructed as the Trabzon House to serve Black Sea cuisine. Not limited to fresh fish species, the menu features "mıhlama" (a traditional dish made with eggs and cheese) "patlıcan tava" (fried eggplant) and "yufka kadayıf" (a dessert made of phyllo).
The restaurant street is open every day from 11 a.m. to 2 p.m.Having opened its doors on April 23, the international EXPO 2016 Antalya will run until Oct. 30. With the theme "A green world for future generations," the exposition is hosting national and international events like concerts, symposiums, dance performances, musicals, plays, workshops and streets shows. It is meant to promote Turkish history and cultural diversity as well as the country's rich agricultural and economic potential.
International flavors



Longan

Aside from traditional Turkish food, participating countries also share cuisine culture to local and foreign tourists. Within the Chinese garden complex "Jewel Moon," China introduces its local food at a Chinese restaurant serving noodles, rice, chicken, meat-based and Pekin duck, all cooked in traditional way. Bowen LIU, the owner of the restaurant, said Turkish people are getting to know Chinese food better in recent years and continued: "We will try to introduce our cuisine to Turkey. People who are coming here can try the original food of China." Thailand, another participating country, has also opened a stand serving tropical fruits to the guests. Some of them are "durian," a highly unusual but healthy fruit produced in tropical countries in southeastern Asia, in addition to the juicy and sweet "longan."