The smell of freshly brewed coffee will invigorate everyone this month as the upcoming coffee festivals both in Istanbul and the coastal province of İzmir will be a meeting point for coffee connoisseurs and coffee lovers who are not picky about how they get their caffeine fix.
The third Istanbul Coffee Fest will celebrate everything that is wonderful about the city's coffee culture. From top class baristas to skilled artisan roasters, independent coffee shops and more, every aspect of coffee will be explored at the festival held from Oct. 6-9 this week.
Scheduled to take place at Istanbul's Küçükçiftlik Park located near the Istanbul Technical University's (İTÜ) Maçka campus with the participation of around 200 brands, the festival's theme has been announced as "In the Heart of the City."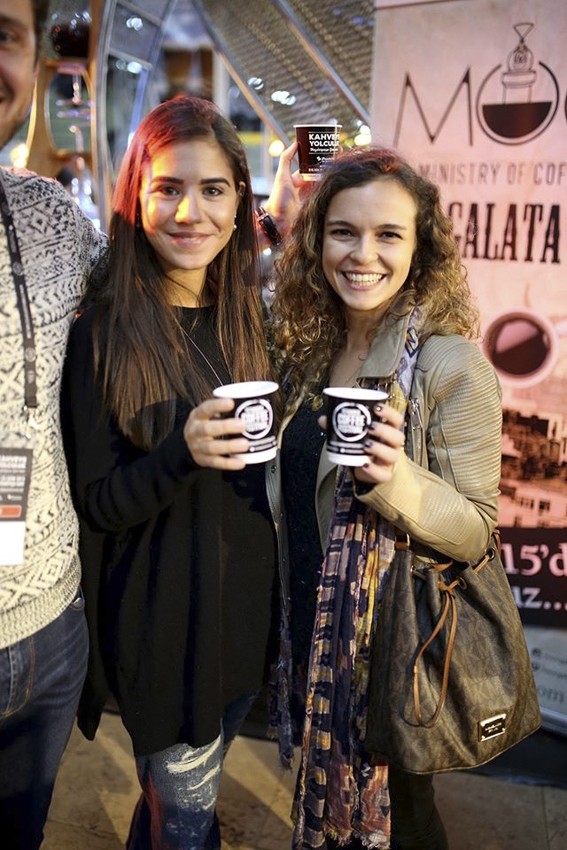 Istanbul's coffee scene has enjoyed expansive growth in recent years where young coffee lovers show a growing demand for the fashionable drinkware.
As seen at the two previous festivals, the event will be a celebration of the coffee bean and so much more, with an array of coffee and food samples, coffee tastings offered by international rosters, presentations by various coffeehouses and baristas and delicious coffee at La Marzocco's Artisan Bar, selections of gourmet food and beverages, bakeries where interactive workshops on brewing methods will be offered and LAB programs, live music, DJs, art exhibitions and much more.
Coffee experts from Norway, Germany, El Salvador, Greece, the U.K. and the U.S. will give workshops during the festival.
Istanbul's coffee scene has enjoyed expansive growth in recent years in a country where young coffee lovers show a growing demand for convenient, fashionable drinkware and have had a positive impact on the coffee production industry there. In neighborhoods from Karaköy to Beşiktaş, coffee is served in bustling cafes that introduce some of the most creative brews of specially brewed coffee and in charming, rustic coffee shops that serve the familiar and comforting traditional Turkish coffee, a must-try.
The festival will feature seminars, workshops, and concerts, and Istanbul's leading coffee shops and brands are scheduled to attend. On Oct. 6, Nestle Professional Global Master Barista Ola Persson will deliver a session called, "Discover How Creativity Reinvents Classics" and then, on Oct. 8, Patrick Rolf Karlsson will give a seminar titled, "Here is no perfect coffee, only different kinds of coffees that suit different kinds of people." Persson's workshop sessions will continue on another day during the festival as well. Additional coffee experts will talk about home brewing methods, coffee culture in Turkey and the art of coffee mixing, the effects of climate change on the coffee industry and how to run your own coffee business.
Last year, the Istanbul Coffee Festival attracted more than 25,000 guests. Entries for visitors will be presented in two different four-hour sessions on the dates of the festival. Tickets are available online at Biletix.com.
İzmİr Coffee Festival
Coffee is becoming a way of life that is as stylish as it is technical. The "first wave" of coffee culture prioritized the packaging of coffee and its introduction to the global market with more focus being placed on the number of sales - viewing the product as a commodity rather than focusing on the quality of its taste. The "second wave" of the new coffee era brought with it a new focus on pleasure, introducing coffee to the market as a form of tasty therapy.
Today, "third wave" and "fourth wave" coffee trends are bringing a new dimension to how coffee is served in cafes, enjoyed at home or at the office.
For the first time in the Aegean city of İzmir, the İzmir Coffee Festival will introduce a well-curated, immersive environment that embraces the many different subcultures that coffee comes from. Live artisan roasting and global coffee competitions, as well as music and artistry, will be just some of the ingredients that this festival will use to cook up an entertaining event. Held from Oct. 14 to Oct. 16, the three-day event will take place at the İzmir Arena.
You do not need to have a barista's skills to learn a few basic brewing techniques. After visiting the festival, you will no longer have to drink that tarry black cup of Joe at home. Here, you will learn all about coffee during hands-in demonstrations as local coffee artisans share their secrets for artfully brewing the best coffee. Coffee experts will be talking about different coffee beans; namely, "Arabica" and "Robusta," the two most widely used ones. Arabica is a higher-quality bean typically used in gourmet coffees. Robusta beans, on the other hand, have more of an astringent flavor and a higher amount of caffeine. Robusta is grown primarily in Africa and Indonesia while
Arabica is also grown in Africa and Papua New Guinea but it's grown predominantly in Latin America. More than three-quarters of the beans that are sold in the world today are Coffee Arabica. Since Robusta is more resistant against diseases and climatic conditions, its plantation is easier and cheaper. Robusta's best-known types are Java-Ineac, Nana, Kouliou and Congensis. The event will also offer various surprises in each section, including art and photo exhibitions. The İzmir Coffee festival will remain open until midnight and be free for children aged up to 10 years of age. The tickets are available at Biletix.com.