This week I'm going to tell you about renewed menus in Istanbul's well-known and trusted places.Menus are changing as the season is changing.New experiences are coming with seasonal vegetables, fruits and sauces. The first place I'd like to mention is Tuğra Restaurant inside the Çırağan Palace. Tuğra is the best representative of Ottoman cuisine in Istanbul with the Bosporus view, historical atmosphere and one-of-a-kind flavors. Most notably, its terrace area surrounded with marble columns should be enjoyed before the weather gets cold. Dishes with Ottoman signatures, silver cutlery and politeness of the waiters remind you that you are at a unique kind of Turkish restaurant. Prices at Tuğra Restaurant, on the other hand, are pretty reasonable for all the high quality and ambiance. Especially when you think that you're having a dinner at a palace, it has a pretty humble price list that cannot be compared with any restaurant in Istanbul. The ambiance is pretty romantic, making it ideal for marriage proposals and anniversaries.
When it comes to the menu, first of all I suggest that you try one of Tuğra's famous sherbets (a kind of traditional sweet juice). There are four different sherbets, my favorites being rose and pomegranate sherbets, all of which are natural and sugar-free. Among the foods, on the other hand, I suggest you to first try the meze set served in mini hand-colored china. Out of the mezes, I especially loved the Leer fish pastrami. Also, İçli Köfte (kibbeh), cooked in flat shape is pretty creative. Likewise, calamari with poppy seeds, which is again among the starters, is way beyond the fried calamari we know.I would not think that poppy seeds would go this well with calamari, however, it was delicious. Among the main dishes, on the other hand, testi kebab and angler fish with lobster should definitely be tasted. Testi kebab has a more traditional flavor and is definitely worth a try regarding its serving style and flavor. Angler fish with lobster, on the other hand, is a unique recipe with its sauce and vegetables. Tuğra Restaurant is also quite ambitious with desserts. Their ekmek kadayif with coconut is really good.Normally ekmek kadayif is pretty heavy and sugary but the flavor of it at Tugra was fairly light. I send my congratulations to Chef Hüseyin Ulaş.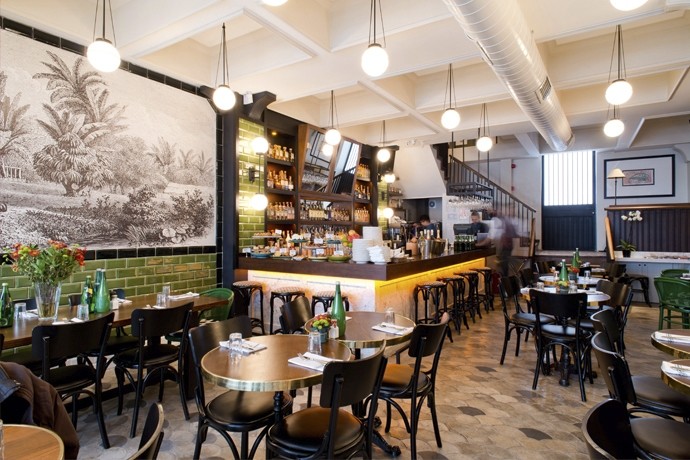 Another place whose menu has changed is Hudson. The place managed by Uğur Karabayır is maintaining its high quality and loyal customers as usual. It is chic, fun and full of flavors. The restaurant in Arnavutköy, under the leadership of Chef Kaan Karagöz, is offering a new menu mostly containing Asian cuisine. This trend, which is all around the world, will considerably suit Hudson's atmosphere. Among the foods on the menu I especially loved were the Salmon Tataki and Dana Carpaccio. Likewise, flavors served in mini breads called "buns" are very enjoyable. Out of the desserts, the cheesecake with forest fruits is spectacular. On the night I visited Hudson, we had the opportunity to try a gin named Monkey 47 for the first time in Turkey thanks to Tolga Balıkçı from Pernod Ricard, Turkey. Monkey 47 has become a high character product from its botanic mixes. I recommend trying this product offered at only 15 locations in Turkey that is not sold anywhere. Luckily, Hudson is one of those 15 privileged places.
Additionally, breakfast is served at Hudson during the weekends and there is no set price as each item you take from the bar you par for. This practice is very practical, just like the enjoyable breakfast places in London's Camden Town or Soho in New York. Hudson turns into a fun place on weekend nights with DJ performances. Making a reservation in advance is a must. Try out this popular place in Arnavutköy at your first chance!
Another suggestion of mine is The Populist restaurant, one of the restaurants formed after the restoration of the old Bomonti Beer Factory. The architecture created by the Spanish design agency La Grade is a successful concept restaurant. The factory that was built in 1890 in Feriköy by the Swedish Bomonti Brothers is hosting many places today. Starting its operation within D-ream Group, The Populist has a concept that shatters the standard patterns. It's a place where you can taste a wide variety of beers, enjoy coffees and choose dishes from its rich menu. There are two beer tanks left from the old factory inside the restaurant. The terrace on the top floor and the area where you can watch soccer matches are ideal for socializing. Additionally, there is a stage in the same section where live music performances take place within the "Speak Easy" activities.
The Populist, where an old model Volkswagen minibus greets you at the entrance, is also quite ambitious with their dishes. I especially loved their curly potatoes with meat. The French fries served with yogurt is like a main dish due to its substantial portion. Also, the stone oven in the restaurant is famous. I especially suggest their kokoreç pizza. They also make their own homemade guacamole and salsa sauces that are full of Mexican flavor. Out of the hamburgers, the lamb burger is one of the signature recipes of the place. Of the deserts, you can make a finish your meal with a "Funnel Cake". All dishes are served on Churchill blue and brown plates. The Populist, which hosts Oktober fest until tomorrow, will have DJ Nikki Wild on Oct. 14, DJ Serdar on Oct. 15, Beste Kirmaci on Rock Jazz on Oct. 19, and Gülce Duru, who is one of the good names of Blues, on Oct. 26. I congratulate the manager of the place, Rıdvan Beşer and his team. Tomorrow is the last day of Oktoberfest, so you might really want to visit The Populist and enjoy the last day of this world-renowned festival.
Lastly, I will finish with good news about Gaziantep cuisine. The Shangri-La Bosphorus Hotel brought Gaziantep cuisine, which succeeded in getting included in "Creative Towns Network" of UNESCO on gastronomy, to Istanbul. The festival, where unique flavors of approximately 500 different dishes are included, is continuing now. The special menu prepared with Shangri-La Bosporus's award winning Executive Chef Olivier Pistre's French touches and by Gaziantep's expert chefs M. Ragıp Güzelbey and Doğa Çitçi is offered in a festival atmosphere at IST TOO in the hotel. I hope this one-week festival, organized under the leadership of Gaziantep Metropolitan Municipality Mayor Fatma Şahin, will be an example to all of our cities. Today is the last day of the festival, so you should stop by the IST TOO Restaurant in the Shangri-La Bosphorus hotel and discover these flavors!
Tips of the week
Top 3 Venues of the Week
- Capricorn / Ortaköy
- Hudson / Arnavutköy
- Nicole / Galata
Top 3 Hotels of the Week
- Armaggan / Ortaköy
- St.Regis / Nişantaşı
- Ajia / Beykoz
Top 3 People to Follow This Week
- Merva Onur / Wellbeing Coach
- Başak Sayan / Author
- Emre Buga / Actor