From food carts selling the Turkish sesame bagel, "simit," on the famous İstiklal Street and Eminönü's fish sandwiches, "balık ekmek," to open-air eateries, Istanbul has a lot to offer when it comes to street food, as one would expect from such a rich culinary culture.
Alongside traditional one-stop food carts which are popping up at every corner, the city's food shops on wheels, which are normally integrated into major events to attract younger customers, are becoming a part of daily life with their signature dishes.
Around the time following the 2008 economic recession, the food truck phenomenon became a cultural trend in the U.S. The rise of social media has also helped food trucks gain success.
According to Intuit's report, "Food Trucks Motor into the Mainstream," the food truck industry is rapidly taking its place in the food tourism value chain. Food trucks are expected to generate about $2.7 billion in revenue in the U.S. through the end of this year.
"These one-stop, four-wheel shops with signature dishes from literally every corner of the world are now being integrated into major events and festivals as a way to attract young attendees, increase spending and cater to every taste bud," says another report called "The Rise of Food Truck Culture and Its Effect on Food Tourism" by Skift, an industry intelligence platform on travel. The report also notes that almost half of millennials have eaten at a food truck before.
Catering to every taste bud, these on-the-go gourmet trucks in Istanbul promise to make your day.
Manivela Coffee Truck
The scent of freshly brewed coffee is the first highlight of the day for many. In Istanbul's Maslak quarter, a business district bustling with white collar workers by day, Manivela Coffee Truck run by a group of friends is one of the workers' first stop for their daily caffeine intake. Serving deliciously aromatic coffee specialties, Manivela takes people out of the chain coffee shops and invites them to try third wave coffee at its finest.
The trio behind Manivela Coffee Truck came up with the idea when they were having coffee at a food truck in New York a few years ago. It was then they started to think how to introduce the same trend in Istanbul and make it more common. In 2015, a 1988 model minibus was transformed into a coffee shop on four wheels, becoming a delectable alternative for Istanbulites with the motto "Good Coffee is on the Street." Besides its fresh baked cookies and croissants, Manivela Coffee Truck serves third wave coffee specialties as well as Americanos, iced lattes and frappes. Some chairs are available for those who wish to hang around for a friendly chat with the barista.
Taco Department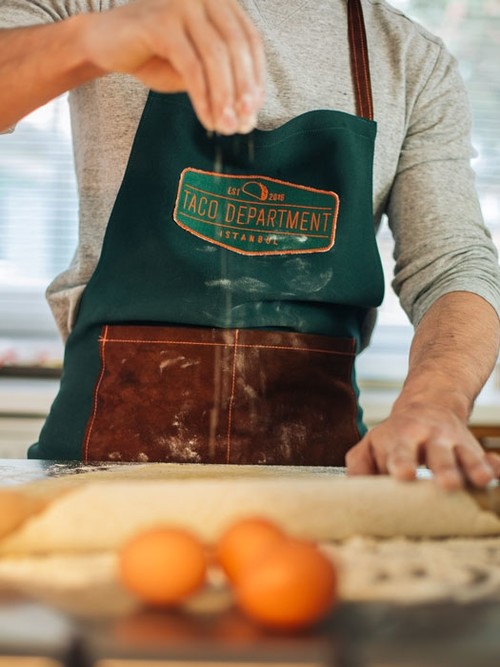 For a quick lunch, Mexican flavors at Taco Department, a mobile food truck based in either Levent or Maslak, are a good option. Owned by Ralph Sason and Mehmet Soysal, Taco Department serves tacos in five different flavors, as well as churros (a fried pastry) and burritos (a type of Mexican and Tex-Mex wrap). With its skilled sous and demi chefs, Taco Department will not disappoint you.
Cross Fingers
Istanbul's next street food initiative is Cross Fingers, another successful food truck serving burritos, Philly cheesesteaks, steamed hamburger and patatas bravas (a dish native to Spain). Also operating a permanent restaurant in Şişli, Cross Fingers regularly appears as a mobile food truck at festivals and various events, standing out with its Mexican tastes. If you ever happen to be in Bomonti, check out Cross Fingers' menu for some of the city's best street food choices.
Gangon


Run by five-star chefs like Semi Hakim of Kitchen Guerilla, Hazal Yıldırım of Hudson, Yaren Çarpar of Mükellef and Can Gafuroğlu, Gangon offers more than a simple mobile food truck but rather operates like an established restaurant. Inspired by his son's pronunciation of "kamyon" (truck) as "gangon," Gafuroğlu is the mastermind behind the food truck company.
Always on the move, Gangon has recently been in Nişantaşı. With its Chinese and Taiwanese food choices, Gangon has the city's best baos, a type of Asian bun, in three different types including chicken bao, beef bao and falafel, a deep-fried ball or patty made from ground chickpeas.