In Istanbul, the air is slowly recovering. We will all have more courage to get down to the Bosporus and spend time in the open air. I wish to suggest a few breakfast places close to the sea for when the weather gets warmer. The fresh air and delicious food should inspire you to go out.
My first suggestion is Fahham. Located in Kuruçeşme, the place means "coal grime" in Ottoman. This stylish restaurant, where you can feel the breeze of the Bosporus, does not serve alcohol, and I especially loved its chocolate box designs. It is about to open its own bakery on the ground level. Apart from local guests, Fahham is also highly in demand from Arab tourists. This is really a unique place, thanks to the gold shishas that come from Egypt, turquoise-colored stylish tents, and menus presented on iPads. Obviously, even if not a direct competitor, it is a much better place than the neighboring iconic spot, Huqqa. Both the prices are more reasonable and the architectural design is better. Fahham is run by Ahmet Önder Parlak, a successful manager. The chef is İsmail Güler, a self-educated visionary who worked as a chef in Orlando, Florida, for a long time.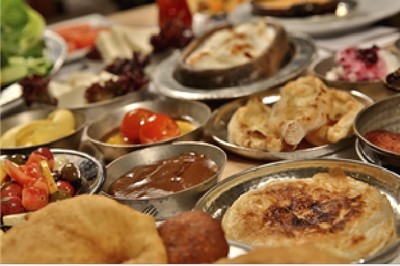 The menu is quite rich. I loved the variety of cheeses served at breakfast, the mild cream cheese (labneh) being offered in an ice cream ball shape, especially. Fahham makes its own bread, pretzels, pies and even barbecue sauce. Everything is served hot from its stone oven. The sausages are pierced with wooden skewers, omelets made in copper pans, and coffee is served in stylish cups, all to enrich your breakfast. You can also have deep conversations with your friends more comfortably if you rent a VIP room.
The lobster sandwich on the menu was especially good in my opinion. I particularly love the bread they use! There is a lot of lobster meat in it. Even if the onion in the sauce is a little too much, you cannot get this taste anywhere else. The meats are quite tasty, and they all come from the southern region of Fethiye. Another one of the flavors you cannot come across anywhere else in Istanbul is found on the dessert menu. I was quite surprised to see Mexican-style churros on the menu, which took me back to my days of studying in the U.S. Be sure to try this light dessert with cinnamon. Also, the vanilla ice cream dessert is another surprise. In short, there is a lot to discover in this place. You can stop by Fahham at any hour of the day.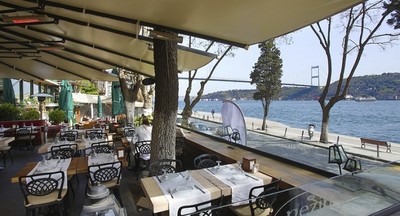 Nezih offers a serene morning along the Bosporus.
My other suggestion is Nezih, located in the Rumelihisarı district. Tayfun Topal, the operator of the place, has added many more places to Istanbul's eating and drinking world. Nezih has a genuinely friendly and relaxed ambience. The sea view is very good, because the restaurant right on the levee. They have one of the best brewed teas in Istanbul, served in copper cups. There are a lot of varieties to choose from at breakfast, the Gaziantep cheese on clay tile and curd cheese with blackberry jam in particular are really great. Tiny Turkish cheese pizzas are offered in a variety of different flavors. It has an atmosphere that is perfect for Sundays, thanks to the wooden tables and the view of the Bosporus Bridge. They also have an open kitchen. Everything is prepared in front of you.
Additionally, since the place represents Gaziantep cuisine, which is famous for kebab and nesting soup (a soup made with small meatballs filled with minced meat, rice and farina). There are 45 different types of kebab available on Nezih's menu. The fact that Nezih was elected "Best Meat and Kebab Restaurant" by the Ministry of Culture and Tourism of the Republic of Turkey in 2003 speaks for itself. The mastery of its ethnic food has attracted considerable attention, not only in Turkey but also in Europe and America. Nezih, which has been awarded the title of "Best Local Cuisine" numerous times, has even appeared in The New York Times. There are many breakfast places in Rumelihisarı. However, Nezih is very distinctive with its service and pricing, as well as its delicious flavors. I congratulate the Nezih brand, established in 1981 on the Mercan slope located in Eminönü, for preserving its quality for years. In order to crown these days of spring with taste, I think you should visit Nezih at the first opportunity.
Tips of the week
Top 3 Venues of the Week
- Hazine / Cihangir
- Must / Nişantaşı
- Hudson / Arnavutköy
Top 3 Hotels of the Week
- Museum / Cappadocia
- Aslı Tunca / Beyoğlu
- Hich Hotel / Konya
Top 3 People to Follow This Week
- Can Kağan Aydoğmuş / Author
- Kadriye Ulus / Marketing Expert
- Hülya Öz / Designer