Istanbul's Sarıyer Event Garden is ready to host Turkey's first open-air festival of gourmet delicacies the GourmetFest Istanbul that promotes the cultural diversity of the country's culinary heritage and the unique tastes of the Turkish kitchen, organized in cooperation with Demos and the Tureks International Fair as the most comprehensive festival in gastronomy every held in Turkey, welcoming foodies from May 11-14.

GourmetFest Istanbul to offer non-stop music
Offering world tastes and more, GourmetFest Istanbul offers endless surprises for visitors with Turkey's first open-air, gourmet delicacies festival which will also offer events for children consisting of picnics, presentations, a glimpse at Turkey's culinary secrets, classic Turkish cuisine and a debut of brand-new tastes. Visitors will be able to taste delicious samples and purchase products that are presented at the festival. Featuring an amusement park, a bouncy activity park and an adventure park for children as well as a climbing wall, the festival is sure to satisfy people of all ages.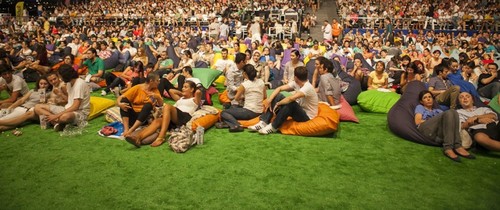 The festival will also host group concerts and live DJ performances throughout the four-day event, with music being an indivisible part of GourmetFest Istanbul. Music lovers will enjoy spring to the fullest with different concerts scheduled every day of the festival. One of the most beloved figures of Turkish rock, Group Art Istanbul along with Özge Fışkın, Ayhan Sicimoğlu and Latin All-Stars will perform at the festival.

Famous chefs to reveal culinary secrets
Beloved figures from the silver screen will also be featured at the festival. A master figure in culinary arts Sedef İybar will perform a gastro show titled, "We are cooking healthy food," while Belgian chef Bruno Van Damme will share his special recipes.

A chef from EKS Culinary Academy and the Chef's Table Culinary Academy will share techniques for preparing meat dishes at home, as well as lessons in culinary economics and special secrets with seminars and workshops. You will experience unforgettable moments thanks to conversations, panels and shows conducted by some of the world's leading master chefs.
Specialized workshops bring unique tastes straight to your kitchen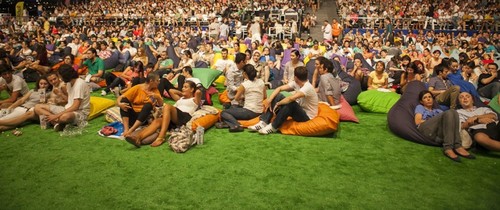 Italian cuisine
With this workshop, you will have a chance to bring a piece of Rome to your dinner table and organizers promise an unbelievable experience at this workshop. You will definitely add a practical and delicious menu on your table.
Chocolate
Believed to be a gift from the ancient gods, chocolate has a history dating back 4,000 years and will come to the kitchen table with a special workshop. If you want to learn the entire process of delicious chocolate making, do not miss the chance to participate in this workshop during the festival.
Delicatessen
The variety of delicatessen offerings has widened over the past few years. They used to be served separately, as warm and cold starters in the past; however now they are starting to be served on the same plate taking the colors and tastes into consideration. Attend this workshop and make your table irreplaceable by adding flavor to your band of delicatessen!
BBQ cooking techniques
This workshop is for those looking to hone their meat-grilling skills. Here, you may find answers to questions such as, "Which meat for which meal?" and "How do you know when meat is well done?" or "Which kinds of meats should be marinated?"
Ocakbaşı meets you at the grill
One of the most imminent figures of Turkish cuisine, Ocakbaşı, has considerable number of lovers. You are invited to explore the characteristic tastes of Ocakbaşı like aubergine kebabs and wraps.
Spanish tapas
Great snacks from Spanish cuisine and tips for preparing lovely snacks to delight and fascinate your guests are waiting for you at this workshop!
Canapes
In this workshop which was organized for special celebrations and elite parties, you will have a chance to experience delicious tastes with a wide range of diversity. In this workshop you will get the chance to prepare potatoes filled with caviar and sour cream, shrimps on shredded pastry and pancakes with smoked salmon while learning the basic slicing techniques shown by Le Cordon Bleu chefs in addition to some basic cooking skills like how to prepare sour cream, curly fries and how to marinate meat.
Pepper steak
At this workshop, you will have a chance to learn various techniques for cooking the perfect steak using several key ingredients. In addition to learning the basic skills of caramelization and meat searing, you will learn meat slicing techniques shown by Le Cordon Blue chefs in this workshop.
Visit the website www.gurmefest.istanbul.com for further information and to view the entire program of GourmetFest Istanbul.