Known for its palatal delights and nominated as UNESCO's City of Gastronomy, Şanlıurfa has applied to become an officially registered city with its traditional delights.
Th city's rich cuisine offers liver kebab, eggplant kebab, "kıymalı" (also known as lahmacun, a kind of pancake with spicy meat filling), "lebeni" (a kind of cold soup prepared with yogurt), meatball with eggs and a special bread called "tırnaklı," as well as "çiğ köfte" (raw meatballs) and "Mırra."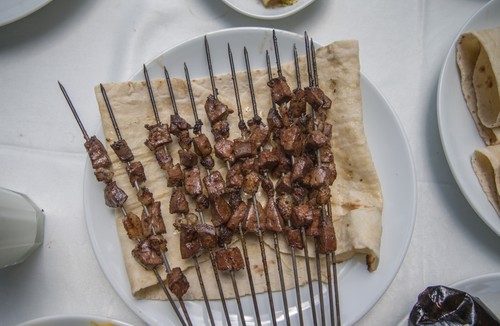 Rumored to be the city where the Prophet Abraham used to live and widely referred to with the Turkish phrase, "Halil İbrahim sofrası ve bereketi," which symbolizes a fruitful table overflowing with milk and honey, Şanlıurfa is pleasing to both the eyes and the taste buds with its abundant offering of delicious gourmet dishes.
Şanlıurfa, which has been able to preserve its local tastes until today, has continued with efforts to become selected as UNESCO's City of Gastronomy. The traditional foods that Şanlıurfa is known for are expected to become registered officially, thanks to the efforts of local officials. Recipes and foods including the Urfa pepper, "çiğ köfte," the Birecik eggplant and the licorice sherbet have been registered as local foods. Now, it's time for the city's famous liver kebab, eggplant kebab, kıymalı (lahmacun), lebeni, meatball with eggs and tırnaklı bread to be featured on that list as well.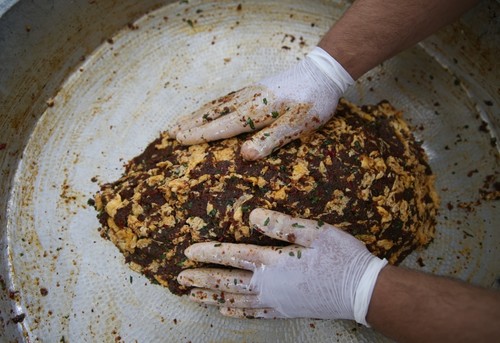 The mayor of Şanlıurfa Metropolitan Municipality, Nihat Çiftçi, spoke to Anadolu Agency about promotion of city's culinary culture.
Reiterating that city officials have applied with the Turkish Patent and Trademark Office for the registration of Şanlıurfa's brand values, Çiftçi stated that several traditional tastes are about to be officially registered.
He indicated that he is happy with the result, saying that no matter how late the accomplishment comes, the registration of foods that the city is famous for is an important step in the process towards UNESCO recognition.
"Şanlıurfa has so many important applications on geographical signs. On June 20, the 'Branding Workshop on Geographical Signs' was held in Şanlıurfa. Thanks to the workshop, so many products were presented to be registered officially," he said.
"In addition to those dishes waiting to be registered, Şanlıurfa has many other products which have begun the process of being considered for possible registration. Geographical signs are of high importance for a city, reflecting its cuisine, culture and regional characteristics. Being registered by the Turkish Patent and Trademark Office, means that the legal process for the said products has been completed," the mayor added.
"On the condition that a product has been registered, some legal and social debates on the issue can be concluded. Thus, we can easily say that these products that have been identified with Şanlıurfa have been formally recognized with the name of the city and they will improve the city's curb appeal. We aim to sustain and improve our brands by cooperating with all the relevant organizations," he said.
Stating that such momentous efforts are being made to preserve the traditional tastes of the region, Çiftçi expressed his gratitude to those who contributed to the effort.
Meanwhile, the head of the Şanlıurfa Chamber of Restauranteurs, Meatball Restaurants and Confectioners Mehmet Kaçak also stated that Şanlıurfa has one of the longest standing culinary heritages of the world.
"The traditional tastes of Şanlıurfa are known by everyone and people come all the way to the city just to be able to taste the food. However, in previous years, since our foods weren't registered, people used to find the food in other locations rather easily. Now, the foods are registered and considered rarer. This fruitful cuisine of ours was ignored for years," Kaçak said. "However, this registration process has solved the problem that should have been solved years ago. However, it's better late than never. I hope things will be okay. We, as the ones working in the sector, are proud of our food."
Şanlıurfa has always been a hub for people who are seeking new delights. The city is also home to the Kitchen Museum which was founded by Şanlıurfa Metropolitan Municipality three years ago to pass down local tastes to the future generations.
The museum, which features wax sculptures of women in local dresses, places the main foods of Şanlıurfa on display, including a showcase of kitchen equipment.
These include "Kazan Kebab" with eggplant and tomato, "borani," çiğ köfte, lahmacun, "ağzı açık" and "ağzı yamuk," along with the city's famous desserts "şıllık," "kadayıf," "küncülü akit," "kalbur tatlısı" and "katmer."
Some of the food which is identified with Şanlıurfa includes:
Mırra
Mırra is a bitter coffee that is local to Şanlıurfa. It is prepared after being brewed more than once. The name "Mırra" comes from the Arabic word "murdan" which means "bitter."
Mırra, which holds an important place in the region's culture and requires special effort for its presentation, is also a significant part of daily life in Şanlıurfa.
It is not made from a special coffee bean; rather, the coffee beans are roasted and slightly grinded in a mortar. Today, the grinding is also done in grinder and coffee machines.
Eggplant kebab
Unique to the city of Şanlıurfa, eggplant kebab, also called kazan kebabı (pot kebab) is generally consumed in the summer months. Meat, eggplants and some other vegetables are put on a skewer and cooked together.
Çiğ köfte
The raw meat dish is made by mixing finely ground bulgur wheat, raw ground beef, onion, spices, tomato sauce, minced parsley and isot (a red pepper spice). It does not require cooking and is served in the shape of thin, slightly squeezed meatball pieces on lettuce.
In certain regions, it is also served in lavash, a kind of traditional bread. Şanlıurfa locals prefer to eat this dish without lettuce or lavash. It is recommended to consume the dish quickly because the raw meat can easily spoil.