Balkan cuisine is one of the most delicious cuisines in the world and its favorite side dish is unquestionably ajvar. Used in the Balkans in Gottscheerich, Slovenian, Albanian, Bulgarian, Macedonian, Bosnian, Croatian, and Serbian cuisine, ajvar is characterized as the signal of the winter season. As it is prepared at fall, it is also accepted as the symbol of fall.
Smoky, deep, rich, tangy, and bright ajvar is a condiment that is prepared with roasted red peppers and eggplants that are mashed, and then simmered for hours to obtain this delicious side dish that is concentrated in flavors. This delicious treat can be used as a garnish for grilled meats, be eaten as a side dish, or just by itself on a piece of bread with olive oil and garlic. It is often served with kebabs. It can be sweet, which is the most traditional way, spicy or very hot.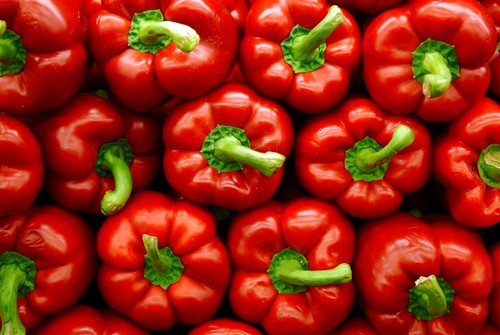 Having a pepper taste, ajvar is of Macedonia origin, however, it is popularly used in all Balkan countries. As the preparations for ajvar starts, the rural areas of Macedonia are flooded by the smell of mashed peppers.
Although Macedonia hosts people from various nations with various cuisines, ajvar continues to be the most common dish of the country.
Mirsada Fazlagikj, one of the villagers living in the Upper Orizari in Veles - located at the interiors of the country - spoke to Anadolu Agency (AA), saying he prepares the paste every year and the centuries-old ajvar taste is one of the essentials of winter.
To produce ajvar, bell peppers and eggplants are roasted whole on a plate on an open fire, a plate of wood in a stove, or in an oven. The baked peppers must briefly rest in a closed dish to allow them to cool and to allow the flesh to separate from the skin. Next, the skin is carefully peeled off and the seeds are removed. The peppers are then ground in a mill or chopped into tiny pieces. Finally, the resulting mush is stewed for a couple of hours in large pots. Sunflower oil and garlic are added at this stage to condense and reduce the water, as well as to enhance later conservation. Salt (and sometimes also vinegar) is added at the end and the hot mush is poured directly into glass jars, which are sealed immediately.
Ajvar is offered in various kinds. You can find its various versions prepared with eggplant, tomato, carrot or other vegetables per order. As it is generally consumed in winter, it is a must for ajvar to be preserved in glass jars.
You can get 10 kilograms of ajvar by using 30 kilograms of pepper. Referred to as "the king of winter sausages" colloquially, ajvar is mostly preferred at breakfast along with tea and cheese.
Ajvar export on constant rise
On the other hand, recent economic data show that Macedonia's ajvar export was on constant rise between 2010 and 2015. The number, which was $16.5 million in 2013, increased to $19.5 million in 2014.
Most of the ajvar produced in Macedonia is exported to neighbor countries.
Origin debates
In aftermath of the dismemberment of Old Yugoslavia, Balkan countries started to take the region's taste under protection. Ajvar was protected by Slovenia in the 1990s. In addition, the ajvar from Serbia and Leskovac were given international certificates in 2012.
Macedonia ajvar, on the other hand, was taken under protection in Macedonia in 2008, while its international protection was realized in 2010 under the context of the Lisbon Pact signed by Macedonia for the international registration of the paste and protecting its origin rights.
The etymology of ajvar
It is alleged that the word "ajvar" etymologically has the same origin with the Turkish word "havyar" (caviar).
Gastronomy heritage experts say its first known usage dates to the 19th century and it was used in Belgrade - the capital city of today's Serbia - by Macedonians for the first time.
It is also believed that ajvar was also used in Ottoman lands due to the empire's domination in the Balkans.