Prisons are not only places where inmates serve their sentences. The ultimate goal is to rehabilitate and reintroduce them back into society, preferably with useful skills, which is exactly what Open Prison in İzmir's Foça district is doing.
Prisoners serving their sentences in Foça Open Prison in İzmir keep busy by extracting olive oil from olives grown both in the prison yard and in the region thanks to a facility established on the premises last year. This is just one of the many activities, including growing organic vegetables, manufacturing furniture, animal husbandry and dairy farming, offered at the institution.
Foça Open Prison, one of Turkey's biggest penitentiaries and located on 12-decares (12,000 square meters), has been praised for its natural environment, greenery, greenhouses, workshops and sports fields.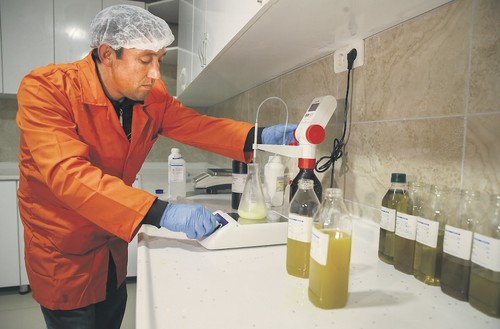 Standing out as a penitentiary that embodies the concept "of becoming a public institution that not only executes penalties but also tries to rehabilitate individuals," the prison is preparing sentenced prisoners for productive lives after their release.
The prisoners serve their sentences parallel to learning different professions, including growing organic vegetables, manufacturing furniture, animal husbandry, dairy farming, construction and olive oil production, and are rehabilitated through various professions that they can use when their sentences are served. All of this contributes to the country's economy.
The olives from about 3,500 trees in the prison yard are transformed into tons of olive oil produced in modern hygienic facilities. The oil is analyzed in labs, packed and distributed under the brand "Fo-Ce" to institutions of the Ministry of Justice and in various parts of İzmir. The oil is also ordered by and shipped to other institutions outside of İzmir.The additive-free olive oil has impressed the court's staff, particularly the judges and prosecutors, as well as the public because of its quality and usually sells out very quickly.
Foça Open Prison's Warden Murat Yılmaz told Anadolu Agency (AA) that they have been running olive cultivation activities for a long time but accelerated the process after the new facility was established on the premises. He explained that there are about 3,500 trees in the prison yard and that they aim to increase this number to 28,000 by planting 5,000 trees a year.
Informing that the olives types are generally Edremit and Gemlik, Yılmaz said the prisoners sift through the olives, separate the oversized for breakfast olives and use the rest for oil.
Yılmaz noted that the acid ratio, both during the extraction process and after being packaged, is the same, highlighting that an average of 20 tons of olives are pressed, and 5 tons of breakfast olives are produced daily.
Recalling that the facility was established last year, Yılmaz said the main purposes here are to produce olive oil without compromising its quality through cold pressing and to rehabilitate the prisoners through employment. "In doing so, we want to teach this profession in the right way," Yılmaz continued, adding that they aim to create a product for consumers naturally, without shortcuts, artificial manipulation or chemicals.
Yılmaz also mentioned that for a small fee, they also provide olive processing for locals who would like to produce oil but are unable to due to lack of facilities in the region, and that they are pleased with the support of the Ministry of Justice and İzmir Chief Public Prosecutor Mustafa Doğru.
Kenan Çakır, a prisoner working in the olive oil facility, stated that he has been engaged in olive cultivation since his childhood in Akhisar, underlining that the olives collected are pressed in temperatures ranging from 30 degrees to 35 degrees Celsius to ensure the product's quality.
Stating that he likes his job and is glad to be able to give back to his country, Çakır pointed out their oil's superb flavor is thanks to the timely way the olives are pressed after being collected from the trees.
Şeyhmus Bedir, a prisoner working in olive collecting, noted that he was a shepherd in his hometown Mardin but became involved in olive cultivation after he was sent to the prison. He also added now that he has a profession, he can easily find work after completing his sentence.