Thirty-four Turkish restaurants will take part in the world-wide "Gout de France" feast to serve delicacies from French cuisine for dinner on March 21, the ambassador said Friday.
The French Ambassador to Turkey Charles Fries announced that 34 restaurants, including 11 in the capital Ankara, will participate in the feast and serve French food for dinner on March 21.
Noting that gastronomy plays a serious role in attracting more tourists to France, Ambassador Fries told Anadolu Agency that the event has been taking place in over 150 countries since 2015.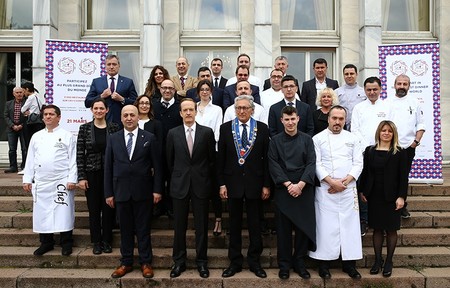 A total of 3,300 restaurants will participate in "Gout de France" or "Good France," which is attributed to the memory of the famous late French chef Paul Bocuse and Nouvelle Auquitanine, where Bocuse's hometown is located.
A special dinner organization will also be held at the ambassador's residence on March 21.
The ambassador said that the chefs taking part in the event will be invited to a workshop on French and Turkish cuisines.
Cultural exchange between the two cuisines have taken place over the centuries and many French delicacies have become staples in Turkish kitchens.
Although the two cuisines seem significantly different, there are similarities between the two, as Arnaud De Clercq, who taught at the Istanbul branch of Le Cordon Bleu and worked in Michelin star restaurants in France said:
"It is close to the traditional French cuisine: beef bourguignon, veal blanquette, lamb navarin - all this you can find here, but a bit different."