Influenced by European cuisine of the late 19th century, the Ottomans were introduced to new pastries as Istanbulites took their first bites of biscotti, meringues, puddings, cakes and tarts. European desserts were first introduced to Turkey in patisseries set up in Pera, the modern-day Beyoğlu district of Istanbul. With their relaxed and modern cafes, these patisseries quickly became a part of the Westernization of the Ottoman Empire. One of the oldest patisseries in Pera sold chocolates, candies and bonbons as well as custom cakes and napoleons. Patisserie culture, introduced to Istanbul by European expats, was later taken over by non-Muslim Ottoman subjects, White Russians who took shelter in Istanbul, and Yugoslavs and Albanians who migrated from the Balkans, fleeing the Bolshevik Revolution.
Today, Istanbul patisseries offer a wide variety of sweets and delicacies on almost every street corner. My grandmother has told me about these spots since I was a child, and I have always wondered how they must have looked when she was my age. We even visited a couple of them together. Each time we visit I ask her if the sweets still taste the same, and she often agrees but sometimes with hesitation.
Baylan / Kadıköy
​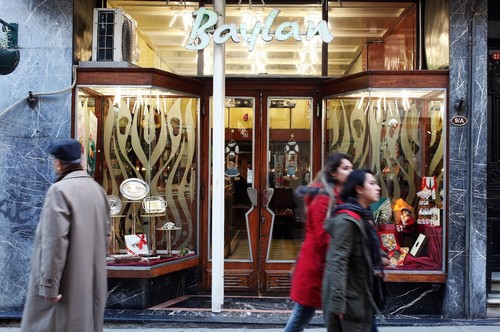 With its 91 years of history, Baylan is one of a kind. Established in 1923, it is the oldest patisserie carrying European-style treats in the city. Though it was not the first patisserie opened in Istanbul, it is the only one of the originals that has lasted. After migrating from Albania to Istanbul, Harry Lenas's father, Filip Lenas, dreamed of becoming a pastry chef. He opened his first patisserie, Loryan (Le Orient), in Beyoğlu in 1923, followed by another in Karaköy just two years later. With the passing of legislation requiring foreign names to be changed to Turkish in 1934, the name of his shop changed to "Baylan." The branch in Kadıköy was the last one opened, and the only one still in business today.
Its signature "Coupe Baylan," irresistible layers of vanilla and caramel ice cream topped with honey-roasted almonds and caramel sauce, is a popular favorite. Moncheri, Montebianco, Adisababa and "şu hamuru" (pate de choux) are other signature Baylan dishes that have maintained their traditional taste. Orhan Kemal, Sait Faik, Haldun Taner, Cemal Süreya, Edip Cansever, Erol Günaydın and Behçet Necatigil were some of frequent famous visitors of Baylan, enjoying the great sweets. Its backyard is almost as charming as its sweets with its draping of grape vines, offering a peaceful place for visitors to enjoy the venue's unique desserts with a cup of tea.
I was 16 when I had my first Coupe Baylan on a cold winter day with a friend of mine. To get out of the cold, we rushed into Baylan and quickly sat down on the old chairs. Customers from the ages of 7 to 70 were chatting loudly, and the waiters were scurrying around, delivering the delicious delicacies of Baylan to eager tables. The simple, warm atmosphere and heavenly smells made me feel blessed, I recall. My friend ordered Coupe Baylan for both of us and some tea; that first heavenly spoonful had me hooked for life.
Patisserie de Pera / Pera Palace Hotel
In the late 19th and early 20th centuries, Istanbul was heavily influenced by French trends, from its fashion to architecture and cuisine. At the time, especially in Pera, intellectuals in Istanbul preferred lifestyles that reflected the elegance of Paris' refined luxury.
As soon as you step into Patisserie de Pera, designed by British architect Anouska Hempel, you feel like you have stepped into 19th century Paris.
I was fascinated, impressed and could not take my eyes off the details. It was like a scene from a movie; I felt like I was speaking perfect French in my glossy dress and satin gloves stirring my coffee with a silver teaspoon, while my grandmother dabbed her lips with a lace napkin. In fact, it is impossible not to daydream when you are inside Patisserie de Pera. Tactfully prepared cakes, macarons and chocolates sit under golden glass like pieces of art. Crystal tea cups and porcelain plates will make you feel like it is tea time in 1892. The gracious staff is also well dressed. Early in the morning, they even offer fresh croissants and coffee. Their pretty little jam jars will make you smile. The Opera cake, eclairs and passion fruit, basil and chocolate dome cake are ingeniously prepared and have become our favorites.
You can order your preferred tea after testing their aromas in specially designed presentation boxes. They also offer take away. You can grab a slice of black forest cake or fill your bag with homemade chocolates to nibble while exploring the area.
I recommend going to Pera after lunch as they also grind their own fresh coffee, so do not hesitate to have your midday coffee at Patisserie de Pera. The neighborhood offers a humble and charming atmosphere. It has nice coffee shops, cafes, art galleries and boutiques.
İnci / Beyoğlu
​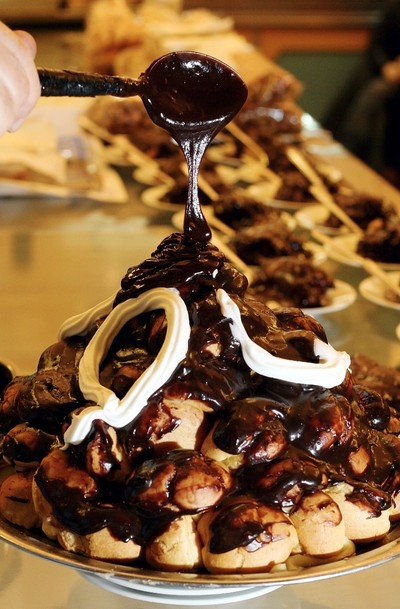 In the early 1940s, Luka Zigoris rented an atelier to make his proverbial choux pastry and profiteroles that were distributed to other bakeries. After his profiterole became a hit, he decided to open his own bakery: İnci Pastanesi.
My grandmother has raved about İnci's profiteroles for years. It was one of her favorite places to visit when she was young. It is not a big place; there are some tables, and generally you are hard-pressed to find a seat. But once you finally get inside, a mountain of profiterole sitting in a pool of chocolate is waiting to greet you. You can eat your profiterole standing up or if you are lucky, snag a seat.
During one of my visits to İnci, after eating my profiterole in a hurry, I was standing next to the cash register when an old man started chatting with my sister and I. We told him the stories grandma always told us about İnci. He was really happy and at the end of our conversation, gave us a couple of palm napoleons - my favorites.
They also make pastries and offer tea to help cut the sweetness of the chocolate sauce.
They have been using the same ingredients for generations, buying them from the same shops for years to preserve the unique taste of their star desserts.
Eventually, İnci had to move out of the Cercle d'Orient building in 2012 after being there for 68 years due to restoration. İnci Pastanesi opened their new shop on Beyoğlu Mis Street. Definitely try to stop by. Despite regulars complaining about its new location, the bakery stuck to a simple, classic design that really captures the İnci spirit. Personally, I really like it.