Every part of Istanbul is full of diverse tastes. Restaurants for neighborhood shop owners, kebab houses, fish restaurants, street food stands and modern restaurants… One encounters many great venues offering flavors ranging from Ottoman cuisine, Chinese cuisine, Armenian dishes to Indian food. With the arrival of autumn, as Istanbulites return from summerhouses in southern coast cities to the metropolis, all these places have started the season with new menus.
The first venue I recommend this week is Frankie. The restaurant located on the top floor of Sofa Hotel in Nişantaşı stands out for its central location. Port Frankie, located in the Martı Marina in the Gulf of Hisaronu (Marmaris, on the south coast of Turkey)), hosted local and foreign guests in summer. Now, the restaurant greets guests with recipes by Chef Semih Demirer at Frankie's winter setting in Istanbul. Since 2012, Frankie, which attributes its success to the motto "good food and good music," is my favorite for its terrace area that reminds me of restaurants in Manhattan. High ceilings, artworks on their walls and minimalist decor create a fine dining atmosphere.
The cuisine at Frankie is mostly Aegean and Mediterranean. Lentil soup with marrow, baked Beet Salad served with oranges and vanilla, Salted Tunny with Hummus, Lamb Chops, Frankie's Baklava prepared with lor (a special Turkish cheese) ice cream are just a few of the delicious choices. Frankie makes a difference with its delicious cocktails as well as its food menu. Cocktails made with seasonal fruits grown in the hotel garden and very special tonics are exquisite. Try homemade Satsuma TEN Tonik prepared with Bodrum tangerines and the cocktails prepared with sencha tea. Enjoy this special menu while having fun with Dj Ari Küyyapıcı's music on the terrace. There is live music after dinner every evening Monday through Thursday. Apart from jazz, performances of nostalgic Turkish pop music also attract attention.
The other place I recommend is Ajjna (meaning eye chakra) on Nispetiye Street at the busiest spot in Etiler.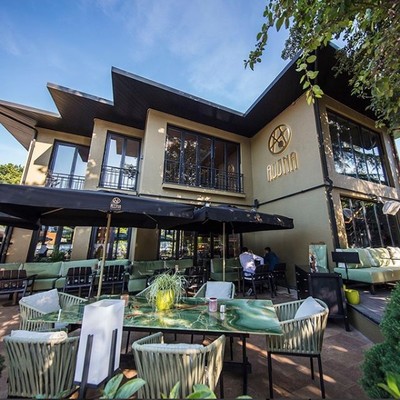 Open late into the night, it is always crowded. The architect is Esat Fişek. Green ceramics, woodcarvings and mica coatings in the toilets are simply wonderful. A lot of money and effort was spent on Ajjna's design. In this venue designed with the Brasserie concept, you can try different alternatives during the day – mostly Mediterranean cuisine. In particular, try their pizzas and pastas.
The real surprise of the place is the hookahs – very special water pipes made of aluminum used in aircraft. What is offered to VIP customers is even more special. Hookahs made of animal skins created by a craftsman in Bali are works of art. Enjoy a hookah while sipping coffee on Ajna's terrace overlooking Nispetiye Street. Try the non-alcoholic cocktail menu in this alcohol-free venue. The owner, Mustafa Yaşaroğlu, is a true gastronomy lover. Educated in gastronomy, Yaşaroğlu said: "I traveled to eight countries in three years such as the United Arab Emirates (UAE), Ukraine, Germany, Russia, Azerbaijan, Greece and the Czech Republic. For nine months, I thought about a striking concept and finally opened Ajjna." I congratulate him and his team.
My last suggestion is Firuze, a female name derived from the old Persian culture, with the interior carrying the same traditional traces. The venue is quite astonishing for its view and the tastes it offers such as the shared appetizers and fish. Located on the top floor of the Nejat Eczacıbaşı building in Şişhane, it has a magnificent view of the Golden Horn. You can take great photos, especially at night. Shared appetizers are especially noteworthy. All quite fresh. I loved the Cretan spread and gratine shrimps. Firuze Kebap is just great as one of the main dishes. This kebab, which resembles Beyti Kebap of Ottoman Cuisine, is only available in Firuze.
On the upper floor of Firuze, you will find the Monkey Bar. The view from here is even better than the lower floor. There is a pleasant sitting area and a bar area with the view. You can see the restaurant downstairs from the glass floor of the venue. The taco menu and signature cocktails are eye-catching. The taco menu delicious Mexican snacks, such as Beef Shank Taco, Ground Beef Taco, Chicken Taco and Veggie Taco. Visit this venue and enjoy the DJ performances as soon as possible before the weather gets cold.

TIPS OF THE WEEK

TOP 3 RESTAURANTS OF THE WEEK
- Frankie / Nişantaşı
- Ajjna / Etiler
- Firuze / Şişhane
TOP 3 HOTELS OF THE WEEK
- St Regis / Niştantaşı
- Soho House / Beyoğlu
- Sumahan / Çengelköy
TOP 3 PEOPLE TO FOLLOW
- Murat Tokuz / DJ
- Murat Bozok / Chef
- Efe Babacan / Photographer