Architects swapped traditional building materials for sugar and spice to create an edible gingerbread city of the future at London's V&A Museum, to show that urban planning can be fun, and tasty.
The annual exhibition, which runs from Dec. 8 to Jan. 6, showcases buildings by architects, designers and engineers who had been asked to create a sustainable and inclusive city of the future.
"We design and we work a lot in model making, and at this scale as well," said Robert Nolan, an architect at APT.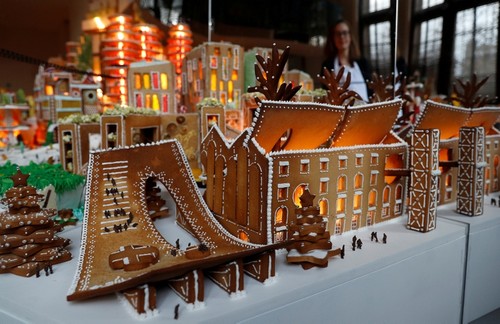 "If you can see yourself having fun with just gingerbread and then transplant that to something a bit more realistic, actually it's not too far off and actually design is fun."
More than 60 structures have been baked and the city features a cable car made of liquorice, and cycle lanes and pedestrian route made entirely of sugar, while Holland Harvey Architects designed a modern homeless shelter.
"We had to be very careful when making it that suddenly you might be halfway through making something and then be like 'oh, wait, where did that piece go? Oh, we've actually gone and eaten it'," Nolan said.