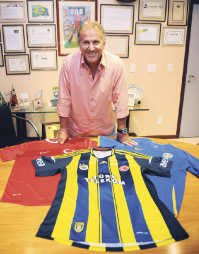 Former Fenerbahçe coach Zico is among candidates for the FIFA presidency.

Sepp Blatter's shock resignation as FIFA president failed yesterday to quell the corruption storm surrounding football's world body that now even threatens to touch him.
The Federal Bureau of Investigation is now looking into Blatter's role in tens of millions of dollars of bribes given to football officials, according to US media. Interpol meanwhile put six other suspects, including two former FIFA executive members, on its most wanted list. Critics of the 79-year-old Swiss official rejoiced at his thunderbolt announcement on Tuesday that he would stand down as soon as an election can be held to find a successor.
His decision sparked a global race to take over as head of the world's richest and most powerful sporting federation.
South Korean tycoon Chung Mong-Joon, Prince Ali bin al Hussein, who was beaten by Blatter in a vote last Friday, and Brazilian football legend Zico all said they could take part. Most eyes remain on Michel Platini, the UEFA president who has not given a hint of his plans.
But Platini did call off a meeting of the European confederation to discuss the FIFA crisis in Berlin on Saturday because of the "uncertain and unpredictable events" surrounding the world body.
Blatter, who has ruled FIFA for 17 years, won a fifth term in an election on Friday. but renewed criticism of his reign and new corruption revelations about FIFA forced him into a corner.
"While I have a mandate from the membership of FIFA, I do not feel that I have a mandate from the entire world of football - the fans, the players, the clubs, the people who live, breathe and love football," he told a press conference late Tuesday to explain his decision.
Blatter vowed that in his remaining months in office he would "focus on driving far-reaching, fundamental reforms that transcend our previous efforts."
U.S. authorities have charged 14 football officials and sports company executives over more than $150 million in bribes. U.S. Attorney General Loretta Lynch refused Wednesday to comment on reports that Blatter is also a FBI target.
The New York Times, which broke news of seven arrests before the FIFA congress last week, quoted law enforcement officials and other sources to back their report that the FIFA chief is now in line. ABC News said Blatter was part of the larger probe that led to the arrest of seven FIFA officials in a luxury Swiss hotel last Wednesday. "Now that people are going to want to save themselves, there's probably a race to see who will flip on (Blatter) first," one source told ABC News.
Acting on a US request, Interpol on Wednesday put disgraced FIFA former executive members Jack Warner and Nicolas Leoz on their most wanted list and issued an international alert. Four heads of sports marketing companies have also been put on the list. All six are among the 14 wanted by US authorities. Warner, a former FIFA vice president, is in Trinidad and Tobago. Leoz, an executive member, is reportedly under house arrest in his native Paraguay.
In parallel to the US inquiry, Swiss prosecutors are looking into the award of the 2018 and 2022 World Cup tournaments to Russia and Qatar. Both countries said they are carrying on with their preparations.
A special congress to choose Blatter's replacement cannot be held before December, according to Domenico Scala, chairman of FIFA's independent audit and compliance committee.
Among possible contenders for the presidency are South Korean Chung, a scion of the Hyundai dynasty, and Prince Ali of Jordan who stood against Blatter in last Friday's vote. Both are former FIFA vice presidents. Brazil's football great of the 1970s and 80s Zico said he was also considering a run. Other potential replacements include Platini and former Portuguese international Luis Figo.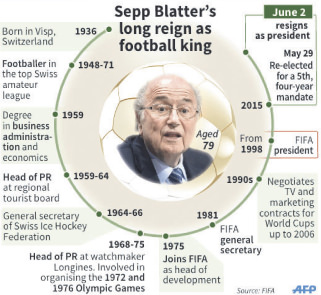 Global reaction to Blatter's decision to resign

The EU: The resignation of Blatter was just "one step in a long process" to reform FIFA and restore trust in football's governing body.
Russia: The decision hasn't affected the country's plans to host the 2018 World Cup.
UEFA President Michel Platini: "It was a difficult decision, a brave decision, and the right decision."
New Zealand Football: Blatter was not welcome at the Under-20 World Cup currently being held here.
Key sponsors: FIFA still has a lot of work to do to clear its name. Coca-Cola called the move "a positive step for the good of sport, football and its fans".
Luis Figo: "A good day for FIFA and for football.
Jordan's Prince Ali bin al-Hussein: "It is the right move from Sepp Blatter."
England's Football Association: "It's brilliant for world football."