Barcelona has agreed to sign a five-year contract with Turkish playmaker Arda Turan from La Liga rivals Atletico Madrid, the Spanish and European champions said on Monday.
"Barcelona and Atletico Madrid have reached an agreement for the transfer of ... Arda Turan," Barca said in a statement.
The team has also announced Arda's transfer on its twitter account, saying: "Welcome Arda!"
OFFICIAL- @fcbarcelona announce the signing of @ArdaTuran10line Welcome Arda! pic.twitter.com/MVxHkgwOsv

— FC Barcelona (@FCBarcelona) July 6, 2015
Barca will pay 34 million euros ($37.6 million) for Arda, plus another seven million in variables, and the 28-year-old's contract will be for five years, the club said on their official website.
Atletico Madrid has also announced Arda's transfer on its twitter account, thanking the football player for his years at the team.
These have been four unforgettable years. Goodbye, magician. Thanks, @ArdaTuran10line. #GraciasArda pic.twitter.com/QrPCP3VVk6

— Atleti English (@atletienglish) July 6, 2015
Arda Turan's manager Ahmet Bulut reportedly said, the Barcelona coach Luis Enrique had wanted the Turkish football player as soon possible on his team and demanded the club to transfer him from Atletico Madrid where he has been playing since 2011.
Bulut also said that he has been holding meetings with Barcelona for the last one and a half months for Arda's transfer and added that the signing agreement would take place within this week.
Before the official announcement of the transfer was made by the Catalan sports club, several Spanish newspapers announced the transfer.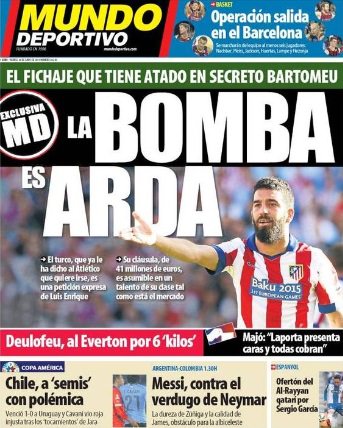 It has been long debated whether Barcelona and several other prominent clubs were interested in the Turkish winger. Some British media sources also stated that Manchester United and Chelsea was also interested in the winger but could not reach an agreement with the officials of Atlético de Madrid and manager of Arda Turan.
Turan will not be able to play until January even after the process of his transfer to the Catalans is completed, as Barca has been banned by FIFA from registering new signings until then, after they broke rules on the transfer of foreign players under-18.
The deal to sign Arda was also complicated by the fact that the club are in the midst of a presidential election campaign and are being administered by a special commission, which had to approve the transfer.
The commission included an unusual clause which means whoever wins the July 18 election has the option to sell Arda back to Atletico within 2 days with less than 10 percent of the fixed fee of 34 million euros.
Arda became hugely popular with Atletico fans in his four seasons in the Spanish capital after transferring from Galatasaray.
With his ability to unlock stubborn defences with a killer pass, the heavily-bearded midfielder was a key figure in Atletico's charge to a first La Liga title in 18 years and their run to the Champions League final in 2013-14.
Arda made his debut for Turkey in 2006 and helped Fatih Terim's side reach the semi-finals of Euro 2008, where they lost 3-2 to Germany.
He spoke about his role on the pitch in an interview published on FIFA.com in October.
"I take care of organising the attack," he said.
"When we're under the cosh, I can hold up the ball to give my team mates a breather, maybe forcing someone into fouling me."
"Before the kickoff my heart rate is off the scale but once the whistle blows, I'm completely calm."
"On the pitch I'm at ease, though I'm not sure why that happens. I'm probably a bit crazy." he said sarcastically.
Arda will be the second Turkish player to join Barca after former Fenerbahçe goalkeeper Rüştü Reçber in 2003. Although Rüştü had a successful pre-season with the team, he returned to Fenerbahçe after Barcelona manager Frank Rijkaard preferred another player over him for not speaking Spanish.