Although Turkish football has been suffering a lacking of rising native stars in recent years, Monday was historic day in which two European powerhouses signed two Turkish stars. Spanish football club Barcelona signed Turkish international Arda Turan while English Premier League club Manchester City signed Bursaspor's Turkish striker Enes Ünal. Barcelona said on its official website that Atletico Madrid will receive 34 million euros and a possible 7 million euros in variables for the attacker midfielder. The 28-year-old Turkish international was transferred from Galatasaray to Atletico Madrid in 2011. Arda Turan's agent Ahmet Bulut told the Turkish NTV spor channel that Arda had signed a five-year agreement with Barcelona. Turan becomes the second Turkish international to play for Barcelona, after goalkeeper Rüstü Reçber from 2003 to 2005. The 28-year-old midfielder was reportedly the target of the Premier League champions, Chelsea, but instead swaps Atletico for the treble-winners Barça.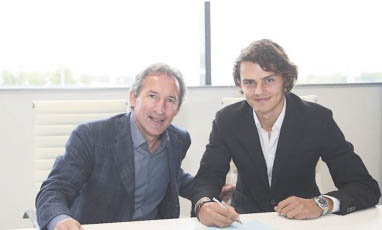 The other historic deal was made for youngster Enes Ünal. He has become the youngest Turkish player to sign with a European giant. Eighteen-year-old Ünal, who underwent medical checks last weekend, signed the deal in a ceremony with Man City director of football Txiki Begiristain on Monday. British media said that Manchester City purchased Ünal from Bursaspor for 2 million pounds. It is reported that the Turkish international will join his new team in their pre-season preparations in Australia.
Ünal was the only Turkish player to make the "40 promising footballers" list compiled by British newspaper The Guardian in October last year. The Turkish youngster scored one goal in 18 Super League matches last season.
Although Turan's signing with Barcelona has created a big stir among fellow Turks, an article in the contract led to debate at the same time. A Barcelona statement confirmed the agreement between the clubs, although the former Galatasaray player will not be able to play an official game for Barcelona until January 2016 due to a transfer ban imposed by FIFA for breaching rules over the signings of underage players.
And more importantly, even maybe more tragically, the deal to sign Turan was also complicated by the fact that the club are in the midst of a presidential election campaign and are being administered by a special commission, which had to approve the transfer.
The commission included an unusual clause that means whoever wins the July 18 election has the option within two days of selling Turan back to Atletico for less than 10 percent of the fixed fee. In short, Arda Turan may be sent back to his club without wearing the Barça jersey. So now all eyes will be on July 20 before the clocks ticks midnight. Utnil that hour Barça can sell back Arda Turan to Atletico, losing 3.4 million euros in the process. Barça's executive board president Ramon Adell had objected to Arda's transfer saying that the new president must decide to seal the deal with the Turk. However, Adell said on Monday that they cannot wait any more for the transfer. Spanish media wrote that Adell changed his opinion because Barça's coach Luis Enrique insisted on Arda Turan. In the presidential election to be held on July 18, five candidates will compete. The only candidate who wanted to transfer him is the current president Josep Maria Bartomeu. If Bartomeu loses the election, Arda Turan will have to go back to Atletico.
Meanwhile, Arda Turan has become the seventh most expensive transfer in Barcelona's history with a 34 million euro deal following Neymar (86 million euros), Luis Suarez (81 million euros), İbrahimovic (49.5 million euros), David Villa (40 million euros), Alexis Sanchez (37.5 million euros) and Marc Overmans (36 million euros). Turan will earn 4 million euros for each season at the club. Moreover, he will be able to earn bonuses depending on his future achievements.
His former team-mate at Atletico and current Chelsea striker Diego Costa made public his wish for the Blues to seal a deal for Turan, revealing he makes good kebabs.
"It would be fantastic. Arda makes everything so much easier out on the pitch," Costa said.
"Arda, Filipe Luis and I function perfectly. And Arda is such a great person.
"He invited us to eat at his house many times, I really liked his kebab. The whole team would go round to his house for dinner."