One of the most talented players in Turkish football in recent years, Arda Turan has an interesting connection with his new club Barcelona and their coach Luis Enrique. Spanish journalist Miquel Pellicer wrote about an interesting memory on the Barcelona FC website. The story goes back 13 years. Arda was only a ball boy aged 15, with no profile and no knowledge of what would come next. His current coach, Luis Enrique was a world famous footballer and playing against Galatasaray, the club that raised Arda Turan and made him a star. Turan witnessed Enrique's goal against his beloved team. Pellicer continues, "He is called 'Big Head' in Turkey. He is one of the most important figures in Turkish football. This man who is the latest transfer made by Barcelona and has had football in his blood since his childhood. His acquaintance with the Champions League goes back to 2002 when he was a ball boy in the game between Galatasaray and Barcelona."
Maybe Turan felt bad after his team was defeated 1-0 by Enrique's goal. But he is now in seventh heaven and will work with the man who's goal upset him so much back in 2002.
Born in Istanbul, Turan started playing football in Bayrampaşa. When he was only 12, he joined Galatasaray in 2000 where he stood out. In the 2004-05 season, Turan was promoted to the first team. Although he had only two appearances in his first season, Turan won the Turkish Cup before joining Manisaspor, a team in western Turkey, on loan.
He made his debut for the Turkish national team in August 2006. Turan played for Turkey for the first time against Luxembourg in a friendly match that Turkey won 1-0.
In the 2006/07 season, Turan became one of Galatasaray's most essential players. He claimed his first Super League title in 2008. In the beginning of the 2009/10 season, Turan was given the captaincy at the age of 22. That season, he scored 11 goals and had 26 assists in 47 matches. Spanish club Atletico Madrid scooped him up for 12 million euros in August 2011. The 24-year-old scored 44 goals and made 76 assists in 190 matches for Galatasaray.In his first season at Atletico Madrid, Turan won the Europa League and the UEFA Super Cup. In 2013, the Turkish star witnessed his club's first Copa del Rey title win in 17 years.
Atletico's number 10 played an important role in his team's league title victory in the 2013/14 season. That same season, Atletico Madrid qualified for the Champions League final for the first time in 40 years. Turkish star Turan scored 22 goals and had 32 assists in 177 matches in his four-year spell at Atletico Madrid. With a transfer fee of 34 million euros, Barcelona's new signing becomes the most valuable Turkish player in history.
Turan has said it will be tough for him not being able to play until January due to a ban on the club on registering players. Spanish media have reported that the European champions may send Turan out on loan until 2016, possibly to his former club Galatasaray.
FIFA banned Barca from two transfer windows after they were deemed to have broken rules on the signing of foreign under-18 players, although they are allowed to buy and sell and have also added versatile wide player Aleix Vidal from Sevilla.
"It's going to be hard not playing for six months but the important thing is that I will play for Barca," Arda said in an interview with Spanish radio late on Tuesday.
"I will work until I am able to make my debut in January and I will help the team to win all the trophies," said the 28-year-old, adding that it will be a "dream" for him to play in the same team as the likes of forwards Lionel Messi and Neymar and midfielder Andres Iniesta.
Barca signed Turan to give coach Luis Enrique an extra creative option in midfield but also due to the club's links with Turkey and Turkish companies.
Domestic appliance maker Beko and tyre manufacturer Lassa are two of Barca's sponsors, while the club's 2.3 million Turkish Facebook fans put the nation seventh in the ranking of followers around the world.
The deal to sign Turan was complicated by the fact that Barca are in the midst of a presidential election campaign and are being administered by a special commission, which had to approve the transfer.
The commission included an unusual clause that means whoever wins the July 18 election has the option within two days of selling Turan back to Atletico at less than 10 percent of the fixed fee of 34 million euros.
Meanwhile, Vidal says it is a sacrifice worth making to join Europe's most successful team of the past decade.
Istanbul district names street after Turan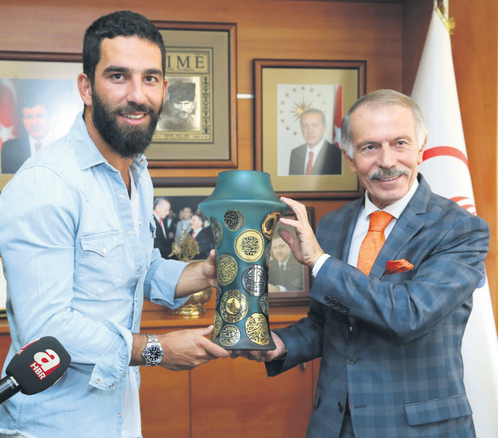 Following his transfer to Barcelona, Arda Turan visited the neighborhood where he grew up in the Bayrampaşa district of Istanbul. Accompanied by his father, Adnan Turan, the Barça star visited Bayrampaşa Mayor Atila Aydıner in his office. Making a gesture, Aydıner announced that Ordu Street in the Bayrampaşa district would be named after Turan. Turan said he would do his best for the development of Turkish football.