Turkish football witnessed an interesting demonstration of the money gap between the haves and the have-nots when Tuzlaspor of the Spor Toto Second Division played Fenerbahçe, the richest club in the country. Tuzlaspor took public transportation to get to the Ziraat Turkish Cup game against championship contenders Fenerbahçe in order to draw attention to the economic problems of football teams competing in lower divisions.
Tuzlaspor, which was founded in 1954 in Istanbul's most easternmost district of Tuzla, used the 500T bus line managed by the Istanbul's municipal bus company IETT, which has become famous over recent years due to its 73 kilometer-long ride in urban areas with 62 stops between Tuzla and the Cevizlibağ district on the European side of Istanbul.
Although the 500T line does not pass near Fenerbahçe's Şükrü Saraçoğlu Stadium in Kadıköy district, a special permit was obtained for the bus to drive the team to the game, along with its executives and technical staff.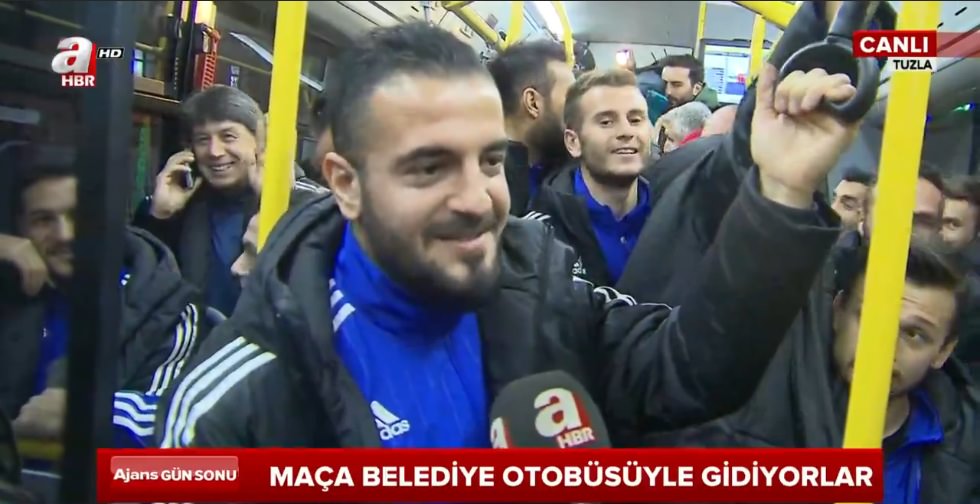 Ahmet Çabuk, chairman of the team that was promoted to the second division in 2014 and managed to reach the last 16 in the Turkish Cup in 2015 with help from the district's municipality, said that they would like to draw attention to the financial problems of clubs competing in lower divisions and the gap between top-tier teams and amateur clubs. "There are hundreds of clubs and thousands of athletes competing in lower divisions. Most clubs remain standing with the help of municipalities and a handful of businessmen. Many clubs even have problems trying to find 11 players to form a team due to financial problems. Many clubs that were once legendary now are not even remembered, again due to financial issues" Çabuk said.
"We have a team bus provided by the municipality and the means to allow us to travel everywhere in Turkey. But we will make this trip to point out a common problem for all clubs in Turkey," Çabuk added.
During the trip, the Tuzlaspor players said that they had never received such attention from the press in their lives. Meanwhile a player used this opportunity to propose to his girlfriend in front of the cameras.
Colorful moments were witnessed during the journey. The bus arrived after a an hour-and-a-half-long uncomfortable ride to Fenerbahçe's Ülker Şükrü Saraçoğlu Stadium in Kadıköy.
Team captain Okan Baydemir said, "We brought color to the Turkish Cup as a team. We chose a specific time to make such a demonstration ahead of a Fenerbahçe game because we wanted our demonstration resonate. I hope our financially depleted teams will get help after our demonstration."
As for the game, Fenerbahçe, worth almost 153 million euros, were given a hard time by their rivals, whose club value is less than 3 million euros. Fenerbahçe won the match with a goal scored by Lazar Markovic in injury time. This score marked another interesting point; Fenerbahçe's Dutch striker Robin van Persie's transfer value is 13 million euros, making him worth four Tuzlaspors.
The financial inequality in Turkish football is stark. The three main Istanbul clubs – Fenerbahçe, Galatasaray and Beşiktaş – routinely dwarf their Anatolian rivals in terms of financial income. The club value of Galatasaray is 110 million euros while Beşiktaş is worth 118 million euros. They are followed by Trabzonspor at 80 million euros. Fifteen Anatolian teams in the Super League are worth 646 million euros combined while the big three Istanbul teams' total value is 381 million euros.
*Contributed by Hakan Baş