Dutch football great Johan Cruyff, who revolutionized the game with the concept of "Total Football," has died. He was 68. Family spokeswoman Joaquin Munoz of the Cruyff Foundation in Barcelona said he died as a result of lung cancer.
Obsessed by football to the end and ever the positive thinker, Cruyff only last month said his recovery was going well. He said "I have the feeling that I am 2-0 up in the first half. The game is not over yet. Still I know that in the end, I will win." Yesterday, he died.
Cruyff won European championships three times with Ajax as a player and once with Barcelona as a coach. He was European player of the year three times and, in 1999, was named Europe's best player of the 20th century. Though a World Cup title eluded him, he was the pivotal figure on the Netherlands' 1974 national team that electrified the sport with its "Total Football" tactics, with players constantly interchanging roles. The tactics influenced the game worldwide.
Cruyff smoked cigarettes most of his life and finally quit after undergoing an emergency bypass operation in 1991. After more heart trouble in 1997, he vowed never to coach again, though he remained a vocal football critic and analyst.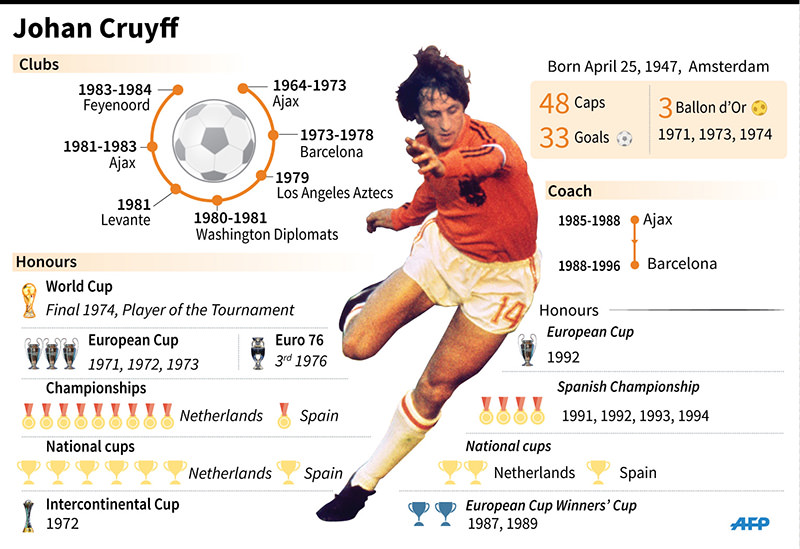 Cruyff's wiry frame housed surprising athletic talent, unpredictable bursts of speed and agility and precise ball-control that allowed him to trick opponents, ghosting around them with ease. His genius lay in his eyes and mind, in his instinctive feel for how a move would develop. His could pass the ball with uncanny accuracy and wind up time and again at the right spot at the climax of an attack.
"Speed and insight are often confused," he said. "When I start running before everybody else, I appear faster."
He scored 392 times in 520 games over a 19-year playing career.
But his influence reached far beyond creating goals, thanks to his qualities as a leader, thinker and speaker. With a brash Amsterdam accent, he put across his views about football and everything surrounding the game with irresistible force.
His commentary became oft-quoted classics: "Every disadvantage has its advantage," "You can't win without the ball."
As a coach he had 242 victories in 387 matches, with 75 draws and 70 losses.
Cruyff launched a tradition of great strikers coming out of the Netherlands: Marco Van Basten in the 1980s, Patrick Kluivert in the 1990s, and Ruud van Nistelrooy in the 2000s.
He had a wife Danny, daughters Chantal and Susila, and a son Jordi, who also played football professionally.