The path to the trophy became clearer Monday after closest challenger Tottenham was held to a 1-1 draw by West Bromwich Albion, giving Leicester a seven-point lead with three games remaining. Leicester's first chance to seal the first top flight title in its 132-year history comes on Sunday at the home of record 20-time champion Manchester United. Even if Leicester fails to win at Old Trafford, manager Claudio Ranieri can be handed the title if his former club, Chelsea, beats Tottenham next Monday.
Leicester would have to wait until the final day of the season to receive the trophy when it plays at deposed champion Chelsea, which is 29 points adrift in ninth place. Ranieri's team of bargain signings and even castoffs is on course to become the first maiden title-winner since Nottingham Forest in 1978 by completing the greatest transformation of a team in the post-1992 Premier League era. As unexpected as Leicester's title charge is the fact Tottenham is its closest competitor with Manchester City and Arsenal behind them.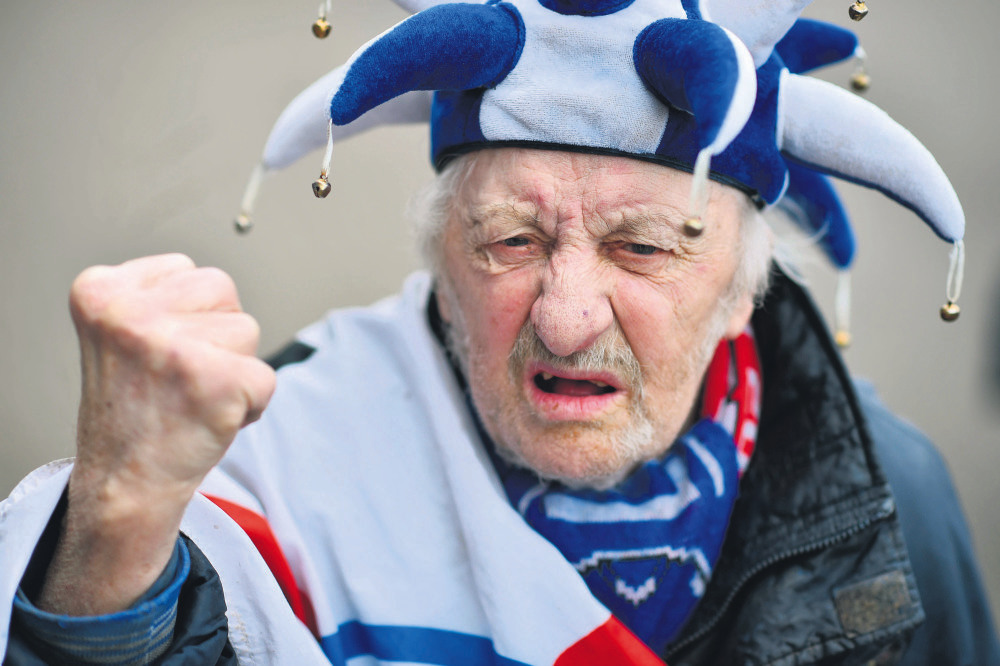 A Leicester City fan poses for a picture outside the stadium.
Although Spurs look set to miss out on a first title since 1961, they are close to qualifying for the Champions League for the first time in six years with their highest finish since 1963.
"We are very young and we need to use this experience for the next few seasons," Tottenham manager Mauricio Pochettino said after Monday's White Hart Lane setback, according to AP.
Meanwhile, the bookmaking industry faces its biggest loss in Premier League history with Leicester City just one win away from clinching a shock first title, major bookmaker William Hill said yesterday.
So unexpected was their title chase that William Hill had quoted Leicester as 5,000-1 outsiders at the start of the season, acording to Reuters. Now the loss to bookmakers stands at some 10 million pounds ($14.55 million), William Hill said in a statement.
A man from Guildford, England stands to earn the highest individual payout after he wagered 75 pounds at 1,500-1 just a few weeks into the campaign, it said. He has not cashed out and so now stands to win 112,500 pounds. In total, William Hill face a final payout of a little over three million pounds if Leicester beat Manchester United at Old Trafford on Sunday."We stand to lose a small fortune if Leicester do what everybody must now be expecting them to do. 5,000-1 is the biggest priced winner in betting history!" William Hill spokesman Joe Crilly said.