The first 24-team European Championship will finally begin today. It will be a month-long marathon and a far cry from the eight-nation event when France with Michel Platini were last hosts in 1984. France launch the tournament with a Group A game against Romania today.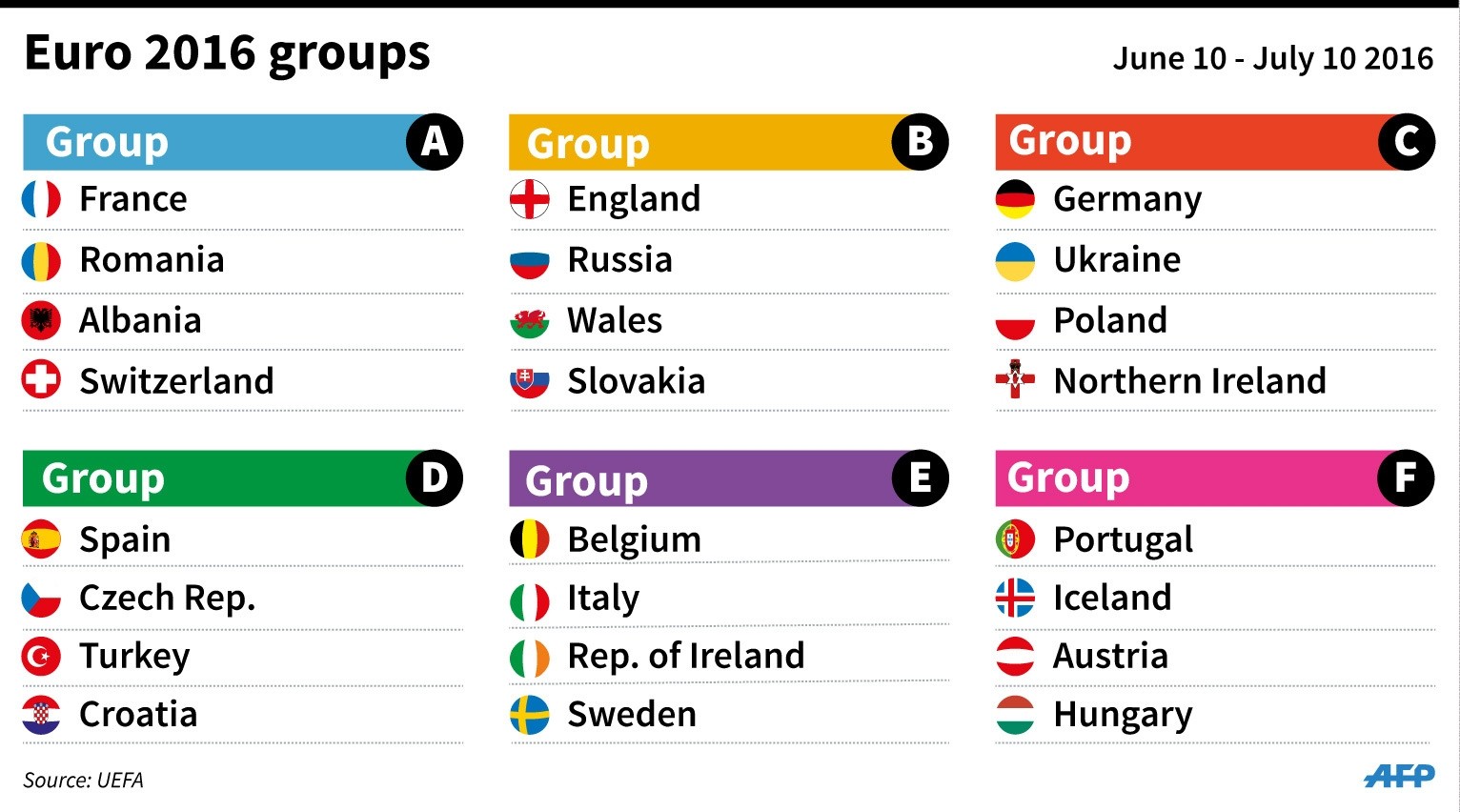 Les Bleus remain the last host country to lift the trophy - named after Frenchman Henri Delaunay - and also won the World Cup as hosts in 1998, when Didier Deschamps was captain. Now he is the coach of a team looking to lift the spirits of a nation beset by social unrest and fears of a repeat of the Paris attacks last November. The tension, however, has made some players nervous. "I would like to concentrate fully on football during the Euro, and I would feel much better if my family is not sitting in the stadium," said Germany's Jerome Boateng, who has told his wife and children to stay away from the country in case of an attack.
He was in the German team that was playing France when suicide bombers blew themselves up outside the Stade de France on the night of the November 13 attacks that killed 130 people around Paris. France has ramped up the presence of security forces but fans will still come in vast numbers to attend matches taking place at various locations, from Lens in the north of the country to Nice on the Cote d'Azur and the Stade de France, which will host the final on July 10. For a Spainish side in transition, the aim is to put their desperate World Cup showing two years ago firmly behind them and win an unprecedented third straight European Championship. They lost their final warm-up game against Georgia 1-0, however.
"We shouldn't set any limits," their coach Vicente del Bosque told AFP. "We can't say if we get to the semi-finals we will be happy, we need to aspire to win it."
For once the expectations in England of their team's chances are not sky-high. Coach Roy Hodgson has an exciting young squad at his disposal and the increased margin for error in the group stage may help his team.
Germany have the youngest squad at the finals but arrive as the world champions and will take some beating, even if many see France as the favorites. The French have sidelined Karim Benzema over his link to an attempted sex tape blackmail. But his Real Madrid team-mate Cristiano Ronaldo will lead the list of stars on the field. The 31-year-old, fresh from winning the Champions League, will be expected to carry a Portugal side that lost on penalties to Spain in the semi-finals four years ago before limping out of the last World Cup in the group stage. This could be one of Ronaldo's last chances to win an international trophy to go with his glittering array of club level medals, his three Ballons d'Or and his newest accolade, that of the highest paid athlete in the world, according to the latest Forbes rich list.
France will also see Zlatan Ibrahimovic grace an international tournament for possibly the last time in the colors of Sweden, while Gareth Bale will hope to have a big impact as Wales return to a major finals for the first time since 1958.
"We're not going there just to make up the numbers," Real Madrid forward Bale told a BBC Wales documentary recently. The expanded finals could also see the younger stars of European football announce themselves on the international stage, from England teenager Marcus Rashford to Bayern Munich's David Alaba.
Only eight of the 24 teams will be eliminated in the group stage, removing some of the tension from the first phase of the tournament, but there will be no shortage of big games, including a meeting of England and Wales and a showdown between Germany and neighbors Poland. Euro 2016 also sees Northern Ireland and Hungary return to major tournaments after three-decade absences and it will be the first ever finals for the minnows of Albania and Iceland. "It will be tough, but we're capable of springing a surprise," Albania forward Shkelzen Gashi told World Soccer. "We're going there to enjoy the occasion, sure, as it's the first time Albania has ever appeared in a major tournament, but we also want to give a good account of ourselves."
Versatile Arda is Turkey's driving force
Turkey's ambitions of reaching the Euro 2016 knockout stages will largely depend on the form of their inspirational captain Arda Turan, who has had a patchy season with his new club Barcelona. The 29-year-old midfielder joined Barca from Atletico Madrid in July 2015 but was sidelined for six months by the club's transfer ban which meant he made his debut only in January. He has, though, failed to establish himself as a regular starter in the wake of stiff competition and been used mainly as a substitute. For Turkey he remains the main man and his array of skills, which made him one of Atletico's key players during his four-year spell with the club, will be their best hope of avoiding an early exit in France. Pace and dazzling footwork combined with an eye for goal ensure he is a driving force, bossing a midfield that includes the talented Hakan Çalhano€lu, Selçuk ‹nan and Nuri fiahin. For inspiration, Arda will have his memories of Euro 2008 when he scored in comeback wins over Switzerland and the Czech Republic as Turkey reached the semi-finals. More recently, Arda was also on target in a stunning 3-0 win over Netherlands which kept Turkey's Euro 2016 qualifying campaign alive before they completed their recovery from a poor start with wins over the Czech Republic and Iceland.
How does it work?
There are 24 teams competing in the finals. That is an increase from the 16 that had taken part in every edition since it was hosted in England in 1996. With six groups of four teams, it means the top two will qualify for the last 16, plus the four best third-placed finishers. In other words, only eight teams will fail to qualify from the group stage. One point could be enough to put your team into the last 16 - and from then the tournament goes to a knockout format.
Euro 2016 champion can rake in a maximum $24M
Winning the Euro 2016 final is worth eight million euros ($9.1 million) alone, and the winning team can take home a maximum 27 million euros($24 million) as the ruling body UEFA has considerably raised the prize money. In all, 301 million euros will be dished out at the month-long tournament starting Friday, up from 196 million euros in 2012. But the number of teams has also increased from 16 to 24. Each team receives 8 million euros for participating, and in the group stage a draw is worth 500,000 euros and a win 1 million euros. Last 16 teams get 1.5 million euros each, quarter-finalists 2.5 million euros, semi-finalists 4 million euros, the champion 8 million euros and the runner-up 5 million euros. A team that wins all of its seven games can thus rake in 27 million euros, compared to the maximum 23.5 million euros from six games in 2012.
France savor Euros opener after blighted build-up
A tortuous build-up dominated by off-field controversy and untimely injuries comes to an end for hosts France when they finally get Euro 2016 underway against Romania in Group A at the Stade de France today. Les Bleus's preparations on the field have been distracted by claims from Real Madrid striker Karim Benzema that his exclusion from the squad was racially motivated. Benzema has not played for Les Bleus since October last year after becoming embroiled in a sex-tape blackmail scandal that targeted then international teammate Mathieu Valbuena. France's highest active goal scorer, Benzema, who is of Algerian descent, claimed coach Didier Deschamps had "bowed to pressure from a racist part of France." In addition, Benzema's Madrid teammate Raphael Varane will miss the tournament due to a hamstring injury.

Coach Didier Deschamps' defensive options are severely depleted as Barcelona's Jeremy Mathieu also had to withdraw from the squad, while Liverpool's Mamadou Sakho was not included as he was serving a provisional ban from UEFA for doping. Lassana Diarra, Kurt Zouma and Mathieu Debuchy are also sidelined, and Deschamps has acknowledged he never imagined being hit with such headaches even just a few weeks ago. "Everything that has happened to us since the squad was announced on May 12, honestly, even in my worst nightmares I don't think I could have imagined it," Deschamps told sports daily L'Equipe on Wednesday. Yet, expectations are still high that a team boasting the precocious young talents of the likes of Paul Pogba, Anthony Martial and Antoine Griezmann can repeat the feats of the French sides of 1998 and 1984 in winning the World Cup and Euros respectively on home soil.
"We have the chance to play at home, there will be pressure, but it will be positive," goalkeeper Steve Mandanda said. "We have the obligation to have a good tournament and the objective is to win it." Deschamps's men have been in fine form, winning nine of their last 10 matches over the past year with their only defeat coming to England when minds were focused elsewhere just days after the November Paris terrorist attacks. Three goals in the final two warm-up friendlies for Olivier Giroud have come as a welcome relief for the Arsenal striker after criticism of his ability to replace Benzema up front. However, there is no doubting the talent surrounding Giroud with two of the Premier League's top performers this season in Manchester United's Martial and Dimitri Payet of West Ham United competing for a place in a front three also containing Griezmann, fresh from a 32-goal season with Champions League finalists Atletico Madrid. "There will be a different pressure, but we are ready. We are looking forward to it," Manchester City defender Bacary Sagna added.

"The young players these days play without thinking; they do not have any fear and play like they do with their clubs." While France's forward line will be blessed with pace and youth, there will be plenty of experience at the back with all of the expected back four of Sagna, Laurent Koscielny, Adil Rami and Patrick Evra in their 30s. Romania's hopes of springing a huge surprise will be based around a solid defense as they reached a first major tournament in eight years with the best defensive record in qualifying. Anghel Iordanescu's men conceded just twice in 10 matches in qualifying behind Northern Ireland in Group F and also held European champions Spain to a 0-0 draw in March. However, without the star quality of a Gheorge Hagi or Adrian Mutu as in years gone by, Romania also struggled mightily for goals in qualifying, scoring just 11 times. They would be delighted to frustrate the hosts before later games against Albania and Switzerland. "The pressure on France is greater. If we manage to get a draw it would be extraordinary, and if we win it would be fantastic," said Romania assistant coach Viorel Moldovan, who used to play in France for Nantes.