Croatia and Turkish national football teams took Twitter on Friday to share some fond memories of previous meetings with each other prior to the Sunday's opening match at Euro 2016 for both sides.
The official account of the Croatian Football Federation posted a tweet, reading "Eight players scored for Croatia against Turkish national team so far. Hopefully, list will get longer on Sunday."
However, Turks didn't take much time for an epic comeback and shared a picture of Turkish football player Semih Şentürk, which was taken right after he scored an improbable equalizer at the end of extra time with a caption saying "Sometimes; one goal means everything!"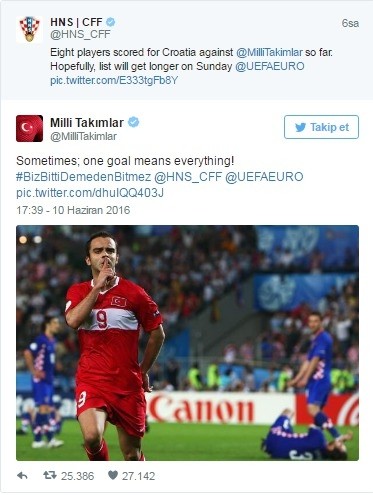 Croats failed in the penalty shootout and Turkish national football team qualified to semi-final. Croatia's coach Slaven Bilic insisted the goal was scored after the game had ended and that it would "haunt me for the rest of my life".
Croatia's Ivan Rakitic also named that loss "the most difficult moment in my career ... I don't want to experience something like that again."