The European football championship arrived in a glum France desperate for some good news after last year's terror attacks were followed by months of industrial unrest, political turmoil and floods. Ongoing industrial unrest has disrupted the fans' high spirits in the Euro 2016. While the streets drowning in rubbish stink, the football fans have also been experiencing big security problems. Talks between France's labor minister and the head of the country's main union Friday failed to break a deadlock over labor market reforms, which have led to months of anti-government protests. Tens of thousands of people took to the streets for the latest protests, descending into the worst violence since the wave of demonstrations and strikes began in March. The unrest in Paris, which left 40 injured, prompted the government to threaten a ban on demonstrations, while the CGT faulted security forces for failing to quell the violence. Ten protesters were on Friday given prison terms ranging from four months behind bars to six-month suspended sentences.
Ground staff on the pitch at half time at the Stade de France.
France's security forces were unable to prevent violence between Russian and English fans. A French court on Thursday jailed three Russian football supporters over Euro 2016 fan unrest while a far-right Russian agitator was thrown out of the country. Security forces watched English fans closely after 36 people were arrested Wednesday in Lille as riot police fired teargas at groups of fans. Security forces fear the tournament could be a terrorist target and the worries were reinforced after the murder of two police officers near Paris this week by a Frenchman with links to DAESH.
Moreover, UEFA are unhappy about the state of the pitches at Euro 2016, in particular in Marseille, Saint Denis and Lille, and are working to improve them as the championship enters its second week, tournament director Martin Kallen said on Friday. With 21 games played so far during the month-long, 24-team tournament, the demands on pitches have never been greater at a Euro tournament. Some stadiums are hosting six games and wet weather across France is visibly having an impact.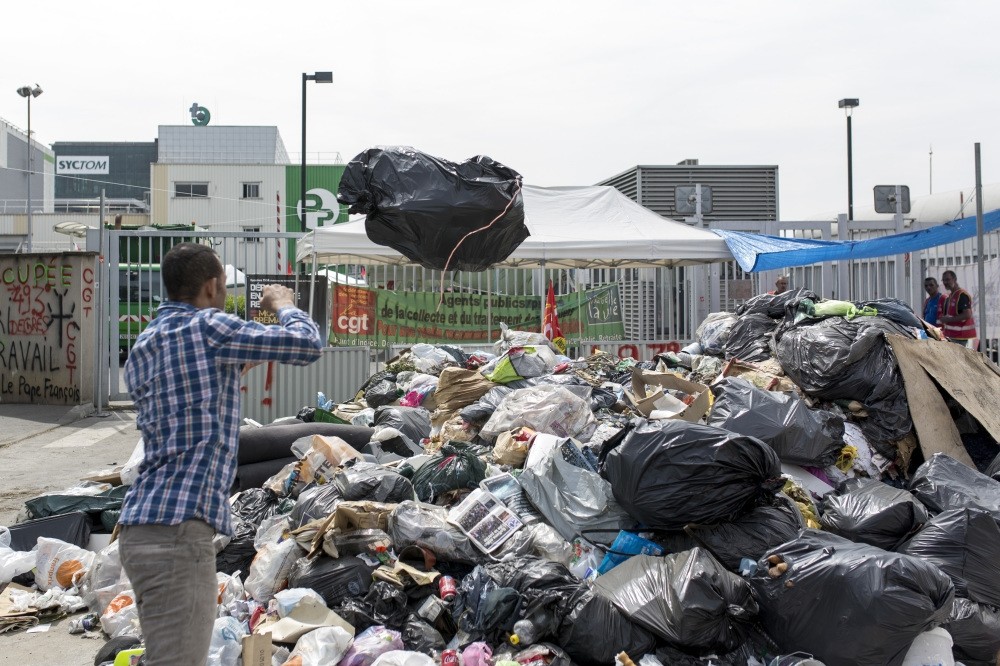 A man throws a garbage bag onto a pile. The French striking CGT labour union garbage collectors block access to the Paris waste treatment center.
"The pitches should be better and we're not happy," Kallen told reporters. "We have taken measures to preserve pitches but in a summer tournament you don't expect it to rain so much." Heavy and random showers have continued across the country in June even forcing the Northern Ireland and Ukraine game on Thursday in Lyon to be temporarily halted due to a hail storm. The surface in Marseille has drawn the greatest criticism. France coach Didier Deschamps called it a disaster and questioned the stadium owners' decision to hold a heavy metal AC/DC concert at the Stade Velodrome a few weeks before the tournament.
"It doesn't help build your play and leads to a lot of technical errors," he told reporters after his team's last-gasp victory over Albania. "Honestly, when I saw the photos and videos at the end of the concert, I thought I was in another world, but that's the power of 'Highway to Hell'." On Friday, UEFA cancelled training for the Iceland and Hungary teams at the Velodrome ahead of Saturday's game.
With the exception of the Parc des Princes in Paris and Lens's Bollaert-Delelis, which are used only for soccer, all the stadiums in the tournament have multiple uses with owners maximizing commercial activity in them. New roofing often limits natural light and wind in the stadiums, meaning pitches get moist and can cut up too easily.
"Pitches are a major issue in modern stadiums because they are multifunctional arenas," Kallen said. UEFA have in the past opted to relay a pitch. After a torrential downpour in Basel during Euro 2008 in Switzerland, they decided to replace the entire surface as it was too badly damaged from the rain. "We had no choice but to replace the pitch. The risk was enormous," he said.