Euro 2016 was not a classic for football purists but pure joy for anyone who revels in sporting upsets. For France, Euro 2016 was an antidote to terror attacks and weeks of social unrest until the final. Russian hooligans tested the hosts' security forces but Irish fans sang their way into the hearts of French police.

SHOCKS GALORE

Expanded to 24 teams for the first time, some had expressed fears that the little nations would not be up to it. But Iceland, Wales and Portugal answered UEFA's prayers. Iceland beat England 2-1 in the last 16 in one of the biggest shocks in football history. Iceland scorer Ragnar Sigurdsson said England "panicked." English Football Association chief Martin Glenn could not understand why England are so "brittle" on the international stage. Wales, built around powerful Real Madrid forward Gareth Bale, lost to England but still reached the semi-finals with determined, entertaining football that swept aside Russia and Belgium with domineering 3-1 wins. It took the class of Cristiano Ronaldo to outgun his Real teammate in the last four. Northern Ireland also put on a gutsy show to reach a quarter-final against Wales. France and Portugal rode their luck in early games but there was no doubting they deserved their semi-final wins over Germany and Wales respectively. Portugal started as 25-1 outsiders to win the tournament but pulled off the final glorious upset. They lost Ronaldo, who was stretchered off after 25 minutes, and soaked up France's pressure for 109 minutes before Eder powered a shot past France's captain and goalkeeper Hugo Lloris. Ronaldo produced one of the goals of the tournament with a sublime back heel against Hungary. France's Dimitri Payet also produced a spectacular shot in the opening game against Romania. Xherdan Shaqiri's scissors-kick goal for Switzerland against Poland could also be a candidate for goal of the tournament.
The 108 goals in 51 matches gave an average of 2.11 goals a game, below the 2.45 of Euro 2012 and the 2.7 at the 2014 World Cup. But there were records. Ronaldo equaled French legend Michel Platini's nine goals in Euro tournaments.

HOOLIGANS AND REAL FANS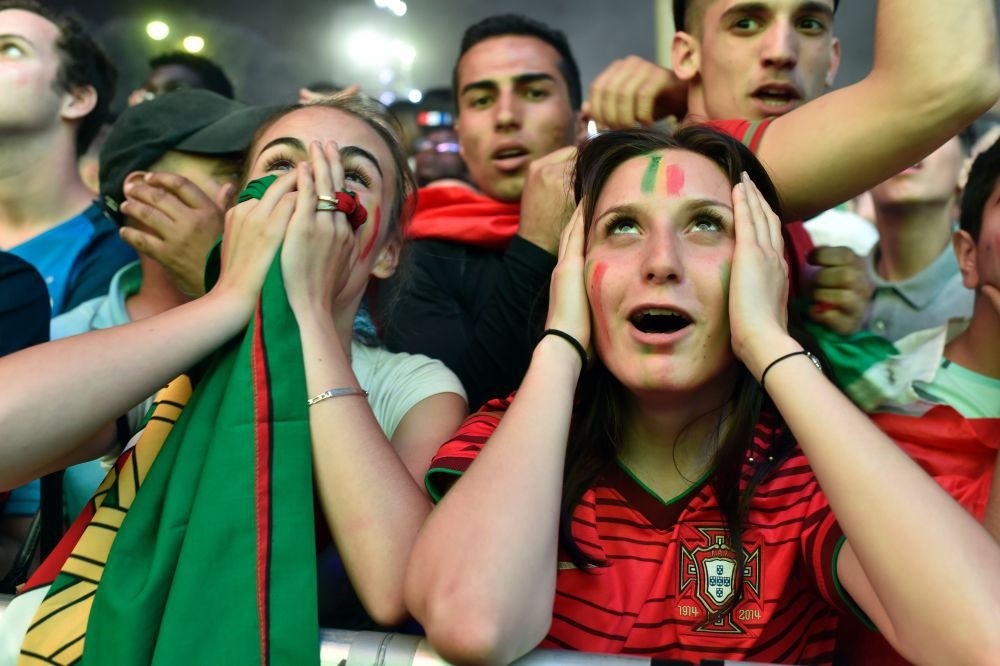 Fans from Iceland and both sides of the Irish border charmed everyone wherever they went in France, but an old blight made an unwelcome return -- hooligans. The hours before the match between England and Russia in Marseille were mayhem, with what a prosecutor said were "well-prepared" gangs of Russians attacking rowdy and drunk England fans in the Vieux Port district as bottles and teargas flew. One England fan suffered brain injuries, dozens more were hurt. A Russian far-right sympathizer, Alexander Shprygin, was expelled from France over possible links to the violence, then embarrassed French authorities by slipping back into the country. The events have raised fears over Russia's hosting of the 2018 World Cup. On a happier note, the "Viking army" from Iceland came armed with nothing more than plastic-horned helmets and a sense of fun as their team exceeded all expectations. Their single clap "Huh!" celebration will live long in the memory. Northern Ireland's fans made "Will Grigg is on Fire" one of the tournament's anthems, even if Grigg did not play a single minute. The Republic of Ireland's fans won hearts by chanting "Stand Up for the French Police", serenaded girls in the crowd and, in an incident which went viral, collectively fixed a dent in the roof a car.

GRIEZMANN SHINES

Euro 2016 was meant to be the tournament of Paul Pogba, Cristiano Ronaldo and maybe Thomas Mueller. Germany's Mueller, top scorer at the 2014 World Cup, did not have a goal to his name when Germany were stunned by two Antoine Griezmann goals on a hot night in Marseille. Mueller returned home as one of the Euro failures. Pogba scored once as France marched on the final, but Griezmann produced repeat heroics to go into the final as the tournament's top scorer on six goals. The 25-year-old who has never played in the French league scored twice against Irish Republic and twice more in the 5-2 quarter-final win over Iceland. For Griezmann, however, it was a second major final lost in a month after his Atletico Madrid lost to arch-rivals Real Madrid in the Champions League. "It's frustrating, it sucks, but that's football," he said.