Egypt's best known archaeologist apologized after he angrily called Argentine soccer superstar Lionel Messi "an idiot" because the striker seemed to show little interest during a tour of the Giza Pyramids.
Zahi Hawass, famed for his Indiana Jones hat and TV specials on Egypt's ancient sites, showed Messi around the Giza Pyramids last month during a brief visit to Egypt by the Barcelona striker.
In a TV interview aired Sunday, Hawass was asked how Messi's reaction compared to that of Hollywood movie star Will Smith, who also toured the Pyramids with Hawass earlier this month.
"Messi is an idiot, and I am sorry to say that," he snapped. "I was explaining the antiquities to him and there's no reaction in his face. I was explaining things that would make a rock react, but he was just like an idiot."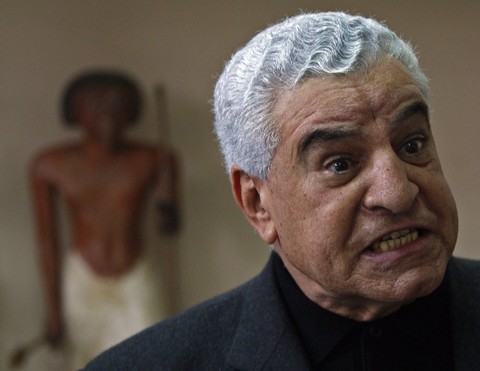 In a statement late Tuesday, Hawass said he was expressing anger over an inefficient interpreter when he was interviewed on the telephone by a talk show host. He made no mention of an interpreter in his original comments on Messi.
"I apologize to Messi and his fans for the misunderstanding," he said, professing to be an avid fan of the Argentine who watches all his games on television. "The nature of brief telephone interviews does not allow enough time to accurately explain what is meant. That contributed to the misunderstanding," the former antiquities minister said.
However, UK tabloid newspaper the Sun reported late Wednesday that the Egyptian minister blamed the translator hired for the tour and denied that he had said such thing.
"I would like to tell you that I never said that Messi is an idiot at all," he said reportedly, accusing the translator of not interpreting "all the magic and the mysteries of the pyramids that [he] was saying."
Hawass added that he would like to take Messi to visit the tomb of King Tutankhamun in the southern city of Luxor if he were to visit Egypt again.