Following the national football team's exit from World Cup qualifiers last week, Turkish football fans found a reason to celebrate as Turkey's national amputee football team defeated England 2-1 to become the European champions at Istanbul's Vodafone Park Monday. It was an emotional evening for the capacity crowd at Beşiktaş's home stadium and for Turkey's amputee footballers, who scored the winning goal in injury time. Organized by the European Amputee Football Federation (EAFF), the championship final saw Turkey pitted against England.
The hosts led 1-0 at halftime thanks to a 25th-minute goal by Ömer Güleryüz. Amputee football games are 50 minutes long with two 25-minute halves. Despite a dominant display from the Turkish team, England's Ray Westbrook managed to level the game in the 50th minute. But Turkish team captain Osman Çakmak was quick to respond and scored just two minutes later to bring Turkey the title. The Turkish amputee team's achievement was lauded by the football world. The performance of Turkey's triumphant amputee footballers was described as "incredible" by UEFA yesterday."40,000 fans watch hosts Turkey beat England 2-1. Fantastic support for incredible athletes," UEFA tweeted, including a photo of Turkish fans rejoicing with victory. Some leading football websites also carried the victory on their pages.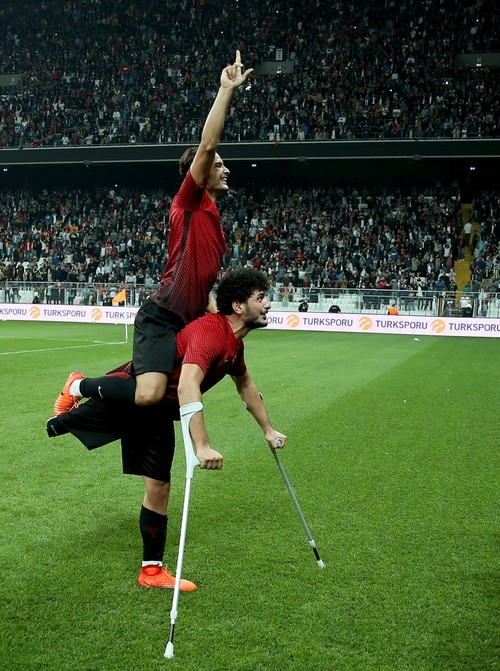 "Turkey scored in injury time to win the Amputee European Championship," ESPN FC tweeted.
"This is why we love the game," it added. San Francisco-based sports news site, Bleacher Report, highlighted photos of Turkish players celebrating after the victory.
"This is how it feels to win the Amputee European Championship," it wrote, adding the Turkish flag and heart emoji just near the message.
President Recep Tayyip Erdogan congratulated the team in a telegram. "I wholeheartedly congratulate the amputee national football team who became European champions by defeating England. Turkey is proud of you!" Erdogan also tweeted. According to the Prime Ministry, Prime Minister Binali Yıldırım also congratulated coach Özcan in a phone call.
Ankara Metropolitan Municipality Mayor Melih Gökçek said: "I can't tell you how happy I am. We have requested our Municipality Assembly award each amputee player of the team a TL 200,000 [$54,208] bonus. If the assembly members approve, we will hand out the awards."
President of the World Ethnosports Confederation, Bilal Erdoğan, said: "We are going through a rough time in national football, but the success of the amputee team has made us forget it. They are national heroes. Our people should not neglect amputee football."
Team coach Uğur Özcan said: "We dedicate this cup to all of Turkey. We have shown Europe our power. We worked very hard and deserved to win the title."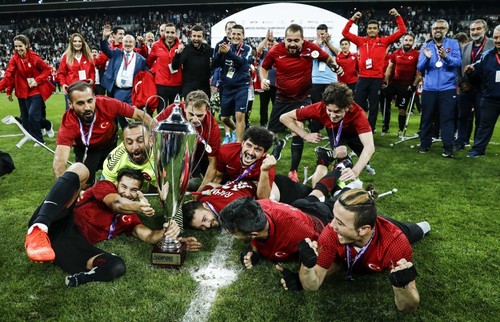 Following the win, goalkeeper of the national amputee team, Selim Karadağ, said: "Only our flag and nation can motivate us. We are at a point where all words have no meaning. We have camped and trained for months. We really wanted to win this cup. Thank God we got it since our nation needed such good news."
Çakmak said: "My 13 teammates, the managerial team and I are very happy. My trainer told me ahead of the match that the English team has never been beaten. I told him that was because they have never faced Turkey."
Member of the national team Ümit Sağlam said: "We fought for the 80 million Turkish nation. I dedicate this cup to them"
On their way to the final, Turkey defeated Germany 8-0, Georgia 9-0, Spain 4-0 and Russia 2-1. Twelve teams attended the championship, including Turkey, Belgium, England, France, Georgia, Greece, Germany, Ireland, Italy, Poland, Russia and Spain. Turkey were the runners-up at the EAFF European Championship in 2004 and 2008, and third at the World Championship in 2007. The amputee national football team is a member of the Turkish Disabled Sports Federation and is supported by the Turkish Football Federation's Turkey Plays Football program.

Captain Çakmak's touching story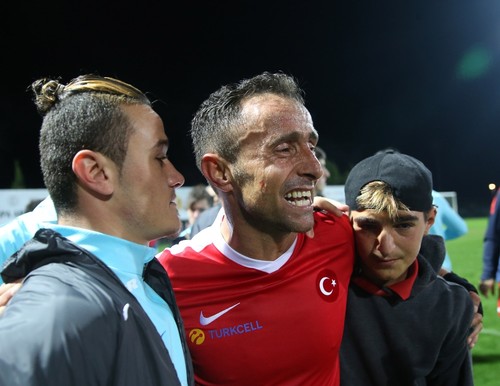 All members of the Turkish amputee football team have their own moving stories, and the veteran captain, Osman Çakmak, is no exception. He lost his left leg in a landmine explosion while doing his military service as part of a commando squad in the southeastern province of fi›rnak. He received treatment and rehabilitation for over a decade. Then Chief of General Staff Gen. Yaflar Büyükan›t visited him while at the rehabilitation center. Çakmak had requested from him: "I have healed fully. Please, help me return to the military." The general, touched by these words, said: "Military service is not the only way to serve the nation. You can also serve your country by playing football. Play for the national amputee team." This meeting marked the beginning of Çakmak's football career.