Journalists from prestigious news companies along with UEFA media representatives visited the Istanbul facilities of the Turkish Football Federation (TFF) Wednesday to be informed of the latest developments and infrastructure of Turkey's football scene, following the country's bid for EURO 2024 football tournament.
Fifteen journalists from prominent sports outlets including Marca, beIN International, La Gazzetta Dello Sport, CNN UK, SKY and Record, in addition to others from Greece, Switzerland and Slovenia, visited the TFF Hasan Doğan National Teams Camping and Training Facility in the Riva neighborhood.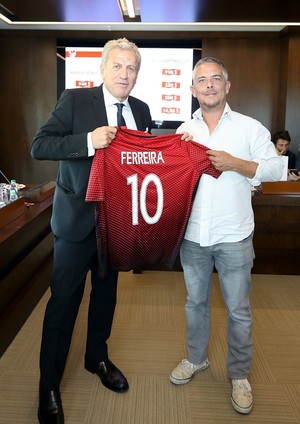 During the tour, they were joined by TFF First Vice President Servet Yardımcı, who is also an UEFA Executive Committee member, UEFA Media Committee chairman and UEFA Stadium and Security Committee deputy chairman.
TFF Vice President Ali Dürüst, TFF Management and Executive Board and UEFA HatTrick Committee Board member Cengiz Zülfikaroğlu, TFF General Secretary Kadir Kardaş and National Football Team coach Mircea Lucescu were also present.
During a press briefing, Yardımcı explained the current national and international potential of Turkish football.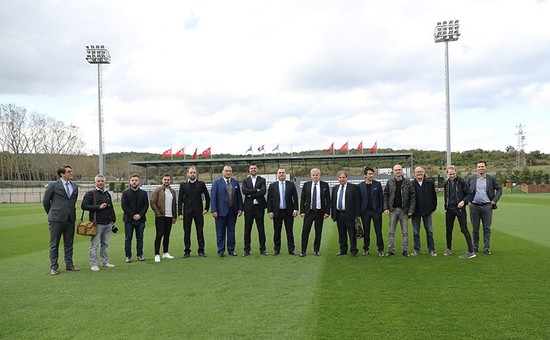 He also shared details on the completed and ongoing projects of the TFF, with Turkey's EURO 2024 and 2020 UEFA Champions League Final bids the most prominent.
The decision to nominate 11 stadiums across 10 cities was made at a closed-door board meeting Tuesday, the TFF said in a statement.
Turkey announced Oct. 20 it would nominate 11 stadiums for the tournament: the Atatürk Olympic Stadium and Türk Telekom Stadium in Istanbul, Bursa Metropolitan Municipality Stadium, Antalya Stadium, New Eskişehir Stadium, Gaziantep Stadium, Konya Metropolitan Municipality Stadium, Medical Park in Trabzon, New Kocaeli Stadium and New Ankara Stadium.
Besides Atatürk Olympic Stadium, which was completed in 2002, all of the stadiums to be included in Turkey's bid were completed and opened for use after 2011 amid a complete revamping of the country's stadiums.
The TFF will submit the bid dossier to UEFA on April 27, 2018. The UEFA Executive Committee is scheduled to make the decision regarding the host of EURO 2024 in September 2018.
Turkey's only rival to host EURO 2024 is Germany, as they were the only two countries who submitted formal declarations of interest to UEFA. Germany hosted one European Championship in 1978 and two World Cups in 1974 and 2006.