The ball for the 2018 World Cup was unveiled on Thursday, with Adidas' Telstar 18 paying homage to their first Telstar from 1970 but also acknowledging the digital age with a built-in NFC chip.
Like the first-ever World Cup ball provided by Adidas 57 years ago in Mexico, the Telstar 18 for the tournament in Russia has a simple black and while design but improved grip through a new surface texture.
The Telstar 18 evokes unforgettable memories of the 1970 FIFA World Cup – and of legends like Pelé, Gerd Müller, Giacinto Facchetti, Pedro Rocha and Bobby Moore – and will feed the dreams of those who play for football's most coveted prize in Russia next year.
The ruling body FIFA said that the microchip would allow consumers to interact with the ball via a smartphone and give them access to challenges ahead of the World Cup.
Adidas gave several top stars such as Lionel Messi, clubs including Manchester United and national teams such as Argentina access to the ball during the testing phase.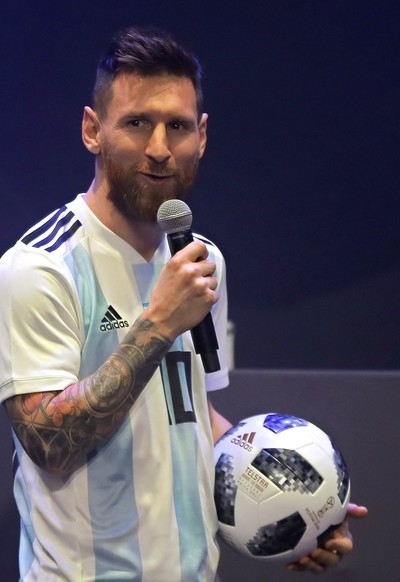 EPA Photo

"I was lucky enough to get to know this ball a bit earlier and I managed to have a try with it. I like all of it: the new design, the colors, everything," Messi said in the FIFA statement.
The ball will make its official debut on Saturday at the friendly between hosts Russia and Argentina at the reopened Luzhniki in Moscow.
The matches of the 2018 World Cup will be held between June 14 and July 15 at 12 stadiums located in the 11 Russian cities, including Moscow, St. Petersburg, Sochi, Kazan, Saransk, Kaliningrad, Volgograd, Rostov-on-Don, Nizhny Novgorod, Yekaterinburg and Samara.