President Recep Tayyip Erdoğan, a former professional footballer, discussed various issues related to the Turkish sports arena in an interview on Monday with a popular sports channel, NTVSpor. Looking back on his footballing career, at clubs like Erokspor, Camialtı, and İETT Spor, Erdoğan said, "My adventure in football began when I was 15. We used to play with balls made out of paper in our neighborhood. While at the amateur club, Erokspor advised me to play in Camialtı, another leading amateur club in the 1970s. I played as a forward for Camialtı for seven years. I was also studying and doing youth politics at the same time."
"After Camialtı, I was signed by İETT and played for seven years there. I enjoyed five titles in my seven years at İETT. It was a personal milestone. I was the captain there. Back then the pitches were terrible. You would easily get bruised. There was no grass on the pitches."
"I saw the red card once only in my career. It was because I objected the referee's decision," he said.
Speaking of how his parents saw football as a career, Erdoğan said, "My mother never complained about it. She used to wash and iron my jersey. However, I could hardly convince my father. He would always say that I must study. He learned later that I was playing club football."
"Today we tell our athletes that they can study and do sports at the same time," he added.
Erdoğan emphasized the importance of fair play, saying, "Football is a great way to unite people. It is about fair play. Unfortunately, however, we haven't been able to establish that fact in the country. I would like to ask Turkish football clubs and fans to respect the fair play rules."
The president was also asked about the Super League's current quota regulations that allow clubs to play as many as 14 foreigners in a game.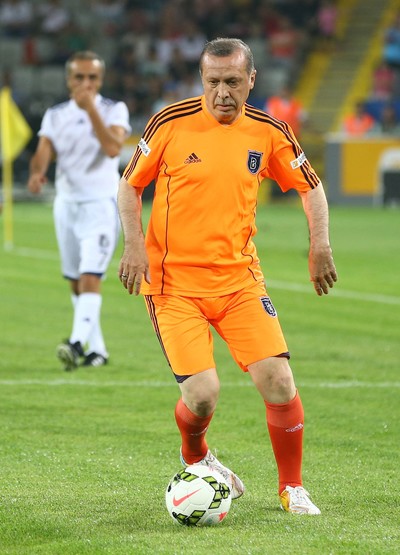 "Many foreign players are under contract until the end of the 2019 season. We cannot speculate about that," Erdoğan said. "The Turkish Football Federation (TFF) needs to settle this issue with the clubs after 2019."
The current system allows Turkish clubs to field 11 foreign players at the same time. However, he said that he was "not against foreign players, as those players have lots of things to contribute to Turkish football."
"A player must prepare for national team duty by playing more minutes for their clubs. The more pitch time he gets, the more chance he will have to be called up by the Turkish squad."
The issue has dominated headlines since the beginning of the 2017 summer transfer window. The move is mostly criticized by pundits, saying that the national team will have a hard time finding active players. Turkish clubs in the Super League can list a total of 21 players in each league match, but seven of them must be Turkish players.
Turkey's current Manager Mircea Lucescu has also highlighted the issue several times after he took the helm in August 2017. In an interview with Italy's La Gazzetta Dello Sport newspaper on Nov. 5, Lucescu said, "With the federation, we will limit the league to foreigners. The manager also said young players like Cengiz Ünder, Enes Ünal, and Emre Mor chose to play abroad but they got limited time to play in the matches in the Turkish league."
"Guys like Cengiz, Emre Mor, and Enes Ünal do not play in their teams. How can I call them up if they do not play?" he said. Before the Turkey-Romania friendly match on Nov. 9, Lucescu told a press conference that no league in Europe plays with as many foreign players as Turkey.
Turkey failed to reach the 2018 World Cup to be held in Russia next June.