Beşiktaş coach Şenol Güneş suffered a head injury from an object thrown by Fenerbahçe fans during a brawl that caused the Turkish Cup semi-final second leg match to be suspended Thursday in Istanbul.
LATEST — Istanbul derby between Fenerbahçe and Beşiktas suspended after a brawl between Fenerbahçe fans and Beşiktaş players; coach Şenol Güneş hit by an object from angry fanshttps://t.co/SonQiDtNcB pic.twitter.com/KMSxY2ovIF

— DAILY SABAH (@DailySabah) April 19, 2018
Fenerbahçe fans started to throw objects onto the pitch after an argument with visiting team players on the bench around the 50th minute of the goalless match.
Footage showed Güneş clutching his head in pain and bewilderment and falling to the turf after being hit by the projectile, which has yet to be identified.
Güneş, the legendary former Turkish international goalkeeper who has led Beşiktaş to two consecutive championship titles, was taken by his own medical staff to the changing rooms where he received five stitches to the head wound.
He was later taken to hospital and pictures showed him being transferred on a stretcher. It was not immediately clear when he would be allowed to go home.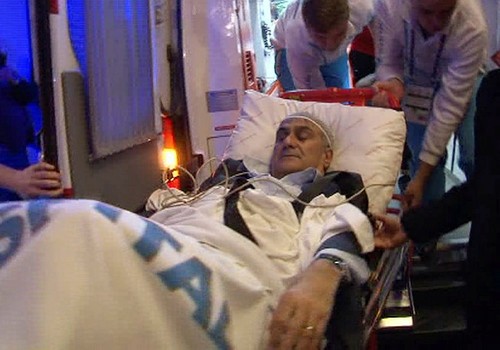 15 suspects were detained after the brawl.
The Turkish Football Federation (TFF) is now expected to take a decision over the outcome of the match, which may now be replayed behind closed doors.
The match had already been halted for five minutes in the first half when projectiles where thrown at Beşiktaş players. Tempers had flared when Beşikaş' star Portuguese defender Pepe was sent off for an ill-judged tackle.