Turkish midfielder Gökdeniz Karadeniz ended his professional football career Monday on the 300th match he played for the Russian club Rubin Kazan.
The 38-year-old was substituted in on the 59th minute of the match against Ufa that ended in a 0-0 draw.
Following the match, Karadeniz gave an emotional farewell speech in which he struggled to hold back tears along with thousands of fans present at Kazan Arena.
According to an announcement, Karadeniz will be awarded with the highest order of the autonomous Republic of Tatarstan, of which Kazan is the capital.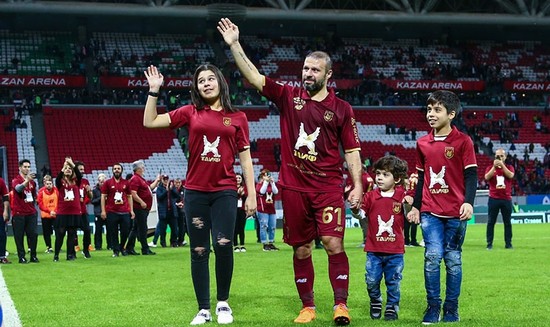 During his journey with Rubin Kazan, Karadeniz scored 51 goals and assisted 51 others, winning two league cups, one domestic cup and one Russia Super Cup championships. He currently holds the title of foreign player who has played the most matches with Rubin Kazan.
Karadeniz held a press conference last week announcing his retirement as a player, but said that he wants to remain in football. His jersey number 61, the license plate code for Turkey's northern province of Trabzon, was also retired by Rubin Kazan.
During his 20-year-long professional career, Karadeniz – who hails from the northern province of Giresun in the Black Sea region, just like his surname – played with northern Turkey's Trabzonspor for 10 years, winning the adoration of the club's fans, who are known for their passion. From 2008 on, he played for Rubin Kazan. He was also one of the key players on the Turkish National Football Team between 2003 and 2008.
During a press conference, Rubin Kazan General Director Rustem Saymanov said that they could arrange a friendly match with Trabzonspor for Karadeniz's jubilee.
In 2009, Karadeniz was also praised by then President Dmitry Medvedev for scoring the goal that brought a 2-1 victory for Rubin Kazan in an away Champions League match against Spanish powerhouses Barcelona.