Mohamed Salah has reassured Liverpool fans his stunning first season is "just the beginning" of his time at the club despite speculation over interest from Real Madrid. The Egyptian collected awards in Liverpool after being voted player of the season by both the club's fans and his teammates before boarding a flight to collect the Football Writers' Association's award in London. The 25-year-old has scored 43 goals in all competitions since arriving from Roma last summer, a return that has seen him heavily linked with Spanish giants Real Madrid, who face Liverpool in the Champions League later this month. But Salah, who needs just one more goal to become the outright record-holder for the most strikes in a 38-match season in the Premier League, appears content with life at the club.
"I'm very happy here, everything is fine," he said. "Of course I have got ambitions for the future with Liverpool. As you can see we had a great season, now we are in the Champions League final and everyone is excited.
"It is just the start. This is my first year here and it is the same for some other players. It is just the beginning."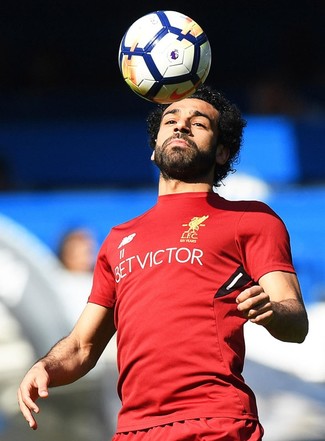 Liverpool cannot focus all of their energies on Real just yet, with the battle for a place in next season's Champions League still not settled. A point in their final match, at home to Brighton on Sunday, will be enough to secure a top-four finish, after which all eyes turn to Kiev. Salah, who was last month crowned Professional Footballers' Association players' player of the year, won the writers' award ahead of Kevin De Bruyne and Harry Kane. Speaking in London, he said: "I was here four years ago (with Chelsea) and a lot of people were saying he couldn't play in the Premier League. I left Chelsea but it was always in my mind to come back to make them wrong. So I make them wrong.
"I'm not the same player. I improved a lot in Rome but I can't say everything is me. The team-mates are maybe different. The coach is tough and they always help me inside and outside the pitch."