President Recep Tayyip Erdoğan met with English Premier League football stars Cenk Tosun, Mesut Özil and Ilkay Gündoğan on Sunday night, during the first day of his official visit to the U.K.
The three footballers met Erdoğan in the Four Seasons Hotel in London, where they presented him with signed jerseys as a gift to the president.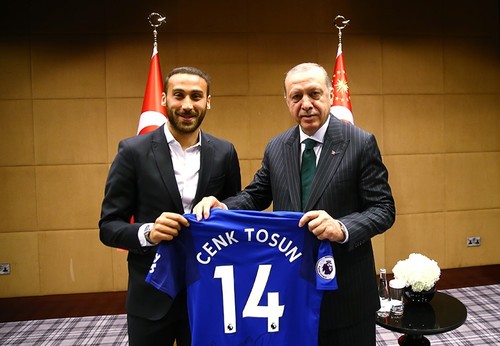 Tosun has played forward for Premier League's Everton since January when he transferred from Istanbul's Beşiktaş club.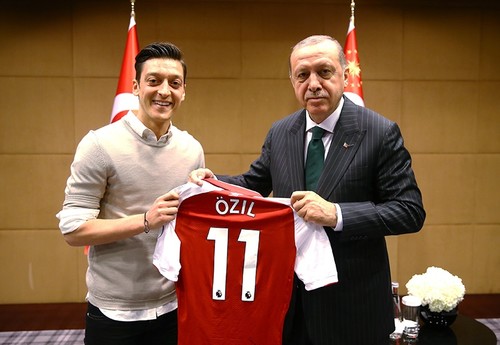 Özil has played for English club Arsenal since 2013, as attacking midfielder or winger.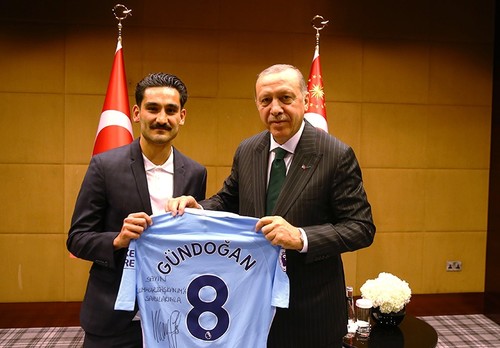 Gündoğan has played midfield for Manchester City since 2016.
However, the meeting caused negative reactions for Germany internationals Özil and Gündoğan, who were accused Monday of having been "manipulated."
"Football and the DFB (German football federation) defend values which are not fully taken into account by Mr Erdoğan," DFB president Reinhard Grindel tweeted.
"That's why it's not good that international players allow themselves to be manipulated for his electoral campaign.
"In doing that, our players have certainly not helped the DFB's work on integration."
The two players, both born in the German city of Gelsenkirchen, handed over signed Arsenal and Manchester City shirts. A photograph from the meeting, which also featured Tosun, was published by Erdoğan's Justice and Development Party on Twitter.
"For my revered president - sincerely," was written in Turkish on Gündoğan's signed shirt.
The far-right German party, the AfD, was quick to react, politician Beatrix von Storch asking: "Why is Gundoğan playing for the German national team when he recognizes Erdoğan as his president?"
Cem Özdemir, former leader of the German Green party and himself of Turkish origin who staunchly opposes Erdoğan, was also scathing.
"The president of an international German footballer is called Frank-Walter Steinmeier, his chancellor Angela Merkel and his parliament the Bundestag, the headquarters of which are in Berlin and not Ankara," Özdemir told AFP subsidiary SID.
Germany's team manager Oliver Bierhoff said the meeting will be discussed with the players, who are expected to be confirmed Tuesday in Germany's provisional squad for the forthcoming World Cup in Russia.
He added: "I remain in no doubt about Mesut and Ilkay's clear commitment to play for the German national team and to identify with our values."
"Of course the (German football federation) DFB respects the special situation of our players with a migration background," Grindel said via Twitter.
Erdoğan is not allowed to campaign in Germany before presidential and parliamentary elections on June 24.
The meeting is also sensitive as Turkey is Germany's only rival in the bid to host the 2024 European Championship. The host nation will be decided by European football body UEFA in September.
Amid political reaction, Stefan Mueller, the chief whip of the Christian Social Union (CSU) faction in the German parliament, said: "Players of our national team should think carefully about whether they really want to be instrumentalized in this way by an autocrat in the election campaign."
Linda Teuteberg, immigration spokeswoman for the opposition liberal Free Democrats (FDP), said the meeting with Erdoğan was "foul play and an own goal against all those who are fighting for more democratic fair play in Turkey."
Erdoğan began a three-day official visit to the U.K. on Sunday, with bilateral cooperation and trade relations on the agenda.