Turkish steakhouse owner and chef Nusret Gökçe hosted another set of A-list guests at his restaurant Friday night as football stars Lionel Messi and Paul Pogba were spotted at his eatery in Dubai.
Gökçe, a butcher-turned-social media star who went viral under the nickname "Salt Bae" in 2017 after posting videos of himself salting meat, personally served his guests, who sat at different tables.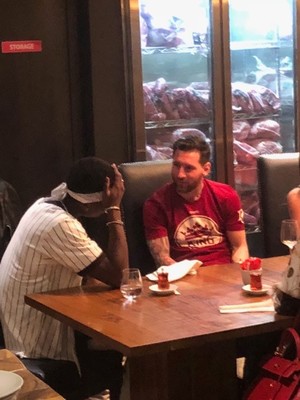 Both footballers were seen imitating Salt Bae's distinctive cobra-like maneuver, salting meat. Gökçe also fed a piece of meat to the football stars directly from his knife.
Following their dinners, Messi and Pogba sat together and conversed for a long time, enjoying some Turkish tea.
Part of their conversation allegedly concerned Pogba's potential move to Barcelona. Earlier reports suggested the Argentine was fond of Manchester United midfielder's transfer.
The unusual manner in which Gökçe salts meat earned him more than 17 million Instagram followers and has helped launch Nusr-Et restaurants in the Middle East, New York and Miami.
Nusr-Et restaurants saw many guests from football stars to celebrities from the music and movie industries.