When I arrived early in the morning at the Ümraniye Training and Research Hospital in Istanbul, the hospital was already crowded. Some patients were waiting in line for a physical examination while some others were being treated. Physicians who were busy with their patients and nurses who were assisting them were working to find a remedy for everyone in the hospital. I, on the other hand, came for the spiritual counseling unit that offers expert services in public hospitals located in Istanbul, Ankara, Erzurum, Samsun, Kayseri and Ordu.
The head of the Spiritual Counseling Unit at Ümraniye Training and Research Hospital, Aysun Özkan, offers spiritual consultations to patients and their relatives four days a week. She visits patients with a smiling face, helps increase their morale and chats with them for a while. Özkan, who volunteers for this mission, has been working for the Presidency of Religious Affairs for the last nine years. She received her master's degree in the psychology of religion from Marmara University and is currently studying for her doctoral degree in the same field. Özkan said she has provided emotional and spiritual counseling to 360 patients so far, claiming that people are not familiar with her unit and are surprised when they hear about it. "Many people want to talk, relax and share their problems. Negative thoughts or wrong perceptions about an illness are demoralizing elements. In fact, the aim of the spiritual counseling unit is to help patients to remain positive about their illnesses by means of certain coping techniques. Understanding their needs, taking a step forward, hand-in-hand, is good for patients. I also give books to patients who want to read to pass time as they sometimes get bored during their treatment," Özkan added.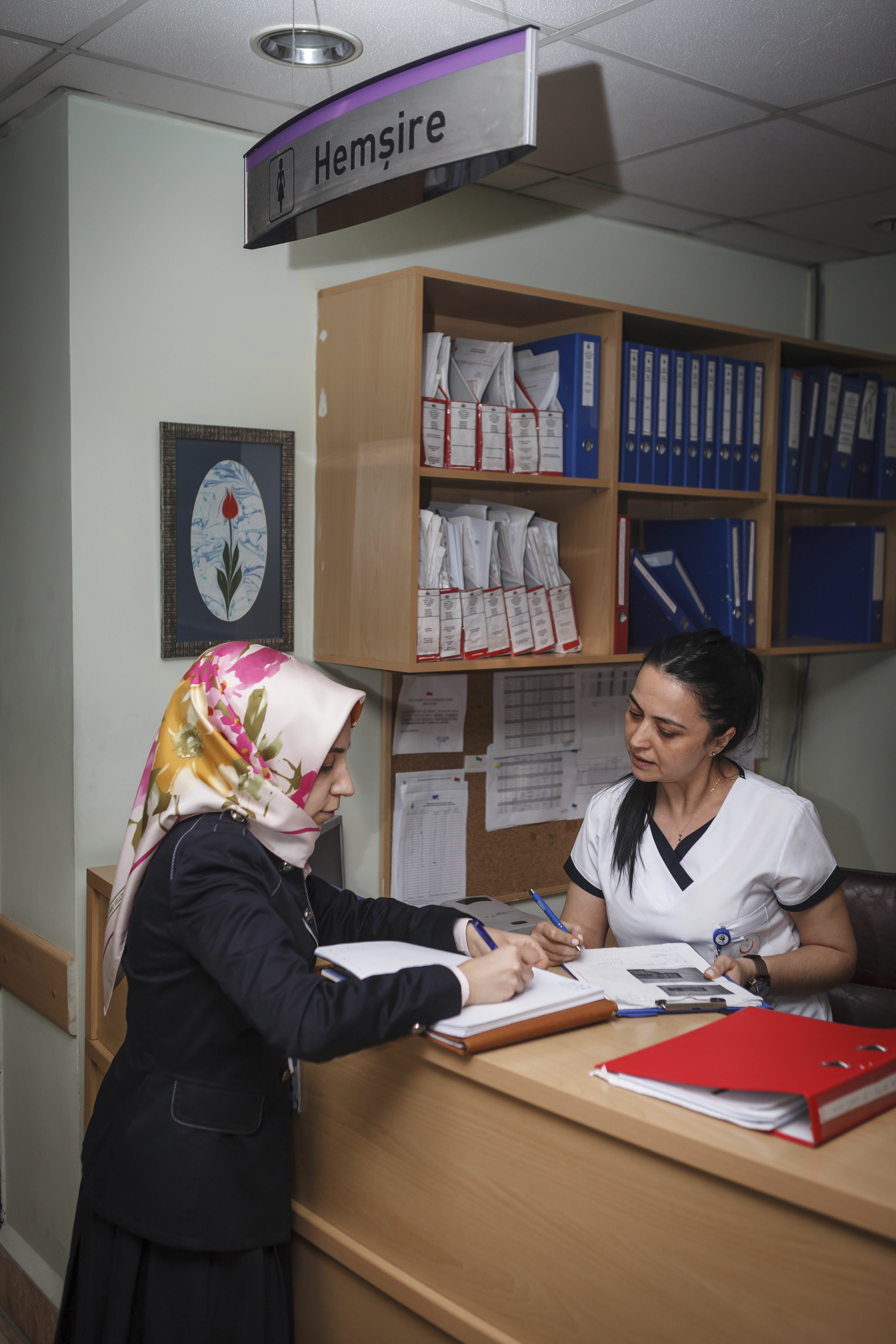 I then headed to the infectious diseases clinic where Fikri Tarak, one of the patients receiving spiritual support from Özkan, was being treated. Nurse Pınar Kocaman collaborates with Özkan and greeted us at the clinic. "I am directly in touch with the patients," Kocaman said. "I observe what patients psychologically need. Whenever I see a patient in need of emotional support, I mention the unit and ask them to contact Özkan." After Kocaman introduced Özkan to the patient, we entered Tarak's room, who was admitted to the hospital with suspected encephalitis.
After a small chat, Tarak said: "I knew nothing about the spiritual counseling unit and I was glad to learn about the service. Ms. Özkan made us smile and made me feel better." On the other hand, Tarak's wife, Soncan, said: "My husband was not conscious when he was admitted to the hospital. He got better day-by-day. Every patient's psychology is different. We were worried; it was a very stressful process. It was good for us to receive emotional support from people apart from the physicians." Kocaman interjected that sometimes a touch or a smile helps a patient recovery. "Patients are happy to receive spiritual counseling; they feel that they are valued and they smile," she added.
Following our visit, Özkan scheduled a new meeting for the next day and we left the room. While we were leaving the clinic, Özkan said their goal is to reform the patient's view of the illness and assure them that it is a temporary process. "These conversations provide a morale boost and motivate patients to adapt themselves to social life," she said. "The topic of our talks changes from patient to patient because each patient's experience is unique. We offer spiritual counseling while protecting the privacy of the patient."Kamil Özdil, the hospital's manager, said the spiritual counseling unit is currently a pilot scheme that was initiated by the Health Ministry and the Presidency of Religious Affairs. The hospital is the only hospital with this unit on Istanbul's Anatolian side; there are two of them on the European side. "Their privacy is always protected. Spiritual counseling makes them more easily adapt to the treatment process. For large hospitals, it is important to have such units. Especially for trauma patients, keeping their morale high is crucial," Özdil said.