Stirring memories and helping people to manage stress, alleviate pain and better express their feelings, music therapy encourages individuals to better connect with their inner self and others around them.
Turkey is joining the European Music Therapy Day for the first time this year with other participating countries including Austria, the Netherlands, Poland, Russia, Sweden, Iceland and Hungary. In its third edition, the Nov. 15 European Music Therapy Day is organized by the European Music Therapy Confederation (EMTC) in cooperation with the Dutch Association for Music Therapy. In Turkey, the related events are a product of the Turkish Music Therapy Association (MÜZTED).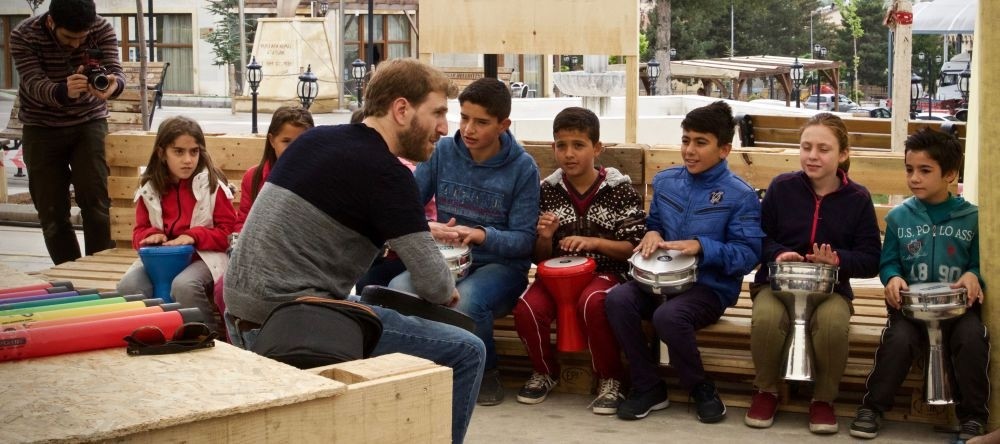 Danny S. Lundmark

This year's theme is "Sounds of Change" as music is a powerful tool to change people through the use of sounds, melodies and rhythms.
An established health profession, certified music therapists provide music therapy for a wide range of groups, including children with learning disabilities, autism or behavioral disorders, adults with depression or trauma and anxiety, and older adults with Parkinson's or dementia. During a music therapy session, groups play various instruments and use their voices. They create a musical language that reflects their emotional and physical conditions.
Speaking to Daily Sabah, MÜZTED President Assoc. Prof. Burçin Uçaner Çifdalöz said the association regularly holds events promoting music therapy training. For the European Music Therapy Day, workshops have been organized in İzmir, Istanbul, Ankara and Eskişehir with the participation of international and national music therapists. Music therapist Duygu Orlowski gave a workshop in Ankara while a conference in Eskişehir and related workshops were held in İzmir to mark the day.
"Our initiatives encourage the training of more music therapists in Turkey as their present number is few. Music therapy education requires bachelor's degree training that can be followed by post-graduate education, although it is not a must. Thousands of medical centers including those for Parkinson's disease, Alzheimer's disease both in Europe and the U.S. house music therapists, while more than 300 universities offer programs on this subject," she said. Music therapists also work at patient care centers, private education institutions, hospitals and schools.
Physicians and musicians in the Seljuk and Ottoman Empire were well aware of the advantages of music therapy as various manuscripts mention the effect of music in healing. Explaining that the practice of maqams as music therapy for patients is different from modern-day music therapy, Çifdalöz said they follow research-based training. The MÜZTED has started preparations to become a member of the EMTC and invite international names to their programs.
Workshop for mothers and babies
Today, music therapist Danny S. Lundmark specialized in child growth and psychiatric care will be delivering a group workshop for a limited number of participants at Bütün Dans in Kadıköy on Istanbul's Asian side. The workshop is scheduled from 10:30 a.m. to 11:30 a.m.
The group will focus on mother-baby interaction through music, using interactive music-making with singing and light percussion. The workshop will be a window into how music therapy works with infants and their parents, using evidence-based practices. There will be combinations of passive and active music therapy methods, listening and fun.
Having graduated from Berklee College of Music with a degree in Music Therapy, Lundmark is currently living in Istanbul, Turkey, providing music therapy services to a variety of institutions. He received his Music Therapist – Board Certified credentials from the American Music Therapy Association, and is a professional member of the World Federation of Music Therapy.
Music therapy seminar
On Nov. 22, music therapist, composer and producer Özgür Salur will give a seminar session within the European Music Therapy Day events at Istanbul University Faculty of Medicine Psychiatry Department. Having studied Psychology and Art Therapy, Salur has conducted music therapy at psychiatry and oncology clinics.
MÜZTED members as well as researchers from the university's art psychotherapy and physiological disorders programs will join the session starting at 5:30 p.m. The session will discuss music therapy through the use of games for raising emotional awareness.
On another note
Outside the official program but a parallel event, Istanbul-based Greek musician and music therapist Dimitros Dermentzioglu will deliver music therapy classes on Friday and Sunday this week at Dancentrum and Nefess Yoga.
In this experience, the participants will relax and switch from the outside world, noise, stress and anxiety and surrender themselves to the music. The application of nature's sounds combined with specially selected music, chants, aromas and the use of instruments that simulate natural phenomena helping the participants to release unpleasant thoughts, emotions and even pain, creating a pleasing result.
Expanding his career in Greece, Turkey and Brazil for the last 4 years, he has a special interest in instruments and healing music of Brazilian and Peruvian Indigenous people. Currently, he guides meditations with sacred world music and music therapy sessions and sharing his knowledge in traditions of Indigenous cultures. He will be playing the Tibetan bowl in his classes.