The hippotherapy center designed to offer equine-assisted therapy for young locals living near the Şanlıurfa Hippodrome was established as part of a social responsibility project being conducted by the Jockey Club of Turkey (TJK). The facility is designed to aid in the rehabilitation of children with mental and physical disabilities. Located on 1,000 square meters (10,700 square feet) of land near the hippodrome, the center also offers playgrounds and green areas for the children and their families to enjoy.
Hippodrome Director Mehmet Kazoğlu spoke to Anadolu Agency (AA) and noted that the Şanlıurfa Hippodrome was founded in 1996 and started serving horse breeders with official horse races in 2000.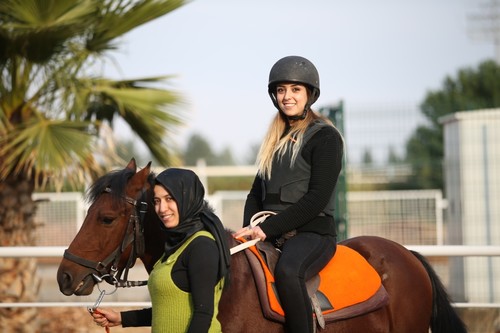 While discussing the hippotherapy center's services coordinated by the TJK's project, Kazoğlu said, "We are trying to show people that hippodromes are not just for racing horses. According our agreement with the Provincial Directorate of National Education, all disabled children of school age in Şanlıurfa have the right to use the hippotherapy center. Contact with horses has proven highly effective in the rehabilitation of the people with disabilities."
Stressing that there are too few hippotherapy centers in the region, Kazoğlu added, "Our center is 1,000 square feet. We also have playgrounds for disabled children and relaxing areas for their families as well as social facilities. By doing this, our goal was to show everyone that hippodromes can be used for so much more than horse races. All these services are free. Up until now, hippotherapy centers were only located in Istanbul, İzmir, Bursa and Diyarbakır. Şanlıurfa is also one of Turkey's leading horse breeding centers. The center here is a much larger than the others. The therapy will be conducted with four ponies. Here, the children's development will be tracked, and their exercise schedules will be planned based on their progress."
The center's physiotherapist, Deniz Karakuş, also said Şanlıurfa has a high number of families who try to hide their disabled children from society.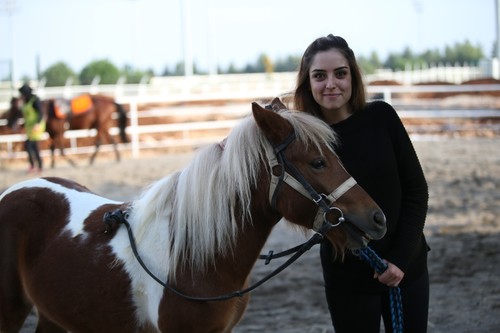 Noting that hippotherapy is a verified method in the rehabilitation, Karakuş said, "Though hippotherapy was introduced to Europe years ago, it's quite a new to Turkey. Here, we use hippotherapy for children with Down syndrome, autism and mental retardation three days a week. By the end of their therapeutic treatments, great improvement is often seen in the children with walking or speaking disorders. In addition to physical progress, the children also have the chance to develop their communicative skills."
Stressing the importance of consistency with therapy, Karakuş said, "Families need to be patient. Most of them wonder when their children will get over their problems. We can't give them a definitive answer. The children's progress is evaluated after five sessions, and it's important to remember that every child is different. While some may recover and start to walk in five sessions, others may need 10. We prefer ponies for therapy because they are more obedient, and the animals really develop wonderful relationships with the children. Once the child and pony get to know each other, the therapy goes even smoother. The child starts to communicate and speak with people around them. This is often the case for autistic children. In addition, the position our hips while horseback riding is the same as when walking. This is what makes hippotherapy useful for the physically disabled or those with walking disorders. Hippotherapy is definitely a fun method of rehabilitation."