When you pass 40, even if you still feel like you are 18, your body is well aware that time has passed! If you are thinking "I have a lot to do," then you should start supplementing your body starting today. If you have not paid much attention to your nutrition so far, your body may warn you soon if it has not warned you already.
As we age, muscle mass begins deteriorating, the chance of gaining weight increases, menopause might start and the risk of chronic illnesses such as cancer, diabetes and heart diseases increases. Be mindful of any warning signs and take precautions! Vitamin supplements and some foods can help you live a long and healthy life.
It is important to eat well at every age but as the body ages and its internal mechanisms change (especially around the age of 40), the importance becomes even more evident. This is why it is important to eat well and take precautions especially at younger ages. If you decide to take supplements, consulting your doctor is the most important thing to do. They will offer you the best advice.
We can list some vitamins that are important at every age but get even more important from age 40 on as follows.
Potassium
Potassium has a major role in regulating blood pressure regardless of age. A study on postmenopausal women has shown that getting a high daily intake of potassium through meals is linked to a decrease in stroke risk. The study defined high potassium intake as 3.1 grams per day.
In short, if you feel weak and tired throughout the day, have high blood pressure, experience occasional muscle spasms in your legs and health palpitations; you might be suffering from potassium deficiency.
The best way to take more potassium is to eat a wide variety of fruits and vegetables throughout the day. Even though bananas are the first fruit to come to mind when we think about potassium-rich foods, there are some other foods that have higher potassium contents.
Potassium-rich foods include:
Potatoes (medium size) 941 milligrams
Earth apples (medium size) 542 mg
Tomato sauce (1 cup) 728 mg
Melons 641 mg
Spinach (1 bowl) 540 mg
Beets (1 bowl) 518 mg
Beans (1 bowl) 1189 mg
Salmon (1 can) 480 mg
Zucchini (1 cup) 582 mg
Chard (1 cup of cooked chard) 961 mg
Yogurt (1 bowl) 573 mg
It is not very likely that you will take a dangerous amount of potassium through your daily meals. Before taking potassium supplements, you should definitely consult your doctor since too much potassium can harm your gastrointestinal system and heart and might even cause life-threatening heart palpitations. If potassium supplements are prescribed by your doctor, they must observe the resultant effects on you.
Vitamin B12
After the age of 40, vitamin B12 should definitely be on your list to maintain normal blood and brain functions. Children and young people get their supply of B12 through foods such as fish, poultry, red meat, milk and milk products, eggs and other animal products. But as the body ages, it becomes harder to absorb the vitamin through such foods. This happens around the age of 50 due to a drop in the acidity of the stomach.
Between the ages of 40 and 50 is a good time to begin taking B12 through food supplements or multivitamins. Taking 2.4 mg of B12 every day will meet your body's needs. Don't worry about taking too much. Since B12 is a water-soluble vitamin, your body will only absorb the necessary amount.
Calcium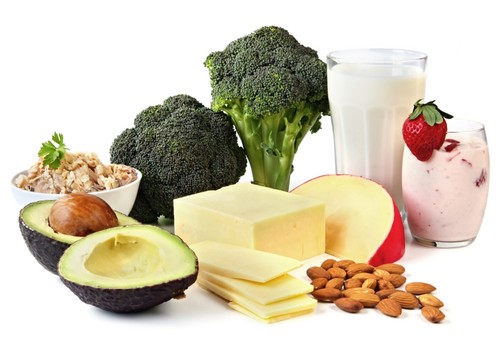 Calcium is still a subject of heavy research. According to 59 studies done to evaluate the role calcium plays in preventing bone fractures among men and women above the age of 50, the probability that high calcium intake might lower the risk of fractures is low.
Even though most of the calcium bones n
eed is absorbed in the earlier stages of our lives (before the age of 30), our diet afterwards plays a significant role in maintaining bone health. Basic biochemical bodily functions such as the functioning of muscles, nerves and the heart require the consumption of high nutritional value food.
If your daily calcium intake is not enough, your body will extract the deficient amount from your bones, resulting in a weaker body. This means that you will still need to maintain a sufficient level of daily calcium intake past the age of 40, however more calcium does not necessarily mean more benefits and at some level it might even impact your heart negatively.
Maintaining a varied diet with plenty of calcium-rich foods such as milk, broccoli, almonds, spinach, soy cheese and sardines will help you take the amount of calcium your body needs every day, which is about 1000 mg for women between the ages of 40 and 50 and 1,200 for women above 50.
Vitamin D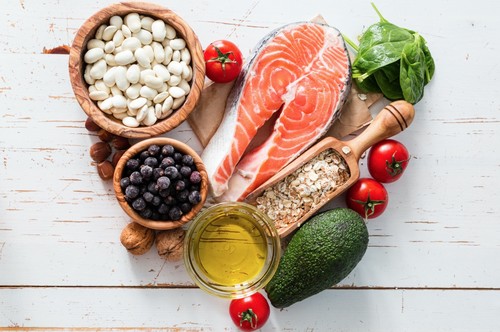 Vitamin D is especially important for people over the age of 40 since studies have shown that diabetes, heart diseases, multiple sclerosis (MS) along with lung and colon cancers are linked to vitamin D deficiency. Vitamin D is also necessary for efficient calcium intake of the body.
Foods such as fish, grains and grain products contain vitamin D, but the absorption of the vitamin from such sources is not very efficient. Sunlight exposure is the best way to ensure sufficient vitamin D intake, although not everyone lives close enough to the equator to make this method viable.
Some research suggests taking D3 supplements because D3 is the vitamin type that resembles vitamin D caused by sunlight exposure the closest. U.S. National Institutes of Health recommend that the daily intake of vitamin D should not be below 600 IU (800 IU for people older than the age of 50). Highest level of daily intake at which no adverse effects occur is stated to be 4,000 IU.
Magnesium
One of the most important functions of Magnesium is that it helps regulate blood pressure, especially among women above the age of 40 who are at risk of suffering from hypertension caused by aging.
Studies have shown that complications such as heart diseases, diabetes and inflammations are linked to magnesium deficiency. Magnesium also helps the body absorb calcium more efficiently, helps regulate blood sugar levels and has beneficial effects on muscles, nerves and the heart.
If you suspect that you might be suffering from magnesium deficiency, you can get your magnesium levels tested by your doctor.
If you have a healthy and balanced diet, your magnesium intake can be sufficiently satisfied via foods like dark leafy greens, beans, soy, nuts and avocados. Taking too much magnesium does not pose serious risks but may cause diarrhea, stomach aches and cramps.
Omega-3
Even though omega-3 is not technically a vitamin, it deserves to be on this list due to its many benefits to the body. It prevents some negative effects of aging, prevents the increase of heart disease risk and helps prevent the decrease of cognitional ability.
Research has shown that omega-3 plays a role in decreasing blood pressure, maintaining healthy LDL (bad cholesterol) levels, reducing the risk of heart disease and keeping a sharp memory. A recent study has shown that people with higher levels of omega-3 fatty acids in their blood have bigger brains and perform better in memory tests and in areas like abstract thinking and planning compared to people with lower levels. This result has shown that omega-3 also helps maintain a healthy brain along with its previously known benefits. You can take omega-3 from foods such as fish, walnuts, flaxseed and leafy vegetables. Taking supplements will ensure that you are consuming enough omega-3. In both situations you should seek daily intake levels of 500 mg if you are healthy, between 800 and 1,000 mgs if you are suffering from a heart disease and between 2,000 and 4,000 mgs if you have high levels of triglyceride. If you are taking anticoagulants, be sure to consult your doctor about your dose.