Today, I will talk about Global Wellness Day, which is celebrated in 110 countries, by 86 global delegates, with more than 4,000 different events. Global Wellness Day, which was celebrated last week, on Saturday, June 9, has been founded by a Turkish businesswoman, Belgin Aksoy. She is a real Istanbul lady and real entrepreneur. Studying tourism and hospitality In Switzerland, Aksoy has had a successful career in Turkey. Learning that she had cancer in 2004 became a turning point in her life.
Talking about that period, Aksoy says, "I got thyroid cancer but I did not see it as my destiny. I struggled very hard not to ruin my life with the disease. During the time of my treatments, I searched the wellness centers around the world and also changed the philosophy of my life. I started to get rid of negative people in my life and learned to look at life differently. I could get this disease at a much older age and I could never find out what I have so far learned. The awareness I have gained through living with this disease could come to my life much later. My disease and wellness came in to my life at the same time, one as a problem and the other as an answer. I reacted positively to this situation with my strong fighter character."
While researching wellness, Belgin Aksoy noticed that there are no experts specializing on this issue in Turkey. In 2012 in Turkey she realized that she was not pleased with what has already been experienced about wellness and started working on it to create a different stage of "wellness environment." At first, she started to organize activities under the name of Wellness Day, without the title "global." She set the second Saturday of June as the date. Getting on with the "One Day to Change Your Life" slogan, Aksoy attracted the greatest attention in 2014 in Marrakesh. Here, at the world wellness summit, Aksoy mentioned for the first time Global Wellness Day, and received great interest from all participants, and hereby the foundation of today's global network was laid.
Promises of Global Wellness Day
The manifesto with its seven items explains everything. It aims to make people take a break for at least a single day to listen to themselves and raise their awareness. The rules have been set in such a way that people from every culture, race, and economic level in the world can easily apply. This has turned Global Wellness Day into a philosophy that can not only be owned by a certain group of people or by a particular country, but by everyone. The first rule is "walk one hour."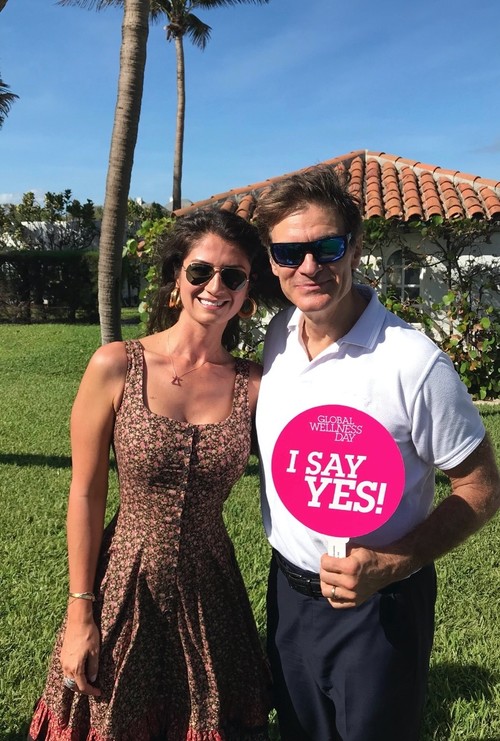 Belgin Aksoy with world-famous Dr. Mehmet Öz.
This rule underlines the importance of doing coordinated body movements. The second rule is "drink more water." The best detox ingredient, water is an integral part of Global Wellness Day philosophy. The third rule is "don't use plastic bottles." Plastic bottles are harmful to the environment as much as they are bad for the body. One other rule which is my favorite is, "eat together with a loved one." This rule brings out the importance of sharing and carrying. The fifth rule is "do something good every day." This could be just smiling to someone you never knew or doing a favor to someone that will change her/his life. The sixth rule is "eat healthy." And the last rule is "sleep at 10 p.m.," since the body needs to renew itself. I guess the most difficult one for me is the last rule.
Belgin Aksoy emphasizes that over 4,300 events held throughout the world on Global Wellness Day are totally free of charge. Aksoy said, "As a philosophy, we do not aim to make money. Our events are free of charge. Thanks to our supporters and sponsors, we stand on our feet and use every penny we make for wellness. We do not work to make profit. This attitude makes Global Wellness Day a platform where everyone undertakes and gives support to us without questioning."
Belgin Aksoy, who received acknowledgment for Global Wellness Day by the ministries and mayors of many countries from Nigeria to Mexico, emphasizes that they have received project proposals from many countries. Aksoy says, "The fact that such an effective platform as Global Wellness Day has been initiated in Turkey surprises everyone. Especially Turkish people are surprised. They think that I am the Turkish representative of this global initiative. No one considers likely, the possibility of a global brand coming out from Turkey. But we are motivated enough. We will further promote Global Wellness Day with youth activities and university organizations as well as media communication and events."
When we ask Belgin Aksoy's future goals, we learn about the details of the Global Wellness Day Kids project. Stating that she is very excited about this project, Aksoy says "We will start the first application of this project with a pilot school, a kindergarten in Thailand. Our aim is that through the education system, children get used to some habits that adults are too late to adopt. In this kindergarten-level project, the aim is to bring in a 5 minute-long theme titled Wellness Circle Time, to countries' educational programs. In this training, the children will learn three basic things. The first of these is self-love. They will learn to love and value themselves.
The second topic is to learn how to manage anger. The third one is that they will protect themselves against obesity with the method we call "mindful eating." Next we will carry this project to elementary schools. Our dream is wellness ministries. We do not know if this will happen, but we are sure that no institution will survive if it does not update itself with the wellness philosophy," she concluded. I congratulate Belgin Aksoy for her global success as a Turkish woman. On June 9, I have personally seen the big crowd celebrating in Istanbul and followed the celebrations going on around the world from social media. I hope Global Wellness Day will someday change your life as well. Obviously it's already started to change mine.

Tips of the week

TOP 3 RESTAURANTS OF THE WEEK
- Naavah / Beyoğlu
- Mürver / Karaköy
- Lacivert / Beykoz
TOP 3 HOTELS OF THE WEEK
- Bella Sombra / Bodrum
- Alavya / Alaçatı
- Richmond Nua / Sapanca
TOP 3 PEOPLE TO FOLLOW
- Nilgün Bodur / Author
- Zafer Develi / Photographer
- Dilara Egeli / Artist