Throughout its history, Anatolia has experienced several large earthquakes. As a result, cities were destroyed and thousands lost their lives and homes. Ninety-two percent of Turkey's land is located on a seismic belt. According to data released by the Chamber of Civil Engineers, 11 of the biggest cities in Turkey and 75 percent of its industrial zones are built on earthquake zones. Despite the fact that Turkey has suffered widespread destruction from earthquakes in the past, issues, including establishing predetermined gathering areas, still need to be addressed to prepare for future natural disasters. To educate the public, Kadıköy Municipality has built a park to teach people what to do during a natural disaster as well as how to protect themselves.
What to do in case of an emergency
The "Disaster Education and Awareness Park" in Kadıköy will feature a 5D theater, an education hall and functional furniture that will help teach what to do in case of an emergency.
How natural disasters occur, what to do during a disaster and precautions that can be taken before and after a natural disaster will be taught through simulations as well as in practice sessions with natural disaster response team members.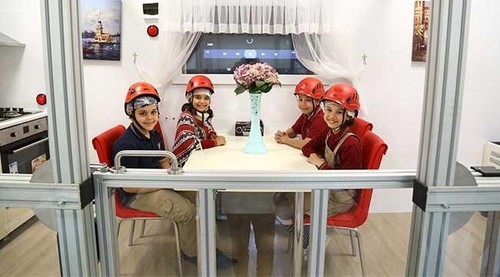 Children are in a simulation room to learn what to do in case of an earthquake.
In the Experience Room, the most destructive natural disasters that have ever hit Turkey and other countries around the world are simulated for the visitors in the most realistic way possible. Moreover, a six-minute educational film shows what to do during and after a destructive earthquake. The games and activities prepared by Kadıköy Municipality Search and Rescue teams also help children learn about the natural disasters that might hit Turkey.
Awareness about natural disasters key for survival
In 1999, a magnitude 7.4 tremor hit the industrialized northeastern province of Kocaeli, leaving over 18,000 people dead and 300,000 people homeless. The earthquake was the deadliest natural disaster that Turkey had seen in the last 60 years.Studies conducted after the earthquake stated that a total of 120,000 poorly engineered houses were damaged beyond repair, 30,000 houses were heavily damaged, 2,000 other buildings collapsed and 4,000 other buildings were heavily damaged. The survivors of the disasters had to live in tents for months following the disaster.
But since the 1999 disaster, Turkey has come a long way in terms of natural disaster awareness. Nongovernmental organizations have also invested notable energy into first-response techniques and emergency procedures. Turkey has also seen an overhaul in the measures taken to prevent damage from earthquakes, such as compulsory earthquake insurance and campaigns to raise awareness and inform the public about earthquake preparedness.
Additionally, the government has undertaken the ambitious project of urban transformation wherein old, crumbling structures across the country are being demolished to make way for new, earthquake-resistant buildings. However, education is still the key to minimizing the losses during a natural disaster.
Speaking on the matter, the director of Kandilli Observatory and Earthquake Research Institute's Directorate of National Earthquake Monitoring, Doğan Kalafat, said the Kandilli Observatory took on the responsibility of educating people about the reasons and consequences of natural disasters after the earthquake in Kocaeli in 1999. He said thanks to the healthy network between government institutions and nongovernmental organizations, the responses to such natural disasters are quicker than they were 30 years ago.
Park designed to educate people of all ages
Offering information about the "Disaster Education and Awareness Park," Hakan Özdemir, the team leader of the Kadıköy Municipality Search and Rescue Team, said they have been educating people on natural disasters since 2005 and so far, more than 70,000 Istanbulites have received training.
Stating that the park is mainly designed for children but educational for people of all ages, Özdemir said the park will be open 24/7.
"The most important section of the park is the simulator where visitors can see how much damage a natural disaster can cause. Visitors will learn what to do in case of a natural disaster through various activities that are backed with visual effects, such as a portable fire extinguisher area. With children's games, such as 'I packed my disaster bag' and 'Find your partner,' we aim to teach children what they can do if they are caught in the middle a natural disaster," said Özdemir.
"It is important for individuals to learn more about natural disasters as neither we nor the government can respond to multiple locations in the case of one," Özdemir added.
The park will open tomorrow with a ceremony and a total of 13 nongovernmental organizations will sign a pact promising to minimize losses and manage crises if a natural disaster should hit the city.
Istanbul awaits the next big earthquake
The ancient city of Istanbul is unfortunately built on one of the biggest fault lines in Anatolia. Housing more than 15 million people, the biggest city in Turkey is at great risk.
Almost 70 percent of the buildings in Istanbul are still "at risk," and 27 percent of them are at "high risk" and must be demolished immediately, according to data from the Environment and Urban Planning Ministry.
The government launched building projects in Istanbul and across Turkey in 2012 to renew structures that are not quake resistant; however, there is still a long way to go before Istanbul becomes earthquake proof. According to experts, an earthquake with a magnitude of 7.6 on the Northern Anatolian Fault in the Marmara Sea could kill 26,000 to 30,000 people.