If the financing and regulatory problems in front of technology ventures are resolved, the number of domestic health and payment solutions will increase. If technology ventures produce solutions for the bureaucracy, it will pave the way for domestic solutions in Turkey.
If the regulations on online health services are published, domestic ventures and doctors will provide services, rather than institutions and ventures that offer tax-free services from abroad.
These solutions, which provide preliminary support for diagnosis, contribute to the detection of epidemic diseases by obtaining statistical data and take over the burden of hospitals. The doctor and the patient's declaration become registered. The health care industry, which is normally disturbed by Google searches, can eliminate the circulation of unrealistic solutions with a more serious doctor-controlled transformation.
Reliable content can be generated in digital media abandoned to pharmaceutical companies if the regulation on online video health solutions is resolved. The health sector, one of the biggest budget items of world states, that affects the quality of life of millions of people, is rapidly digitalizing.
Online health services and applications, rapidly increasing in number and volume, provide benefits to the states and the sector, as well as patients, in terms of saving time, cost and labor. Now, in many countries, millions of people prefer to take health consulting services from e-health solutions instead of spending time waiting in hospitals.
Video solutions
It will contribute to finding a legal and healthy solution for people who are afraid to go to the doctor. Online health solutions are one of the fastest growing segments in the health sector. For this reason, many countries and organizations are investing in online health services. Since 2010, online health services, including online prescriptions, have been fully legally implemented in 84 developed and developing countries. The United States and European Union countries are leading the way in e-health applications. According to the American Wealth Telehealth survey, seven out of 10 people in the United States benefit from online health care, and the most common item standing out is prescription services.
According to a survey conducted by IPSOS, a global market research and a consulting firm headquartered in Paris, among 28 countries, Turkey is among the three most enthusiastic countries in the world with regards to online health applications. In addition to the online health care applications that will soon become an ordinary part of our lives, many recent digital-assisted devices, such as smart wristbands, also make it easier for health professionals and patients.
According to the results of the survey, the most enthusiastic countries on online health services are Serbia and China, followed by Turkey. The IPSOS survey is a sign that in our country where the use of smartphones and social media is very high and becoming more widespread, our society will adapt to online health services very quickly.
Artificial crisis
Meanwhile, due to the unlimited negotiation of checks in Turkey and the problem of cash flow because of the maturity problem, the situation of companies can be seen more clearly through solutions such as e-check.
If measurable risks appear more clearly in trade, confidence may increase, even contributing to economic revival in the short term. In spite of the missing data, the use of checks collected in Turkey reached TL 785 billion ($14.23 billion) in 2017, exceeding one quarter of the Gross Domestic Product (GDP).In periods of liquidity squeeze in the economy, it is observed that this ratio is above the one third of GDP and it is as important as bank loans. It is estimated that the number of checks collected is around 20 million. In 2017, the liquidity and recovery brought by the credit guarantee fund (CGF)-based loans into the market provided a partial improvement. However, the collection rate of the checks not paid on time indicates that the measures should continue in electronic environment.
Doctors come to you
DoctorTurkey, which Türk Telekom has invested in, aims to be a successful doctor-patient meeting platform both in Turkey and in the region. Turkey will win thanks to the online health practices that Türk Telekom supports and contributes to its development.
Applications that enable patients to consult with doctors and other specialists on channels such as smartphones and tablets via video, voice call and message without going to the hospitals or examinations are known as online health applications. Studies show that the use of online health services, especially video call with the doctor, are spreading rapidly throughout the world, and every day, a wide range of health applications and digital devices enter our lives. Similar health practices that have been serving for a while in Turkey have given hope for the future.
The world has undergone a serious change over the past 10 to 15 years, and this change continues to accelerate. Consumer technology pioneers this change, and effectively eliminates the problems in people's lives, providing them with much more opportunities to get what they want, when they want and how they want. There are also serious changes in health care. Patients want to spend less time in hospitals and examinations, not to be around other patients, to reach the doctor when they need, and most importantly, to take the initiative themselves.
E-check to bring confidence
Traditional checks have a lot of problems. Forged checks cannot be detected in the market until they are collected. To whom and how many times the check is negotiated is not known by a central system. Banks are giving 5, 10, 50 or 100-page check books to their customers according to their ability to pay. However, the amount per check sheet is not known until the check is collected. Since the checks are issued for the term, the total number of checks in the market is not determined until the end of the year. Unused check sheets are not returned. Therefore, an E2B financial technologies venture, which focuses on solutions that will make the risks measurable, works on national payment systems and operates in Bogaziçi University (BU) Technopark, aims to completely eliminate stereotypes in electronic environment, such as "checks do not have maturity," "checks cannot be negotiated" and "maturity is not applied to checks in the United States and Europe."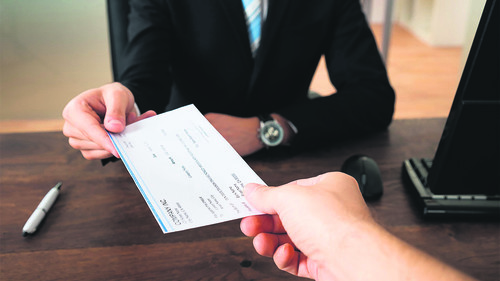 Electronic checks offer safer money transactions.
The venture's founder Mürsel Sarıbıyık stressed that the investment of an institution such as the Sovereign Wealth Fund would be effective in order to realize this venture as a domestic and national project due to its economic size. "We want to bring a domestic and national payment tool to the world economy for the first time. It will be possible to completely eliminate forged checks and manage the risk of bounced checks. We may be capable of strengthening the value of the Turkish lira by measuring the debt payment habits of firms, combating inflation with access to check data and recording of check amounts," Sarbıyık said. "Moreover, a domestic solution is necessary in order to create a network of payments in local currencies in international trade, and to have the opportunity to become a leading economy on a global and regional scale. We believe that it would be right for the project to be implemented within the scope of the Sovereign Wealth Fund in order to provide new business area by introducing insurance system into the check system, to provide financial deepening by converting trade receivables to financial products - such as Sukuk issuance, cross-banking products - and to strengthen the central management perception that leads the sector."
Technology enterprises meet for smart cities and homes



Every technology venture puts a lot of effort into finding a customer to explain and implement the solution it has developed. Innova continues to invest in the field of the internet of things (IoT), one of the fastest developing and growing technologies today. Innova is launching the SkywaveIoT Partner Program, which allows its business partners to develop new applications and integrate their existing applications on the IoT platform SkywaveIoT.
Launching important projects in the technology sector in Turkey, Innova, with the SkywaveIoT Partner Program, aims to increase the value created in the IoT area by coming together with the companies operating in the IoT field, the startups and, the producers aiming to link their machines. Companies benefiting from the SkywaveIoT platform also have the opportunity to easily access the expertise they need in product development, marketing and establishing new collaborations.
Fast and agile company
Noting that they offer a reliable and strong business partnership with the SkywaveIoT platform providing end-to-end solutions to companies that will invest in the IoT area, Innova General Manager Aydın Ersöz stated that as Turkey's leading system integrator, they have undersigned major projects in Turkish IoT sector by using the innovative technologies with the support of Türk Telekom.
Innova General Manager Aydın Ersöz said SkywaveIoT partners will have the opportunity to deliver their solutions to four continents where Innova takes its solutions and services. "With the SkywaveIoT platform we develop 100 percent of our own expertise in the internet of things, we are paving the way for smart solutions for Smart City applications as well as factories and production environments. We offer strong and reliable technology and platform support required by the companies that develop technology in this field," Ersöz continued. "Thanks to its secure and measurable cloud architecture, our SkywaveIoT platform meets the needs of superior data communication, analysis and management in areas such as retail, banking, energy and Industry 4.0. Thanks to the SkywaveIoT platform we offer through Türk Telekom data center with its reliable communication infrastructure, critical data created in IoT applications are safely stored in our country."
From retail to public companies
The SkywaveIoT Partner Program also offers several advantages to its partners. Companies that will be able to develop and present mutual solutions with Innova will be able to deliver these solutions to a wide range of sectors such as retail, banking, finance, transportation, energy and public. Companies that reach a wider information network for the needs of the market and their customers will also be part of the end-to-end solutions of customers with the solutions of other companies included in the SkywaveIoT Partner Program. In addition to these supports, Innova teams will share their deep technical knowledge with their partners on both the SkywaveIoT platform and the solution architecture and development issues, enabling mutual solutions to reach the market more rapidly.