The grandfather of John Eren, the minister for veterans' affairs of the ruling Labor Party in the parliament of Victoria, was one of the Ottoman Turks who fought against the Anzacs in the Battle of Gallipoli 100 years ago. While the centenary of the Battle of Gallipoli is being celebrated both in Turkey and Australia, the minister's family story stands out as an interesting coincidence.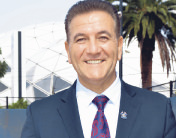 Eren, 51, and his family immigrated to Australia in 1970 from the western province of İzmir. He has been serving as a deputy in the parliament of Victoria since 2002 and became a member of the Labor Party government following the state elections held on Nov. 29, 2014. Eren is the minister for tourism and major events, minister for sport and the minister for veterans' affairs. His grandfather, Hamdi Bey, also called Captain Hamdi, was one of the veteran soldiers who fought against Australian and New Zealand soldiers who fought for the British Empire.
Eren describes his position as a miracle. Speaking to an Anadolu Agency correspondent, Eren said acting as the minister of veterans' affairs in Australia is a "splendid coincidence and an unbelievable thing." He said his family immigrated to Australia as qualified migrants thanks to their sufficient professional competencies. While talking about his following years in Australia, he said: "We came here with my mother, father and my brother. We enrolled in the schools here and then went into politics." Once Eren was introduced to political circles, he made a name for himself and was elected as a deputy working as a shadow minister for a while. "After I served as a shadow minister, an opportunity came up for me to become a minister. I think we can say that me being a minister during this important year marking the centenary of the Battle of Gallipoli is a miracle. It is an incredible honor for me," he said.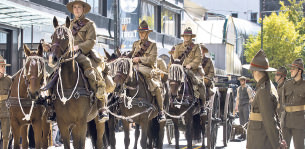 Looking back on history, Eren said the Gallipoli Campaign created sincerity and a friendly bond between two countries. "Normally, wars do not create such friendships. For instance, there is no such concept in terms of World War II, but there is between Turkey and Australia," the minister claimed.
Highlighting the importance of the Battle of Gallipoli for Australians, Eren said World War I was a very important turning point for Australia. "Turkey witnessed great wars throughout its history, but Australians do not have an extended history as Turkey does."
Australians take kindly to having a grandson of a Gallipoli veteran as a minister. Eren said this understanding is the sign of the maturity of the people of both countries. "There was an opportunity for us in terms of democracy and we took it," Eren said about being a minister of Turkish origin in Australia. Eren's brother Tayfun Eren was also involved in politics in the state of Victoria. He was Australia's first state deputy of Turkish origin who served in the parliament from 1996 to 1999.
Eren is attending the Anzac Day commemorations in Gallipoli this year as the grandson of an Ottoman veteran as well as an Australian minister.